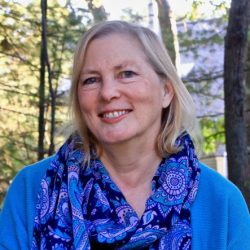 Val Walker, who has a master's degree in rehabilitation counseling, just published a book about dealing with isolation. It's called 400 Friends and No One to Call, a title that comes from a sobering experience she had in 2012. (Long before a novel coronavirus forced people around the world to isolate themselves.)
She had lined up some friends to help her out when she had to have a hysterectomy and thought she was all set. She was lying in her hospital bed, hooked up to an IV and extremely groggy and out of it when she received a text message from the friend who was supposed to pick her up and take her home. The friend had a family emergency and had to fly off immediately.
To make a long story short, I tried to find people. I found myself really, really strapped and helpless, lying there in the hospital. And the nurses still wanted to discharge me that afternoon and I was really stranded. I realized that I thought I had all these connections and people to turn to but sometimes we really can't count on those. Even if we have 400 friends we might not have someone to turn to.

Val Walker
She eventually made it home but the experience rattled her. She decided to journal and in doing so, realized that she had a lot of strong feelings about her experience, including a tremendous sense of shame over not having a lot of support.
Did I do something? Is something wrong with me? Is this why I don't have people showing up in my life? And I also had the sense of blaming other people for not showing up.

Val
The more she explored her feelings the more she began to realize that many of her friends were caught up in their own lives with their own problems. She wasn't the only one who felt isolated.
I saw some huge, isolating forces in my friend's lives. Some just couldn't afford to get together, they had other things strapping them. They had illnesses or financial strain or they were caregivers. And then I started doing research and realized that isolation is pervasive and how what isolates one person keeps us from being there for another person. It kind of comes around and goes around. So I started seeing the big picture, which was healing for me.

Val
Val continued writing in her journal and learning what she could about isolation and decided she wanted to write a book. The kind of book that might have helped her when she was feeling so bad. It wouldn't be her first book. She is also the author of The Art of Comforting: What to Say and Do for People in Stress. I interviewed her shortly after my mother died in 2016 and wrote this blog post: The art of offering comfort to someone who is grieving.
A prominent theme that runs throughout her new book 400 Friends and No One to Call is based on one of the lessons she learned from her own experiences. For example, Val has colitis, which can be an extremely isolating condition. She decided to join a Crohn's and Colitis support group and discovered that being able to open up to people who understood what she was going through helped turn things around for her.
I saw that what was isolating me could be a way to unite me with others. The thing that isolates us can actually be a way to connect with others. And then I began to interview other people who were isolated because of things like illness, economic strain, addiction in their family, or grief over the loss of a loved one. And it came back to the same theme. What isolates us can be turned into a way to unite us.

Val
When she began writing her book, Val had no inkling of just how much isolation people around the world would be experiencing when it came out. Many, many people are isolating now to help slow the spread of the coronavirus and COVID-19, the disease it causes. It is a temporary situation, but we don't have an end date and we have no idea what the future is going to bring. Right now, many people are afraid, anxious, and overwhelmed.
In her book, Val shares stories about isolation from 15 people, in addition to her own. The book also has tips, information, and resources to help people step out of their own isolation. You may not be able to do all of the things she suggests right at the moment, but the lessons she has to share about moving out of isolation are still applicable.
We can still get closer in many other ways. Even in this time of social distancing, we can still find ways to get even closer.

Val
If we can't meet face to face, for now, we need to find other ways to communicate. I am grateful for technology. I had a Zoom meeting the other day and will have a Google hangout meeting today. Yesterday I participated in a Facebook Live exercise class. Nearly every day I get to FaceTime with my grandchildren.
Some of these video conferencing technologies can be tremendous at this time because we can have real conversations. We can share our creations or ideas and our own resources about how to deal with this crisis, as well.

Val
The shame that Val felt when she was alone after her surgery prevented her from reaching out to people at first. Even admitting to herself that she needed support was a challenge. But because COVID-19 has forced a shared experience on us, Val says it's almost as if we have been granted permission to reach out to see how other people are doing. And to ask for help.
I'm not saying it's a magic wand, but it certainly gives us a little more sense of it's okay now to reach out to one another. There is a loneliness epidemic already out there, but I actually think now we feel a little more like we have permission. We can say I don't know what to do. What do you think? Life has changed so much and I don't have the support I thought I did. Can you help me?

Val
Ways to connect
Val has a few suggestions on ways to connect with people:
Reach out to people who might be even more isolated than you are. Call them, send them a note or a letter. If you are not in a high-risk category and able to go grocery shopping, ask if they need something. There is a great deal of evidence that people feel less lonely and less helpless when they're helping others. You will be helping the other person and yourself.
Reach out to people just to have a conversation. It's really important to have somebody to talk to because these are very strange and frightening times. We're going to have strong feelings and it's really good to have a person who accepts those feelings. Do the same for the other person. Be a good listener.
If possible, teach someone who doesn't use technology how to. It may be easier said than done right now, but at a couple of the senior communities near her, CNAs and nursing staff have been teaching residents how to use smartphones and tablets to communicate with loved ones.
The most important thing we can do for each other right now is to simply touch base.
Check in with people and let them talk to you about what they're feeling or thinking. I can't stress enough how important it is to be comforting for each other. Don't try to hand out advice right away. Maybe you have good ideas about what to offer, but listen first and see what they're feeling and thinking. It's just really important not to judge one another and hand out quick advice and act like we've got all the answers. We really don't have the answers. It's more important to listen and support each other. We're all completely stumped by this. Be open and receptive and even try getting out of your own tribe. Somebody might not think like you politically or religiously, but you can still be there for them to take care of the immediate needs. Right?

Val
What should I say?
How should you start the conversation? Val says just say hi, how are you holding up these days? I asked her how she was holding up.
Thank you very much for asking that. First of all, I have called some dear friends around the country who are in my age group in their 60s or 70s. And they're all saying "I've gotten more calls than I've had in years." "I feel like everybody cares." It's a give and take and it feels really good. They share their worries, I share my worries. We are good for each other that way.

Val
Additional resources
Val did a little research for people who are feeling lonely or isolated and don't have someone to connect with and came up with some numbers they might call. I added some numbers/sites to the list. If you have other resources to share please add them in the comment section at the foot of the page.
The National Suicide Prevention Lifeline 1-800-273-8255.
National Alliance on Mental Illness (NAMI) HelpLine Monday-Friday, 10:00 a.m. to 6:00 p.m., EST (800) 950-6264
211/Call your local 211 or go to 211.org for information about support and services that may be provided in your state.
Here in Maine, there are several programs or initiatives aimed at reaching out to people, particularly older people
Where to find Val's new book
If you want to know more about Val's new book 400 Friends and No One to Call, visit her website. You'll find links to several online sites that are now selling it. And when we are able to step outside again, look for it in your local bookstore. It will be so good to be able to do that again, won't it?
The most important message I got from talking to Val is this: What isolates us can be turned into a way to unite us. I hope you will follow her advice and reach out to someone, ask them how they are doing and if you'd like to share how you are doing or need to vent, you're welcome to do so in the comment section below. We're all in this together right now, aren't we? How are you holding up?