I had what I thought was a brilliant idea after receiving and responding to a burst of messages over the past few days. Friends and family wanting to know how we were doing and me asking them the same question. Getting answers such as, "Hanging in there." "Emotionally strained." "Cabin fever." "Feels a lot like the twilight zone right now." "Grateful for the sunshine today. Was starting to get kind of depressed… feeling better."
The other morning, I woke up with a start from a bad dream that was obviously rooted in anxiety. I had put someone's life in danger because I was spending hours staring into a kaleidoscope instead of paying attention to what was going on in front of me. I decided that I needed to do something fast to deal with my mounting anxiety, and then another message popped up on my laptop. Someone asking how I was and telling me how they were doing. And it hit me that I should reach out to people and see if they'd be willing to share how they're coping in a post/essay for Catching Health. So far, everyone has said yes! Here's the first, from Pete Smith. He and Gudrun Cobb own a small business in Portland, Maine.
Pete Smith's thoughts on COVID-19's impact on a small business
The other day Gudrun and I put our store into Covid-19 lockdown. We own Uncommon Paws in Portland's wonderful Old Port district.  We often find ourselves still at the store these days, tidying up or doing long-delayed maintenance tasks. So, people who really need treats or one of the wonderful Uncommon Paws collars/leashes or harnesses can knock if we're there or call to make a curbside pick-up appointment by emailing Gudrun or by calling 207-415-6880. You can also shop on our website. Gudrun has been very busy adding new merchandise.
And as for the store at 13 Exchange Street, well, right now there's no browsing or socializing. And with much of the community sheltering in place business essentially dried-up.
The Governor's Executive Order the other day said animal feed and supply stores could stay open. But we witnessed our community quickly grind to a halt. And days that normally would be hugely busy simply stopped.
It has been emotional for us and I shared my feelings in an e-mail to our daughters. This is what I wrote:
I staffed the store today. It's as if we have entered the Twilight Zone. The streets are empty. And one of the highlights of the day was when a woman who runs Nomads on Commercial Street came in. She asked if she could take my picture out in front of the store. "We're posting photos on our Facebook page," she said, "To show people that while many are closed, many people are still in their shops, working, getting ready for the day we can re-open. Our doors may be closed, but our hearts are open."

Worked for me. So attached is a photo of me with an open heart, wondering if life will ever be the same after Covid-19.

As I left the store this afternoon at 2:30, I flipped the sign to CLOSED and felt a twinge of sadness. We've put everything into this store and it's worked so well. And now, we're done, probably for a couple months. Maybe more. The politicians are falling all over themselves telling us help is on the way. I hope so, or Portland's celebrated Old Port will be undergoing a huge change in a few months.

As I walked to the car I passed dozens of shops and restaurants. Almost all had signs in the window: "To protect our wonderful employees and customers we have decided to close for the foreseeable future……."

Jewelers. Bars. Restaurants. Clothing shops. Souvenir shops. The BBQ. The home décor shop around the corner.

We're pretty optimistic, frankly. The store is VERY well stocked. It looks like we will get some sort of relief from the Government (it is an election year, after all.) And best of all….we are very well stocked on toilet paper. We're thinking we might do take-out from our favorite restaurant tonight, just to thank them for being there. It must be a struggle for them, especially since all bars have been shut down.

Anyway, we will carry on. Only a couple more months like this. And I suspect it will bring out the best (and unexpected) in all of us….well, MOST of us. We know a shutdown of our normal lives is our duty right now. We get that. And we are willing.

We are resilient and resourceful. And we're gonna be just fine.

Love, Pappa Pete and Grammie Gudrun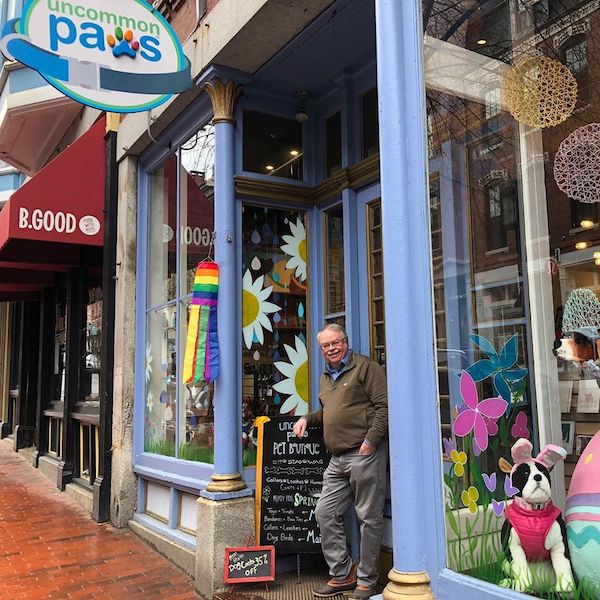 How are you doing?
If you'd like to share how you are coping — either in writing or in pictures or both — the easiest way to get something to me (Word doc and.jpg for pictures) or ask questions is to send me an email. We're all in this together and it would be great to hear from you.