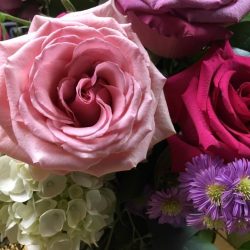 It's been a hard few weeks for my family since my mother died.  She left behind a passel of grievers. Me and my seven brothers and sisters, 15 grandchildren and 7 great-grandchildren. Even though time has passed, we all still need comforting and also to comfort each other.
At 90, Mom had outlived my dad, her siblings and most of her cousins and peers. But a few are still here and before and after the funeral, they regaled us with lovely memories — of my mother as a girl, a teenager, a bride, and a young mother. Hearing the stories brought me great comfort. I didn't listen and think, "My, this is comforting." I simply felt close to the storytellers and to my mother.
Val Walker says that offering comfort doesn't need to be all touchy-feely, and the goal shouldn't be to cheer someone up. She knows what she's talking about because she was in the counseling field for 17 years. Her primary focus was grief, loss, and disability. She wrote the book The Art of Comforting: What to Say and Do for People in Stress.
In our culture, we're taught to cheer people up. It's not the same as giving them comfort. "There's a real difference," Val told me. "We're such a fix-it culture. A lot of us are fixers. We want to make you feel better. We want to help. We want to cheer you up. 'Come on, get a smile on your face."'
What should we try doing instead? "I found out," she said, "that the most comforting thing is to just acknowledge, accept and listen. Allow the person to feel what they feel or to say what they say."
How to offer comfort
How can you be there for someone who is grieving when you don't know what to say or do? Val offers some suggestions:
Acknowledge their loss.
Listen.
Sit with them. Pet their dog or cat. Watch TV with them. Go for a walk together. Just hang out.
Don't have an agenda. Follow their lead.
Make a meal.
Do errands.
Watch their kids, feed/walk their pets.
If you notice that something seems overwhelming, offer to help out.
Whenever you offer to do something, make sure you show up and keep your promise. Be reliable.
If you don't know what to say, say that. Be honest.
Respect some people's need for privacy.
Check in every few weeks, especially on anniversaries or birthdays.
In this day and age, people may still offer their condolences in a card or a letter, but more and more they turn to social media. I posted the news of my mother's passing on my Facebook page and was overwhelmed by people's messages. Every one of them kind, loving, and thoughtful. Not everyone is as open as I was in sharing my sad news, but Val pointed out that we all grieve in different ways. In our own way. And that is also something we need to acknowledge and respect.
Be heartened
When people read her book or listen to her speak, Val wants them to come away heartened. "I love that word," she said. "It's a deep kind of encouragement. It touches your heart and makes you feel deep down in your bones."
The encouragement she tries to give is to let people know they're probably already good at providing comfort. They just need to build on their skills and become more confident.
She also reminds us that when we offer someone comfort, there can be no strings attached. "We offer it without expecting anything back," she explained. "It is a gift or an offering."
When you give the gift of comfort, it can sometimes be draining, especially if the person is in a lot of pain. That's why it's important to nourish and restore your own energy. Don't forget to offer yourself some comfort. Go for a walk, take a bath, talk to a friend. You've opened yourself up to someone else's needs, now listen to yours.
Where to learn more
You'll find more about the art of comforting and how to order Val's book on her website.