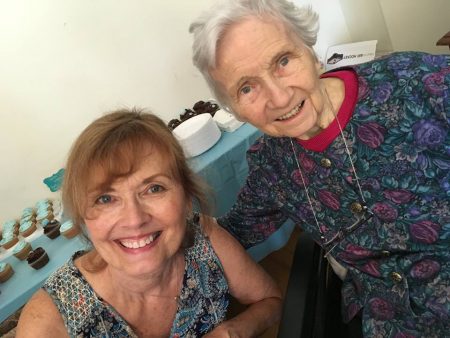 My mother died last week. Tuesday, September 6 at 5:16 in the morning. I was there, hand resting on her chest. I needed to feel her last breath, her final heartbeat. Three of my sisters and one of my nieces were also there, holding her hands and gently running their fingers through her hair, which she always loved.
During the night, my sisters and I took turns curling up next to her in the bed. We initially did it for ourselves because we wanted to be close to her. In the early morning hours, I remembered a story my mother had told me many times.
When she was a little girl, she often had leg aches in the night. Her mother (my Nannie) would massage her legs and then lie down beside her until she went to sleep. It was a cherished memory for my mother. I don't know if she realized we were curled up beside her all those hours, but I'd like to think she did.
I've told lots of stories about my mother on the Catching Health blog. She was diagnosed with dementia about six years ago and with her permission, I shared many of the things we learned along the way.
One post, in particular, got a lot of attention — 20 things to know if you love someone with dementia. My mother was easy to love. We had our disagreements over the years, but we could always count on each other. The one time I worried most about letting her down was when my seven brothers and sisters and I made the difficult decision to move her from her home into Avita of Stroudwater, a memory care facility in Westbrook.
She was angry and let us know it every single day — for about a week or so. Then one day, I took a deep breath and walked in expecting the usual, when she greeted me with a smile and said, "You know, Diane, I'm not unhappy here."
More than two years later, she still said the same thing. Although it had been the hardest decision, it turned out to be the best one.
We were fortunate because although she had dementia and couldn't remember what someone said or what she did even moments before, she always remembered the people she cared about. A caregiver would come into her room or walk up to her and she would always have a smile for them. And … a request for something sweet to eat.
She never seemed to grasp that she had dementia, but was quite aware that she had memory loss. She would say, "Honestly, Diane, my memory is so horrible. Sometimes I feel like I'm in a dream."
She often repeated stories over and over, but the one thing we never tired of hearing her repeat were our names. "Diane, Debi, Cathy, Bobby, Bruce, Mary, Patrick and Becky, my precious jewels," she would say. We might have to prompt her some on grandchildren and great-grandchildren and other family members, but only a little.
She loved to receive visitors, to visit Beal's ice cream, attend Saturday night mass at St. Anthony's in Westbrook, or go for a ride — anywhere. The Saturday before she died, she didn't want to go to church. For several days she seemed more tired than usual and was also staying in bed into the afternoon. She also complained of shortness of breath.
The cause of her symptoms was a condition called aortic stenosis. I happened to write a blog post about it just a few weeks ago and included her story. We'd been watching for shortness of breath for several years, but I never dreamed that when it happened her death would come so quickly. A blessing in one way, overwhelming in another.
Almost immediately after my mother died, I could feel that my world had shifted. The way I described it was, "I'm trying to navigate my once familiar world but I seem to have lost my bearings."
A condolence message from a friend has been especially helpful. He wrote, "It's been my experience with both my mother and father that if I need something, if I've lost something, if I'm feeling down and out-of-sorts, I ask them for help. And something magical happens. A solution appears. Or calmness takes over. Often I'll stare at the moon and think of my mother. I'll think of my dad and a breeze rustles the trees nearby. They are there when I think of them. It's magical, spiritual, but NOT delusional. Because they are there, just as your mother is there now. With you."
I believe that. And I'm sure I'll still have some stories to share with you about my mother — Beverley Swett, who had a great love for her family (and also for chocolate.)