George Agule, who is 90 years old and has had Parkinson's for several years, wasn't thrilled with the idea of leaving his home and moving into a senior living community. It happened because he fell down in his bedroom and hit his head. There was quite a lot of blood, and he was unable to get up from the floor. He managed to crawl to the phone, but it took him 40 minutes and when he reached up for it, the phone fell on him. As George tells it, his kids were more upset than he was.
Although I didn't feel bad, the children came over all excited about it. I suppose it was like a murder scene.

George Agule
On the way to the hospital to get some stitches in his head and have him checked over, George's daughter Wendy Nowokunski decided that the time had come for her dad to move to a safer place. That place is Stonebridge in Burlington, Massachusetts. Wendy happens to be co-owner with Jim Coughlin, of Northbridge Companies, which runs Stonebridge and several other senior living and memory care communities in MA, NH, and Maine. In full disclosure, two communities here in Maine, Avita of Stroudwater, and Stroudwater Lodge are Catching Health sponsors. In the last years of her life, my mother lived at Avita, a memory care community in Maine, where she was well-loved and cared for.
George is not in a memory care community, but as my mother did, he settled in nicely. His strategy was to get to know the other residents, beginning by learning their names. He soon discovered a multitude of benefits at his new home. The food was right at the top of his list, but not far behind were being able to engage with other people and getting regular exercise, which made him strong enough that he no longer needed his walker. He played shuffleboard and bocce (usually winning, says Wendy), and most satisfying of all, he got to unleash his creative genius. (I sincerely hope he gets a chuckle out of that line).
George is an artist and was able to set up a painting studio at Stonebridge. He also writes poems and sketches cartoons and began producing a monthly journal of writings with other residents.
I wrote about painting — what I was thinking, my approach. There were at least a few people who expressed interest in what I had to say.

George Agule
Things were good, but then there was COVID and things changed. Northbridge was one of the first companies to close its doors to create a safe environment for residents and associates. It wasn't an easy decision, but it had to be done, says Wendy.
We made the decision to shut down the communities to visitors and to new move-ins, and to get the PPE that we needed. We did that in March. By about March 20th, all of our communities were completely equipped with medical-grade PPE. We also formed a COVID response team in the home office that was responsible for nothing else but monitoring what was going on with COVID from a regulatory perspective and from the rate of disease perspective. We had residents stay in their apartments and not really interact. Until we felt that the severe COVID risk was lowered, our practices were in place — our procedures, our infection control, our masking, all of that.

Taking a lot of action steps early on I truly believe saved lives. Because of that, we had no exposure in Maine, and very limited exposure in Massachusetts and New Hampshire. Out of 18 communities, there were four that had cases of COVID, most of them being associates. The minute they tested positive, they didn't come back, so the exposure has been very, very limited.

Wendy Nowokunski, President, Northbridge Companies
Establishing and maintaining a strict safety protocol that affects 1200 residents and their families was and still is challenging. The majority of people are more than willing to do their part, but as we see throughout the United States, there are some who want the freedom to come and go as they please and don't want to wear a mask. Wendy breaks down people's reactions into thirds.
One-third wants us to be extremely restrictive, not allow anybody in, keep the resident quarantine, and so forth. That's really not realistic in life. Another third wants their freedom, they don't want to be told what to do, but they're still going to be pretty restrictive themselves. And then another third just wants us to fling the doors open and let us do whatever we want to do because this is America and we should have our freedom. It's really an interesting dynamic to have to deal with. We try to keep that in check and find the fine balance between how we can get back to some level of normalcy, but also be safe. That's the biggest challenge that we have faced over the last several months.

Wendy Nowokunski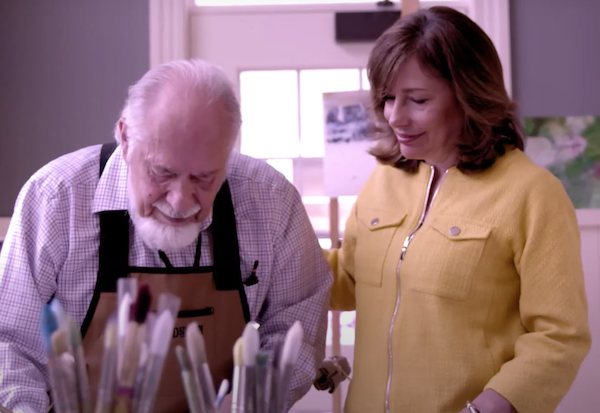 On a personal level, Wendy's biggest challenge is worrying about her dad. On the day we spoke, she had taken him to a medical appointment. She was waiting for him in the car and when he returned, they both put on masks and kept their distance as much as possible. No personal contact.
I want to hug him, give him a big kiss. I can't. I want to be able to drop in, take him to dinner like we used to. I'm very happy he is where he is because I know he's safe. He can still play bocce, he can paint, and he gets good meals and all of that, so I feel good about that, but like today, when we separate, we always stand six feet apart and do the virtual hug thing with the arms. That's the hardest thing for me.

Wendy Nowokunski
Slowly, the Northbridge communities have begun to reopen. Residents are able to eat in the dining rooms, they're participating in socially distanced activities, and people are allowed to visit outside. The visits are scheduled, and everyone has to follow the safety protocols, including wearing a mask. Wendy says they're trying to open up in a thoughtful, methodical, safe way. But with winter approaching, they're facing yet another set of challenges.
I think we're In good shape getting ready for winter. We are looking at different ways we can do indoor visits safely, designating certain areas, certain times, and so forth. This is a fluid process that our response committee is working on and they're evaluating different ways in which we can reopen further and further, safely. That's the key.

Wendy Nowokunski
Across the country, other senior and assisted living communities are grappling with the same challenges as Northbridge, some managing better than others. Keeping everyone safe is disruptive and providing ongoing appropriate PPE is expensive. Especially when you make the decision not to accept new residents.
The emotional toll is also overwhelming, for staff, for residents, for families, for everyone. Isolation and loneliness were already huge issues long before COVID, especially for older people. Many more people, of all ages, who have been staying and working at home are now also experiencing the effects of being alone and isolated.
When George moved into Stonebridge, he was not only in a safer environment, but he also got to know the other residents, to engage with them, to participate in activities that he enjoyed. Living there has been good for him, he told me. But being in lockdown, and not being able to have physical contact with your loved ones quickly takes its toll. It's been tough, says George, but he chooses to be optimistic.
COVID changed things. It wasn't bad for the first 3 or 4 months. It's harder as time goes on. You have to brace yourself for an extended period. It's nice to be optimistic and I live with a nice group of people.

George Agule
George's sense of optimism got a huge boost recently when he had a "visit" from his great grandson.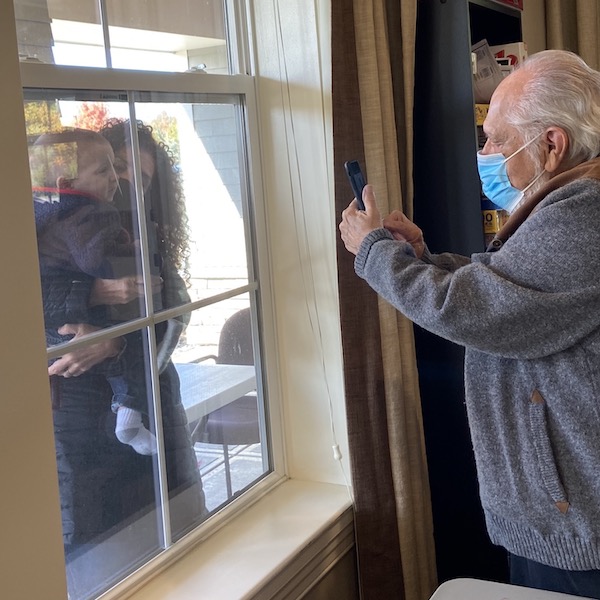 Research shows that optimism is a good thing. Really good. It helps us cope with disease and illness and recover from surgery. It can improve our overall health, which includes boosting immunity. It may be hard to feel optimistic these days, but I think George has the right attitude. Couple that with doing whatever they can to keep people safe, and I think Northbridge and other communities following their lead are on the right track.