I recently received an email from Connie Venskus. Every month, I send one of my blog posts to Turner Publishing, which they put in their community newspapers. Connie read one I wrote about how I was coping during the pandemic. At the end of the piece, I asked readers how they were doing and Connie decided to answer by sending me an essay on what she's been doing to cope. When I asked if I could share it on the blog, she wrote back, "I would be happy to let you share my experiences on your blog. When I read what you wrote about, it did give me comfort to know that we are not so alone during this time of isolation!"
This is Connie's story. Thank you, Connie!
After reading your article about your experience, I had to respond! Like everyone else, it sure has been a time of emotions: fear, sadness, anger. I have found emotional help from watching Dr. Nirav Shah's briefings. His calm no-nonsense approach to explaining to us what is happening and what could happen has given me so much to help me understand what is going on. I was a biology major at St. Joseph's College (You are an alumna also, right?) and my mind needed to understand the science behind this scary disease. From the beginning, I took notes on his briefings as well as the daily reports on our Maine CDC website and have the notes in a binder!

My other savior was our pastor here at Holy Savior Parish in Rumford. Being young and tech-savvy, he very early on enlisted the collaboration of one of our parishioners and they began live-streaming Masses. It was great to have something familiar and comforting to experience each day along with Dr. Shah's briefings.

My husband and I are retired so there was not much change in our daily routines except for his not being able to go to the gym. I am a walker and live where there is little traffic.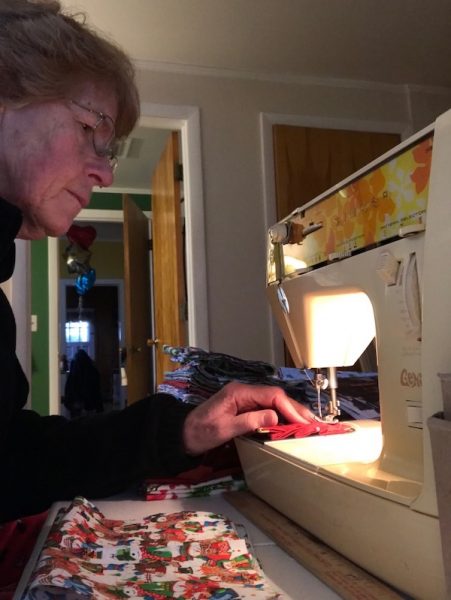 For the first couple of weeks, I made puzzles and that was fun, but I soon realized that making them and then throwing them back in the boxes was not very satisfying. When I saw that a friend was making masks, I decided that I would like to do that also. Since April, our family room where we watch tv has become a "mask factory," I have lost count on the number of masks I have made but it is probably close to 600. When I get a bunch made, I post photos on Facebook.

I do not charge for them and often people can't believe that, but for me, it is a way of doing something positive in a time when there is so much negativity swirling around me. An interesting note is that I have not bought a lot of fabric. I started by using up my supply of remnants from years of sewing. Since then it seems that when I am almost out of fabric someone offers me some more! The main things I buy are elastic for the ear loops and reels of twist ties for the nose pieces. Now I don't compare myself to Mother Teresa, but I remember that she had the same thing happen to her!!!

We had our four-year-old grandson with us two different weeks in the summer. They moved from Boston to upper state NY In late August so we have not been able to see him since then. (And yes they had him tested before he came!) Phone calls and videos have helped us keep up with the rapid changes that happen at this age. As you do, we also miss him so much. When we talk he wants to know what kind of masks I am making. He has more masks than he could ever use but he loves it when I send him new ones!!! Not being able to physically interact with his parents has been hard.

Our other son, who lives in Boston has left his apartment only three times since March. He has been working from home since the lockdown there. He has asthma and is very cautious so I don't worry too much about him.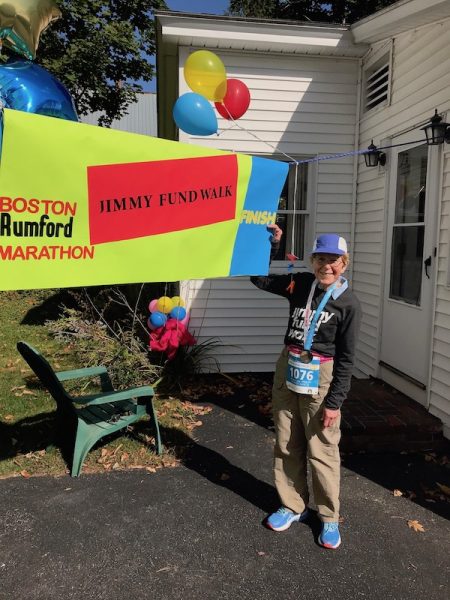 My other passion was training for my tenth Jimmy Fund Boston Marathon Walk, here in Rumford. I spent the summer into early fall training and did the walk virtually. I ended up with a personal best of 6 hours, 54 minutes! After being a bit disappointed at not having all the fun and hoopla of music, balloons, and people cheering me along the way, when I did the actual walk, it was a beautiful peaceful time on a gorgeous fall day. If I am still healthy enough to do the walk an 11th time, (I am 73!) I will seriously consider doing it virtually in my neighborhood once again.

So you asked what we are doing to cope with this crazy time. You probably did not need to have a "book" as a response, but this is my story and I'm sticking to it! Haha!

I wish you the best of health and safety as we continue to navigate in these stormy seas!

Connie Venskus
How about you? Do you have a story you'd like to share about how you are coping with COVID-19? If you do, send me an email