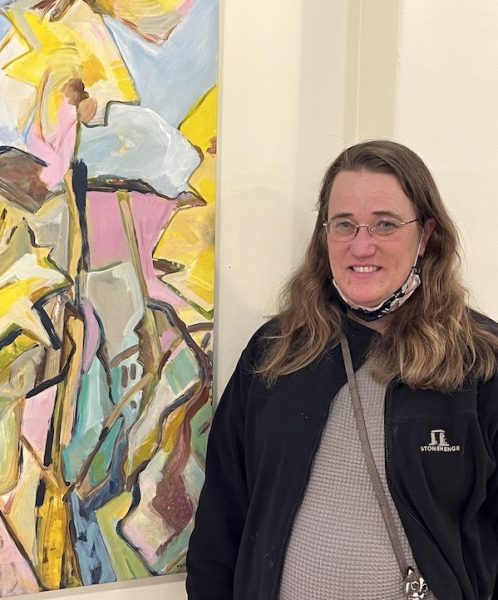 Heidi Stubbs is one of two Maine artists whose work is being shown at the Maine Jewish Museum in Portland. The exhibit marks the 50th anniversary of Shalom House, a nonprofit organization that provides housing and other services, including a robust art program, for people with severe mental illness. It is also in honor of Nancy Davidson, who is the museum's curator, and one of the founding members of Shalom House.
Having a well equipped art studio that is also a safe haven has been a game changer for Heidi. Now 51, she has dealt with mental health challenges since she was 18. For many years she was told she was bipolar and then that she had borderline personality disorder. Neither fit. She says she actually has schizoaffective disorder.
It's a very hard illness to diagnose because it's different for everybody. But for me, I have to watch my ups and my downs. If I get too high, I have hallucinations and delusions and if I get too low, I have the same thing. The extreme highs and lows will send me into a 24 to 48 hour delusional state and I have to go to the ER. I can't explain the stress and trauma around dealing with something like that in your brain.

Heidi Stubbs, artist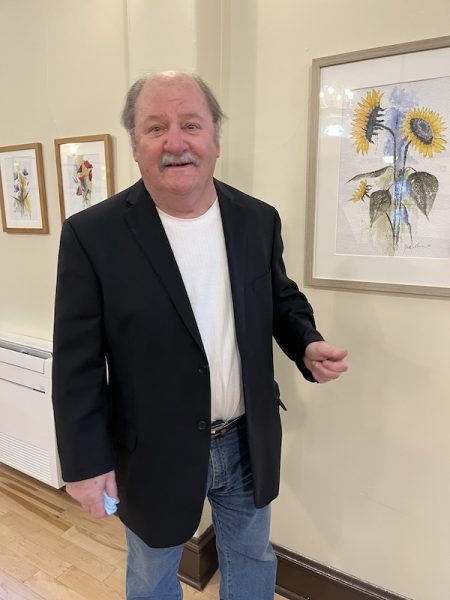 The other artist whose work is being showcased at the exhibit is Jack Sullivan, who has been part of the Shalom House Art Program for several years. The benefits are two-fold, he says. Not only does he have a place to do his art, but he also gets much-needed support.
I've had anxiety and depression for years. It runs in my family. My last depression was five years ago, and I was hospitalized, very suicidal. Each time it happens it has come back worse than the first time and now that I've had three of them I have a 90% chance of it happening again. I just hope that I can live long enough without that happening.

Jack Sullivan, artist
A brief history of Shalom House
When Shalom House came into being 50 years ago in the 70s, there was no art program, only one so-called halfway house. A group of people either living in the Portland community or with family ties, realized that oftentimes there was no safe place for people who were in the hospital with mental illness to go when they were discharged. Nancy Davidson, along with the late Rabbi Harry Sky, represented the Jewish community in this group of ecumenical leaders.
We were starting from scratch. Four of us visited a halfway house in Vermont and also spent the night in a psychiatric hospital. It was a very meaningful connection that helped us start to lay the groundwork for a halfway house here in Portland. I also got to visit another halfway house in San Francisco.

Nancy Davidson, Shalom House founding member
One of the couples in the group of founding members got a second mortgage on their house and bought a building at 90 High Street in Portland. Members of the community helped renovate and transform it into a home where people with mental illness could live safely and as independently as possible. Originally known as Shalom House, a few years ago it was renamed Brannigan House after the organization's late Executive Director Joseph Brannigan. It is still in existence, but Shalom House now refers to the entire organization and currently there are 27 houses throughout Portland and surrounding communities. They range from group homes and transitional housing to independent apartments.
Executive Director Mary Haynes-Rodgers says safe housing is the most critical step to helping someone with mental illness.
If you don't have a place to live you're not ever going to get your mental illness under control or get the right treatment. Because how do you do that If you're living on the streets? If you need medications, how do you even store them if you're on the streets? So, the first thing is to get people in a stable, decent housing situation, and then figure out what type of community services they need.

Mary Haynes-Rodgers, Executive Director Shalom House
There is no straight path to recovering from mental illness, says Mary. You don't develop a major mental illness one day and have it disappear a few years later. It's a lifelong journey and it's different for each individual. The services Shalom House provides take those differences into account.
Whether it is staff to help to manage a person's life, like in one of our group homes, or a case management situation, which has been severely cut in Maine, or medication management prescribed by a doctor, we look at each person to determine what they need and wrap those services around them.

Mary Haynes-Rodgers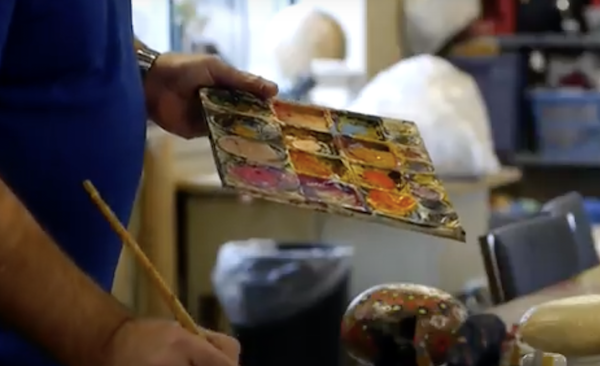 As for the Art Program, for 28 years it has been a source of healing for hundreds of people, including some, like Heidi and Jack, who don't live in any of the Shalom House properties. The only qualification to participate is that you have a mental illness diagnosis.
Tenney Swift has been the program's art instructor for the past 15 years.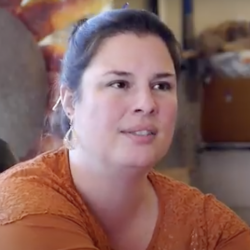 I hate to use the word normalcy, but I try to bring a sense of that. The stigma and labels that I think can sometimes follow people with mental illness around in daily life should drop off when you walk through our door. It shouldn't be a thing. We can talk freely and openly about it should you choose to, but for the most part, you can kind of re-create and have your own sense of self in that room.

Tenney Swift, Instructor, Shalom House Art Program
The art program has been extremely therapeutic for Heidi. She says when she creates a painting, she contemplates good, bad, and indifferent along with right color and wrong color.
When I go about it, I think to myself, you like the fight, you like that contemplation in your brain that causes you to do something more beautiful. It's the fight that you enjoy, instead of running away from it. For me, that's therapeutic. It causes my brain to just move around and work with it. Paint doesn't hurt, it just flows, and that is healing for me.

Heidi Stubbs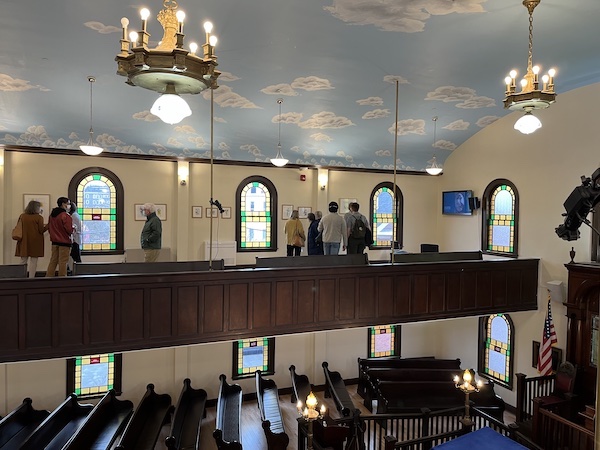 The art program not only benefits clients it can also open the door for other people to talk about Shalom House and mental illness.
Someone might walk in and look at that gorgeous painting over on that wall and then we start talking about how the artist has a severe mental illness. We may talk about schizophrenia or bipolar disorder or whatever, but there's no fear factor.The art is the bridge. It can remove the fear, and allow someone to say, wow, somebody with severe mental illness can paint like that? Yeah, they can do lots of things.

Mary Haynes-Rodgers
If you'd like to see the Shalom House Exhibit, it runs through April 29, 2022 at the Maine Jewish Museum. Visit the Shalom House website for more information about its services and its art program. In full disclosure, I am a member of the Shalom House Board of Directors. Proudly so.
To hear more of Jack Sullivan's story, listen to the podcast episode we did a few years ago: A Conversation with Jack Sullivan.