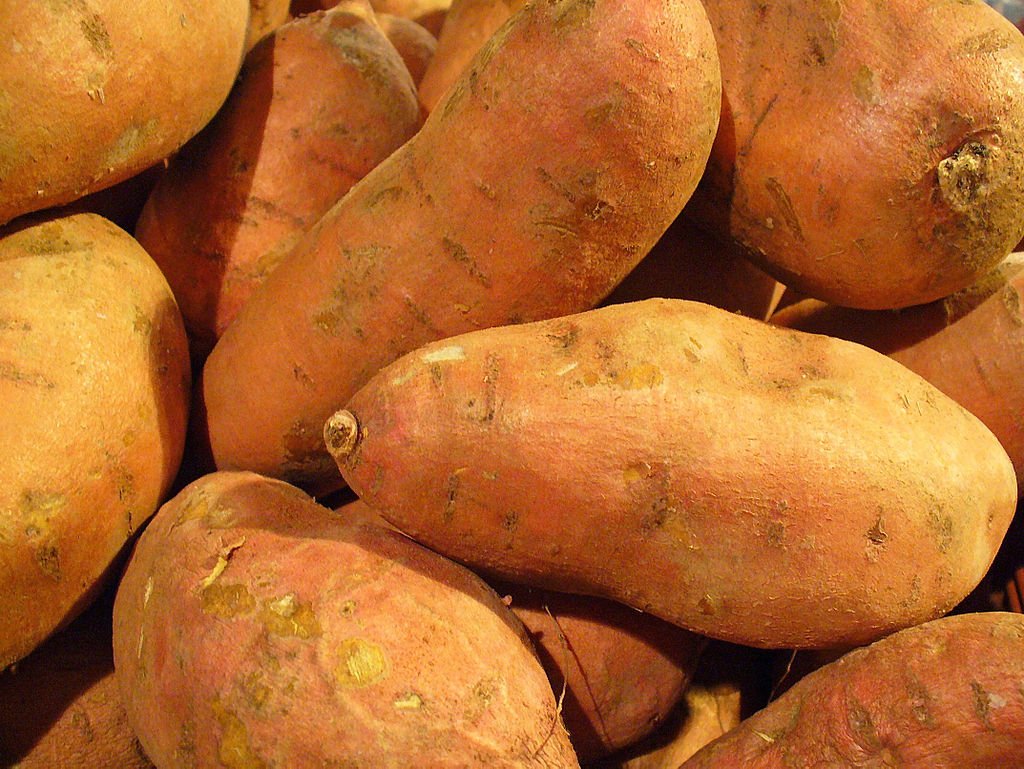 Today, we're cooking up some sweet potatoes. Another food I didn't try until I was older. I'm so glad I did because I love how they taste. And as a source of nutrition, they pack a wallop.
Check out this list of benefits:
Rich in beta-carotene, which is an important antioxidant.
Low in sodium.
No fat.
High in fiber, which helps prevent colon cancer and digestive problems. Fiber also helps keep your bowels moving. And will make you feel full between meals, which might reduce your temptation to snack.
Good source of vitamin B6, which helps break down homocysteine in the blood. Too much homocysteine is related to a higher risk of coronary heart disease, stroke and peripheral vascular disease.
Good source of potassium, which may help lower blood pressure.
High in vitamin A, which is good for your eyes.
High in vitamin C, which is good for your immune system.
Few calories.
Few carbs.
Are you convinced that sweet potatoes might be a good thing to add to your diet?
Here's a bit of practical advice from Fruits & Veggies More Matters. When you buy sweet potatoes choose small to medium-sized ones with smooth skins. Try to avoid potatoes with cracks, soft spots and blemishes.
Store them in a cool, dark place and cook them up within three to five weeks.
Not sure what to make? You're in luck because I have an easy to make recipe for a scrumptious sweet potato soup with a little bite to it. It's a winter staple in my family — I'll be making some this weekend.
I've been making it for years. I don't remember where I got the recipe, but I am extremely thankful I found it. If you recognize it as your own, please let me know and I will make sure to give you credit!
Sweet Potato Soup
This soup has a slight bite to it, which I find quite satisfying.
Ingredients
2 tsp olive or vegetable oil
3 onions, thinly sliced
3 garlic cloves, thinly sliced
1 TBS fresh ginger, finely chopped
1 1/4 pound sweet potatoes, peeled and thinly sliced (about 3 1/2 cups)
2 cups reduced-sodium chicken or vegetable broth
1 1/2 cups water
1/2 tsp salt
1/8 tsp ground allspice or combination of cinnamon, ground cloves and nutmeg
1/8 tsp ground red pepper
4 tsp fresh lime juice
2 TBS fresh cilantro, chopped (for garnish)
Instructions
Heat oil in a large saucepan over low heat.
Add onions, garlic and ginger.
Cook, stirring occasionally until onions soften, about three minutes.
Stir in sweet potatoes, broth, water, salt, allspice and red pepper.
Bring to a boil over medium heat.
Reduce heat to low, cover and simmer for 20 minutes or until sweet potatoes are tender.
Remove saucepan from heat and stir in lime juice.
Transfer mixture to a blender or food processor and puree until smooth. Spoon into four bowls and garnish with cilantro. Serve at once.
Enjoy!
Did you know? A yam is not a sweet potato. Many people think they are one and the same, but they're from different plant families. The sweet potato is an edible root from the Morning Glory family. Yams come from the Dioscoreaceae or Yam family.
How do you like your sweet potatoes? If you have a good recipe, by all means, share it with us in the comment section below. If you're looking for more healthy foods and tasty recipes, we've got quite a few. Take a look and let me know if you have any suggestions.