John Turrell, the Wellness Coordinator at the Greater Portland Branch of the YMCA of Southern Maine, wants us to feel healthier and be a little adventurous, so he's encouraging us to try (or retry) nine new healthy foods. Last week was his first recommendation — sardines. They're rich in protein, calcium, vitamin D, and omega-3 unsaturated fatty acid. This week, it's quinoa.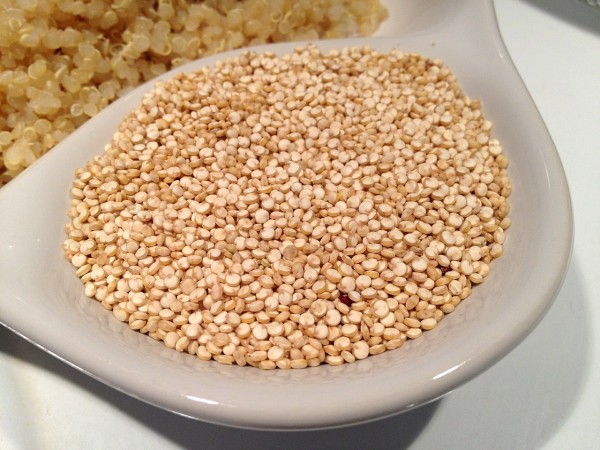 Guest post by John Turrell, Wellness Coordinator, Greater Portland Branch, YMCA of Southern Maine.
Quinoa is a South American food that was originally grown in the Andes, where it has been a staple for the Inca people for over 6,000 years.
When cooked, quinoa resembles a grain or cereal, but it's actually more closely related to beets than true grains. Once considered an exotic food, quinoa has been making its way into mainstream American markets.
With a light texture and nutty flavor, quinoa is usually a substitute for rice, couscous, or oats. Compared to those grains, quinoa offers a more balanced nutritional profile: 9 grams of protein and 4 grams of fiber per cooked cup. Unlike most plants, quinoa contains all essential amino acids, making it a complete protein source.
It's such a complete nutritional powerhouse, no wonder quinoa was an important food for the Incans. We are fortunate that it is now easily accessible to us.
So, give quinoa a try and maybe it will become a staple in your diet.
To help you get started with John's advice here's a recipe for Quinoa Pilaf from Patsy Catsos, Patsy is a registered dietitian in private practice at Nutrition Works in Portland and editor of website IBS-Free at Last! The recipe is from her cookbook Flavor without FODMAPs.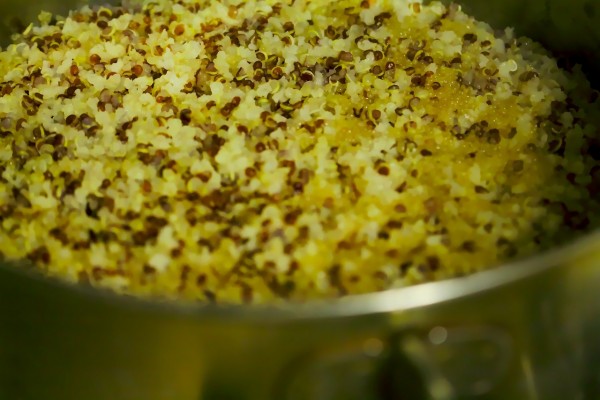 Quinoa Pila
This is a versatile recipe that can accommodate whatever FODMAP-friendly vegetables you have on hand in place of those listed.

Patsy Catsos
Ingredients
1 cup quinoa, dry
2 cups water
2 TBS olive oil
1 cup sweet potato, cooked, peeled and cubed
1/2 tsp salt
1/8 tsp fresh ground black pepper
1 cup cherry tomatoes, halved
1/4 cup toasted pecan pieces
1 bunch scallions, green part only, thinly sliced
1/4 cup fresh basil, chopped
Juice of whole lime
Instructions
Measure quinoa into a medium saucepan, rinse well, drain, then add 2 cups water.
Bring to a boil, then turn down heat and simmer until the water is absorbed, about 10-15 minutes. Remove from heat and allow to cool briefly.
Add remaining ingredients and stir gently to combine.
Serve warm as a side dish.
Serving size: 6 
Calories: 180.56 
Fat: 6.62g 
Saturated fat: 0.7g 
Carbohydrates: 26.25g 
Sugar: 1.59g 
Sodium: 214.77mg 
Fiber: 3.82g 
Protein: 5.34g
 Cholesterol: 0mg
Vary the seasonings to suit yourself. Orange juice and grated ginger might be nice in place of the lime juice and fresh basil.

Unless you are certain the quinoa has been pre-rinsed, do it yourself. Rinsing removes the naturally occurring soap-like saponins from the quinoa, which will improve its taste and palatability. A large, fine-mesh strainer is the easiest way to rinse the grain.

Leftovers will make a delicious cold salad. Just add chunks of chicken or shrimp for lunch the next day.

Patsy Catsos
Thank you for reading the guest post from John Turrell. If you try Patsy Catsos' recipe for Quinoa Pilaf, please let us know how it was. And if you have a good quinoa recipe of your own, share it with us.
Passing along what we do (and eat) to stay healthy and well is what the Catching Health blog is all about. You can add your thoughts and recipes to the comment section below. Thank you!