If it weren't for Pat Jordan, who passed away in May, there would be no Tri for a Cure (an annual women's triathlon in Maine.) It was Pat who lovingly pointed that out to her daughter Julie Jordan Marchese, who founded the Tri eight years ago. "When she reminded me," Julie chuckles, "I said Mum, you're right!" 
Pat was diagnosed with breast cancer in 2001. The news put her family into a tailspin. "She had ductal carcinoma in situ," explains Julie. "It was something no one ever felt was life threatening, but we had never had cancer in our family before and it was very shocking to get the diagnosis. When you hear cancer you automatically think of dying. We were lucky because that wasn't really the case, but it was hard for all of us at the time. That was 14 years ago."
For the 20 years before her mother's cancer diagnosis, Julie had worked in the family business, Jordan's Meats, but it was being sold and she was out of a job. (Julie's father Chet Jordan passed away in 1994.)
Finding purpose
All her life Julie had been searching for a cause. As she helped her mother go through surgery, she realized that she had found it. "I never knew what my calling was or my passion was," she says. "When my mother got breast cancer, I said oh my God. There it is right in front of me."
She reached out to Meredith Burgess, who was a breast cancer survivor and a strong advocate in the local cancer community. Meredith happened to be involved with the Maine Cancer Foundation, which raises money for cancer research and cancer-related programs in Maine. "The next thing I knew," says Julie, "I was on her email list and once you're on her email list there's no turning back!"
In the blink of an eye, Julie found herself chairing the foundation's first annual Cure Breast Cancer for Me Luncheon. "I was at a roundtable," she says, "and they said we need a luncheon chair. I don't know what made me do it, but I put my hand up. When you're in those situations, either you put your hand up and go for it or you don't. I guess I grew up in a family that was taught to put your hand up. I ended up chairing the luncheon for 10 years."

The first triathlon
During that time, Julie got her own breast cancer diagnosis, the same type as her mother. After her treatment, someone suggested that she do a triathlon to "get my inner you back in."
She was intrigued and found some friends, including Meredith, to train with her. None of them had ever done a triathlon before. "We all completed our first triathlon in 2005," she says. "I had never done anything to make me feel the way I felt when I crossed the finish line. It empowered me in ways that I just don't know where it came from."
Julie suggested the idea of a triathlon to the Maine Cancer Foundation and was told she'd have to raise $35,000 for it to be successful. The first Tri for a Cure, in 2008, pulled in $275,000. "We knew it was a gem," says Julie. "We wanted 500 participants but would have been happy with 250. We were sold out in six weeks."
Eight years later, more than 1000 women participate in the annual Tri and together, they have raised nearly 5.5 million dollars to fight cancer here in Maine.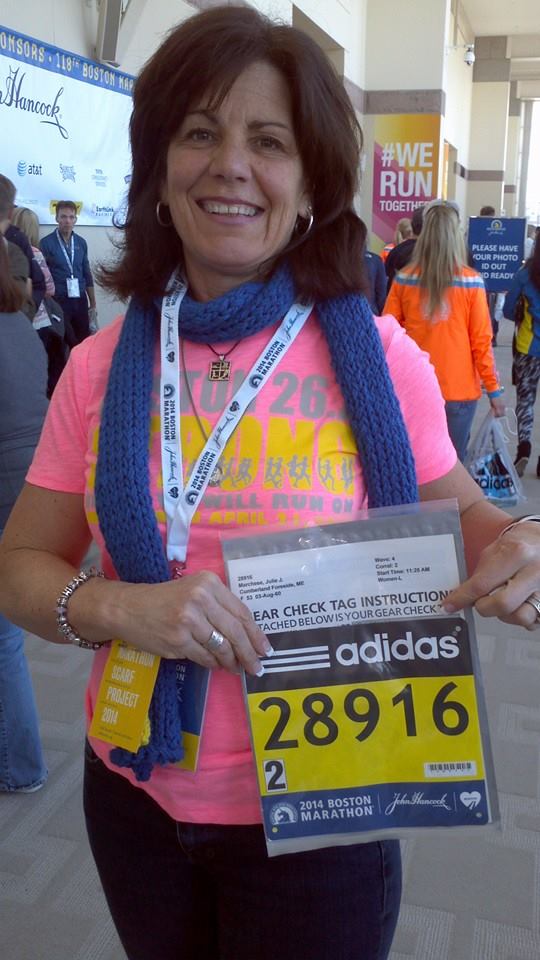 Inspired by her mother
Julie continues to be the Tri's race director. She also helps run two businesses: Inspired Events, which puts on events for non-profits and sheJAMS, which puts on several fundraising races throughout the year and offers triathlon training for women. "It's about training," says Julie, "but it's also about community. We do all sorts of things to give back."
She's also completed a lot of personal races since her first triathlon. She did a half ironman for her 50th birthday, continues to do triathlons and even did the Boston Marathon in 2014. She says, "In September, I'm going to do the Lobsterman Olympic Triathlon to raise money for the Maine Cancer Foundation in Mom's honor."
Her mother once remarked that she won a lot of her races. "I told her each one I do I win. Just being at the starting line is being a winner."
Julie Marchese started winning the moment she raised her hand to help so many years ago. "It changed my life and everything I do. I feel like I have purpose."
If it was her mother's diagnosis of breast cancer that inspired Julie to act in the first place, it was her mother's willpower that inspired her to keep at it. " She had huge willpower," says Julie. "I'm just like my mother. She gave me that. She was my inspiration for everything I've done. Every single thing."
Pat Jordan died at home on May 29 at the age of 81. She was surrounded by her family, including her four children, Julie Marchese, Joe Jordan, Joanne Jordan and Jill LaRoche and their families. 
2015 Tri for a Cure
This year's Tri for a Cure takes place July 26. It's too late to register, but it's never too late to support someone else or to be a volunteer at the event. Visit the Tri for a Cure website for more information.
[jetpack_subscription_form]