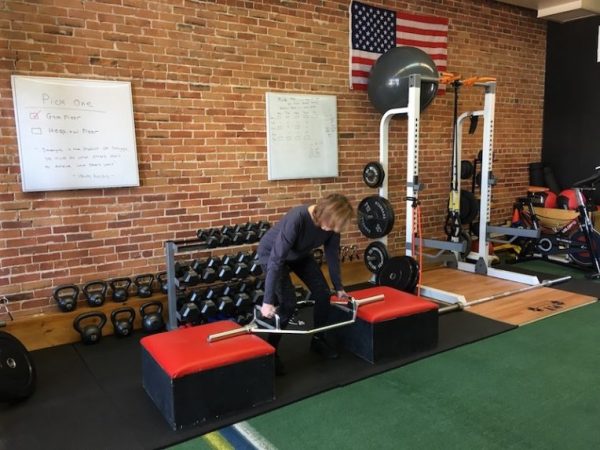 Trap bar deadlifts. They sound much worse than they are and there is joy in doing them because they make me feel stronger. Andy Wight (my fabulous personal trainer) started me off lifting 45 pounds. I stepped inside and listened carefully to his instructions. 
"A little bend in the knees," he told me. "You want to hinge at the waist and then grab onto the handles, gripping as tight as possible. Keep your back nice and flat, come up and stand up tall and really squeeze the glutes at the top."
Andy says when you lift the trap bar it works on lower body strength. However, you have to engage the upper body as well so it's a good whole body exercise.
I did a little research and found out the trap bar was patented in 1985 by a powerlifter named Al Gerard. Apparently, he had a nagging lower back injury and the trap bar is easier on the spine than a straight bar. It's also great for beginners — like me. Andy says it's a good hybrid between squatting and deadlifting with a straight bar.
I can't wait for him to add more weight to the bar. I lift 45 pounds and imagine 50 and 100 pounds. Slow down, Diane. Andy says the first step is to engrain the movement. "We're working first on making sure we have proper form before we add any additional resistance to it," he explained. "It's one of those exercises I like to see people progress into. We want to make sure we have the foundational movements covered before we move onto anything else."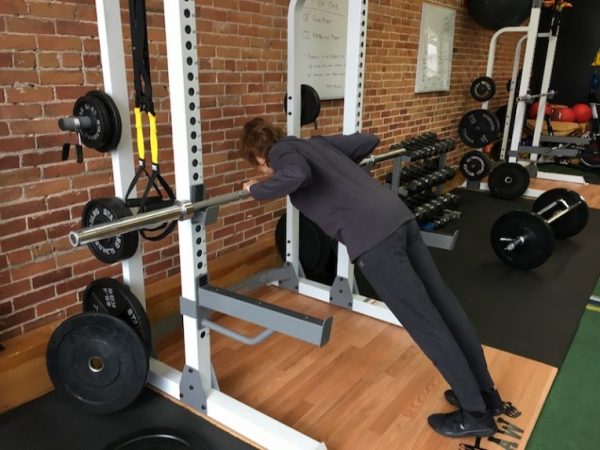 Another movement I'm working on is push-ups. But as you can see from the picture, I'm not doing them on the floor, at least not yet. As I progress, instead of raising the bar, Andy lowers it — literally. "With a push-up," he says, "I like to work from the top down. With the bar up higher we're using a little less body weight, but as the bar gets lower we're increasing the amount of weight or amount of resistance. It's a great way to control it as we get down to push-ups on the floor."
We work out for about 45 minutes twice a week. In between, I do the treadmill and I've upped my speed. I was stuck at 3.5 (yes, yes, I know that's pretty slow compared to some people) but now I'm at 4.0 and climbing!
Since we started in January, I feel more motivated and stronger and I have more stamina. Another thing I've noticed is how much more energy I have, especially right after a session. Yesterday, for instance, I was beat because I'd done a ton of errands before I arrived. I still had one more thing to do but thought I might hold off until another day. After exercising, not only did I get the errand done, when I got home I still had enough energy left to fill the wood box. Dozens of armloads!
How about you?
If you've been thinking about being more active, I can't recommend it enough. As I've mentioned before, part of my motivation comes from blogging about my experience. I love it when someone says they've been following along. It's encouraging and it's also like working out with a buddy. So, now I want to offer some encouragement to you. Get moving!
And if you live in the Westbrook area, let me recommend AW Strength & Conditioning, owned by Andy Wight and Andy Kinslow. They offer personal training and an array of classes, including boot camp and kettlebell classes. There's also a Sunday morning fitness class for three to 10-year olds. "Basically, it's building a foundation for kids," says Andy. "Teaching them that fitness is fun and doesn't have to be an activity that you dread. We want the kids to start early so it becomes a life-long journey."
Andy told me that no matter how young or old people are, their number one goal is that everyone who comes in the door reaches his or her fitness goals. They also want people to feel comfortable and to know that they offer a safe and effective training program. My primary goal was to be stronger and I am (and I want to keep going.) I was intimidated at the start but now I look forward to each session and never once have I felt uncomfortable.
I hope you'll follow my lead and start some kind of exercise program. Let me know what you're doing and if you need a pep talk to get you started, I can help you out with that as well!