Yup, doctor's orders — you have to try this recipe for spring rolls. They're delicious. They're healthy. They're easy to make. The recipe comes from MaineGeneral Medical Center in Augusta. Most people leave the hospital with a prescription for medication, but at MaineGeneral you might also be encouraged to take some cooking classes in its state of the art teaching kitchen. The envy of any serious chef.
The primary purpose of any good teaching kitchen is to help teach patients and their families and caregivers, as well as people in the community how to cultivate healthier eating habits. Educate not by just standing at the kitchen counter and delivering a lecture or doing a cooking demo, but by offering a hands-on experience.
"We can give lots of information to people about what good nutrition is," Dr. Barbara Crowley, MaineGeneral's Chief Transformation Officer (I love that title), told me, "but with teaching kitchens,
[we can help] people learn how to cook well with simple affordable ingredients that they can make under 20 or 25 minutes. [They can] be a tool that helps us really improve the nutritional status of the people we serve. Particularly for three groups of people: Those who are facing obesity, chronic illness, and food insecurity."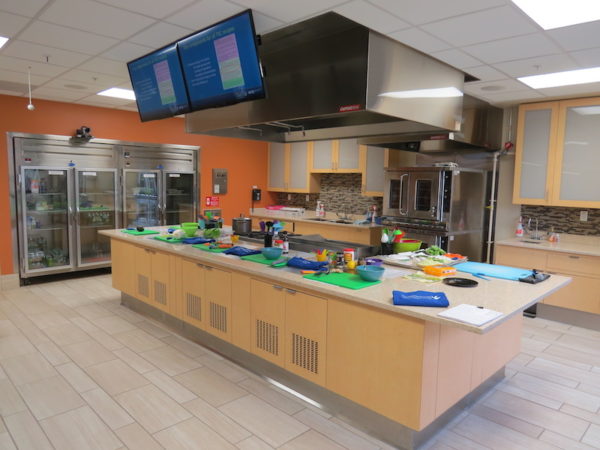 The MaineGeneral Teaching Kitchen is one of a growing number of teaching kitchens in the United States. In 2016, the Culinary Institute of America and Harvard TH Chan School of Public Health formed the Teaching Kitchen Collaborative. MaineGeneral is a member.
The group meets throughout the year, either in person or virtually to discuss current research, what's working and what isn't, and how they can provide resources to other organizations that want to build teaching kitchens. And by the way, it doesn't need to be a stationary kitchen like MaineGeneral has. It could be a food truck or a pop-up in a variety of settings— senior center, food bank, local Y.
Dr. Crowley: "If we can help support the Collaborative with its mission to help all of us cook better, waste less food and eat more nutritious meals, down the line it's going to have a huge impact on our own well-being."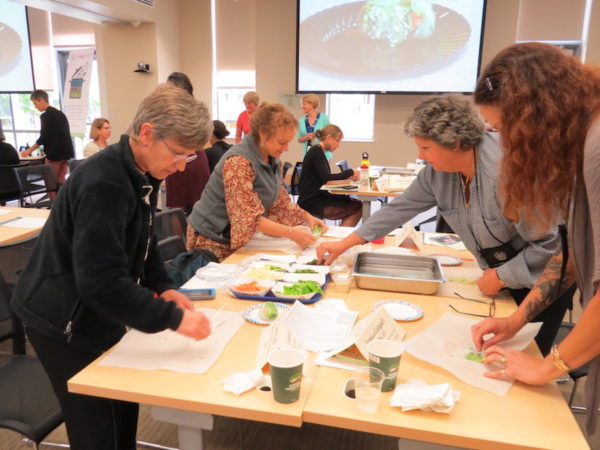 In September, MaineGeneral and Kennebec Valley Community College hosted an in person meeting of Collaborative members from 32 organizations around the country, as well as Italy and China. It was a big deal and you can bet food and cooking (and eating) were on the agenda. In fact, all of the participants learned how to make the spring roll recipe. And now, you can too, with these step-by-step directions. Enjoy!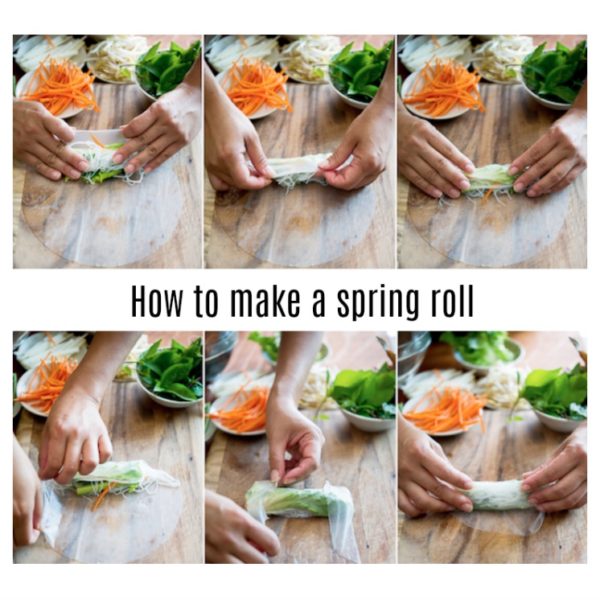 Spring Rolls Recipe
Yield: 15 rolls
Ingredients
1 package thin rice noodles, rice vermicelli or bean threads
1 head of Boston lettuce or other soft green
2 cups of shredded Napa Cabbage, purple cabbage, mixed greens
1 cucumber, halved crosswise-seeds removed, sliced into matchsticks (~ 1 cup)
3 medium carrots (sliced into matchsticks or grated)
16 fresh mint leaves, chopped
16 fresh cilantro leaves, chopped
16 small fresh basil leaves, chopped
1 avocado, remove skin and stone, slice thin (optional)
1 block Firm Tofu – sliced into ¼ inch sticks (optional)
12 medium cooked shrimp, cut in thirds
15 8-inch round rice paper sheets- brown or white
Instructions
Prepare the noodles/bean threads per package directions. Drain and rinse, drain again. Cut the noodles in half and then in half again, set aside.
While noodles soak, prepare an assembly line with individual bowls (or piles on a cutting board) of the herbs, lettuce, cucumber, carrots, avocado, and other optional items.
Fill a wide, shallow bowl with hot water and set it next to a work surface on a flat plate or a clean folded-over muslin dish towel. Slide in one (or two if you want it doubled) wrapper and submerge gently for about 20 seconds or until very pliable. Transfer gently to your work surface/towel and pat gently.
Just below the center of the sheet, place 1 lettuce leaf or greens, top with about 2 tbsp. of noodles, a few sticks of cucumber, sticks or shredded carrot, a pinch of herbs, and a slice of avocado/tofu/shrimp. Lift the bottom of the wrapper and fold it snugly over filling, creating a filled cylinder at the bottom portion of the wrapper.
When filling is completely enclosed, fold in each side (burrito style), and continue rolling, pressing lightly on the seam to seal. Set each roll on a platter to dry, seam side down. Repeat to make 8 rolls.
Cover with a damp towel if not serving immediately. Serve within 2 hours at room temperature, or refrigerate up to 24 hours. Serve with your favorite dipping sauce. Wax paper between layers of rolls works to prevent them from sticking together while they are stored.
Peanut Sauce
Ingredients
1 can lite coconut milk
1/3 cup peanut butter
2 1/2 Tbsp maple syrup
1 Tbsp apple cider vinegar
2 Tbsp reduced sodium soy sauce
1/4 tsp. crushed red pepper (optional)
Mix until smooth, using a blender, food processor, or whisk.
Maple Mustard Sauce
Ingredients
8 Tbsp maple syrup
4 Tbsp whole grain mustard
2 Tbsp tahini
4 tsp lemon juice
In a small bowl, whisk together maple syrup, mustard, tahini, and lemon juice. Season to taste with salt.
Brown Dipping Sauce
Ingredients
½ cup reduced sodium soy sauce
¼ cup rice wine vinegar
2 Tbsp finely grated ginger
2 Tbsp chopped green onion
2 medium cloves garlic, minced
2 tsp sugar
1 tsp roasted sesame seeds
Whisk ingredients together in a bowl.
Let me how they turned out and also if you have any questions about healthy cooking tips.
If you live in the Augusta, Maine area, check out MaineGeneral's website for the cooking class schedule (they offer lots of other health and wellness programs as well.) If you live elsewhere, there might be a great teaching kitchen in your community and if not, maybe you could be an instigator and make it happen!