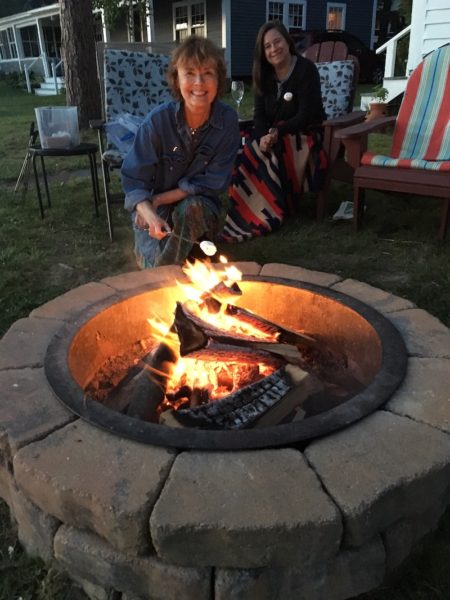 When we're upta camp, we often sit around our neighbor's fire pit at night. Sometimes we toast marshmallows and sometimes we take it a step further and build a few s'mores.
The first time I ate a s'more was at Girl Scout camp. I always figured they were invented by a Girl Scout. According to a 2012 article by Brendan Leonard in the Adventure Journal, I might be on the right track.
We can accurately state that the Girl Scouts first published the recipe for Some Mores in 1927, in a book called Tramping and Trailing with the Girl Scouts (a copy of which sold on eBay for $250 in 2011). The recipe was credited to a woman named Loretta Scott Crew. The name "Some Mores" can be found in publications up until 1971, but at some point was shortened to its contracted form, s'mores.

Crew may be credited in the first publication of the recipe, but she may or may not have been the first to create it – some sources attribute the recipe to the Campfire Girls, and one site claims the name Loretta Scott Crew is a Wikipedia hoax.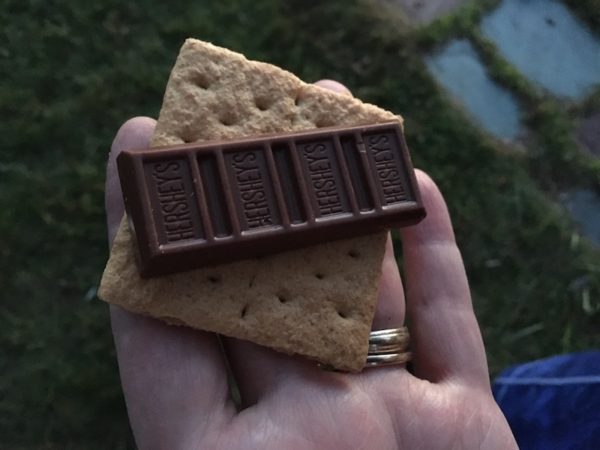 I never gave the nutritional value of s'mores much thought except to imagine that the graham cracker might be healthy enough to cancel out the marshmallow. And that even though it wasn't dark, the chocolate could have some benefit.
Who better to ask about the nutritional value (or lack thereof) than my camp neighbor Patsy. The same woman who proffers up the ingredients for our summertime indulgence. I should mention that Patsy is a registered dietitian. One who fully admits to being human and unable to resist certain temptations.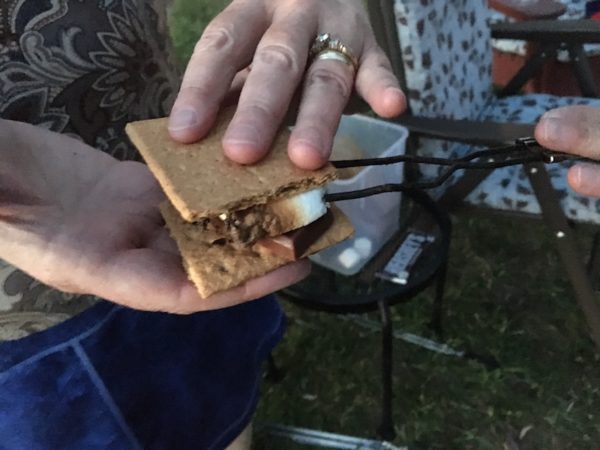 Here's what Patsy had to say about the health benefits of s'mores:
Sadly, s'mores have no redeeming value as a source of nutrition. The healthiest option is to have just one, and truly enjoy it.

In my opinion, switching to gluten-free graham crackers or vegan marshmallows wouldn't do a darn thing to make them healthier. Using dark chocolate instead of milk chocolate would be a slight upgrade.

Feel free to quote me!
Hmmm … so, what's my response to Patsy's assessment? "Could I have just one more s'more, please, Patsy? I'll make one for you, too."
By the way, if you have never experienced a s'more, here's how to make one the traditional way over a campfire. Try not to overindulge.
Place a piece of milk chocolate on a graham cracker.
Toast a marshmallow.
Squish the toasted marshmallow onto the chocolate with a second graham cracker.
Cool a bit and eat.