From policy analyst for a Washington, DC think tank to bakery owner. Talk about a career shift. As Elise Richer puts it — instead of scatter plots and line graphs she always had cookies on the brain. And now, she's baking dozens of them and so much more at Tin Pan Bakery in Portland, Maine.
Elise moved to Maine in 2003, where she worked at a local bakery cafe and then launched a business called Cream & Sugar from her home. She baked cakes to order and sold items to local coffee shops and at the Portland Farmers Market.
She also wrote a cookbook, which is filled with delicious recipes and beautiful illustrations by Teresa Lagrange: Always in Season: Twelve Months of Fresh Recipes from the Farmer's Markets of New England.
The idea for Always in Season was born from the realization that even people who want to support local agriculture often don't know what to cook with the items that are most easily grown locally here in northern New England. I wanted to write a cookbook that anyone getting a farm share box could use to make delicious meals. When Islandport found artist Teresa Lagrange to do the illustrations, that was a terrific bonus.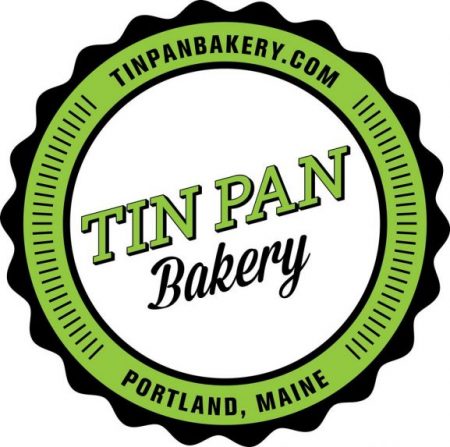 Right after Thanksgiving 2016 Elise realized a life-long dream and opened Tin Pan Bakery on Brighton Avenue in Portland.
Jen Boggs, my editorial accomplice here at Catching Health, asked Elise about her goals and what she loves about baking. She also got a few baking tips for us and, of course, a great recipe.
What is your goal with the bakery?
Our goal is to have a friendly bakery that is creative, uses local ingredients whenever possible, and produces everything from scratch. Our constantly-changing menu is our calling card — we make what makes sense on any given day. While we always have certain standards available, our menu is never the same from one day to the next. Also, we make everything on-site, which you can tell when you walk in because it smells so good. Too many bakeries and coffee shops shlep their items in from somewhere else. A bakery that smells good is a wonderful place.
What do you love the most about baking?
When you bake something and hand someone the final product, they always smile. If you bake someone an imperfect pie, they still have a pie at the end, and they are happy.
Is there a way to make healthy (or healthier) baked goods?
I would say bake with fresh, good ingredients, and watch your portion size.

You can also experiment with "healthy" ingredients. One that I'm really fond of is graham flour. This is a good item to substitute for some regular white flour, especially in baked goods that you want to stay tender because it will develop less gluten than other flour.

Other great ingredients to work with are oats, nuts, and fresh or dried fruit. And don't forget that you can bake lots of wonderful savory treats. Some of our most popular items are hand pies or galettes made with things like spinach, roasted tomatoes, and caramelized onions. Leaving out the sugar entirely keeps it healthier.
What tip(s) can you offer home cooks who bake?
The number one tip is to use a scale. Weigh your ingredients instead of using cup measures. My mom is Norwegian and came to the US in the 1960s with her old fashioned balance scale and her Norwegian cookbooks that call for everything to be weighed. Weighing your ingredients helps you be more consistent. These days people typically use electronic scales. They are terrific.
A delicious recipe
Elise says the recipe she chose is highly adaptable to other fruits (especially good with other berries), as well as to other grains.
At the shop, we make raspberry oat bars, blueberry cornmeal bars, and apple bars, and they are all a variation on this same idea. You could swap in some oats or buckwheat flour or graham flour for some of the white flour in the base. Experiment and figure out what you and your family like best.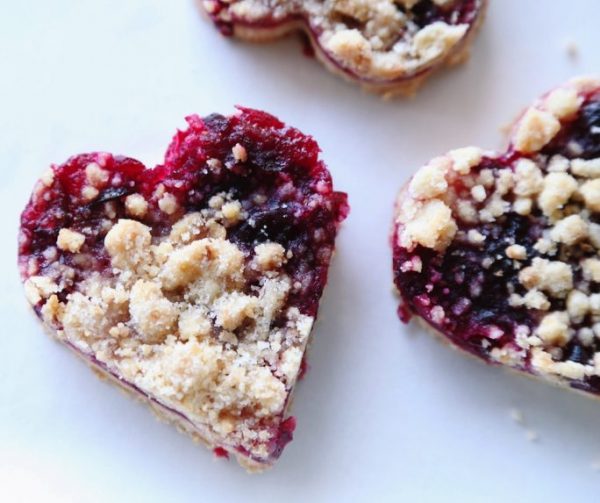 CRANBERRY TREAT
Recipe compliments of Elise Richer, Owner and Chief Baker at Tin Pan Bakery.
Ingredients
10 tbsp butter
1 cup sugar, divided
1/2 tsp salt
1/2 tsp ground ginger
pinch nutmeg
1 tsp lemon zest
1 egg yolk
1 tsp vanilla extract
1 1/2 tsp brandy
2 cups flour
1 1/2 cup cranberries, fresh or frozen
1 Tbsp lemon juice
1 Tbsp water
3 Tbsp brown sugar
Instructions
Crust
Preheat oven to 325 degrees.
Grease an 8 x 8-inch baking pan and line it with parchment paper.
Melt butter in a medium saucepan over low heat.
When melted, remove from heat and stir in 1/3 cup sugar, salt, ginger, nutmeg, and zest, mixing well.
Stir in egg yolk, vanilla, and brandy and mix thoroughly.
Stir in flour to make a stiff dough.
Set aside 2/3 cup of the dough in a small bowl.
Press the remaining larger portion of dough into the bottom of the pan, covering it.
Prick dough a dozen times with a fork and chill in the refrigerator.
When oven is ready, bake crust for about 18 minutes until it looks dry and lightly browned
Filling and topping
Bring cranberries, remaining 2/3 cup sugar, lemon juice, and water to a boil.
Reduce heat and simmer for 5 – 8 minutes, until cranberries are beginning to burst.
Remove from heat and let rest until crust is baked.
With your fingers, mix the brown sugar into the set-aside 2/3 cup of dough.
When shortbread crust has baked, remove from oven and increase heat to 350 degrees. Pour cranberries over warm crust. Scatter remaining dough on top in small clumps. Bake 30 to 35 minutes or so, until topping appears light brown and crunchy. Cool completely or even chill before cutting.
I think these would be a perfect treat to bake for your special valentine, don't you?