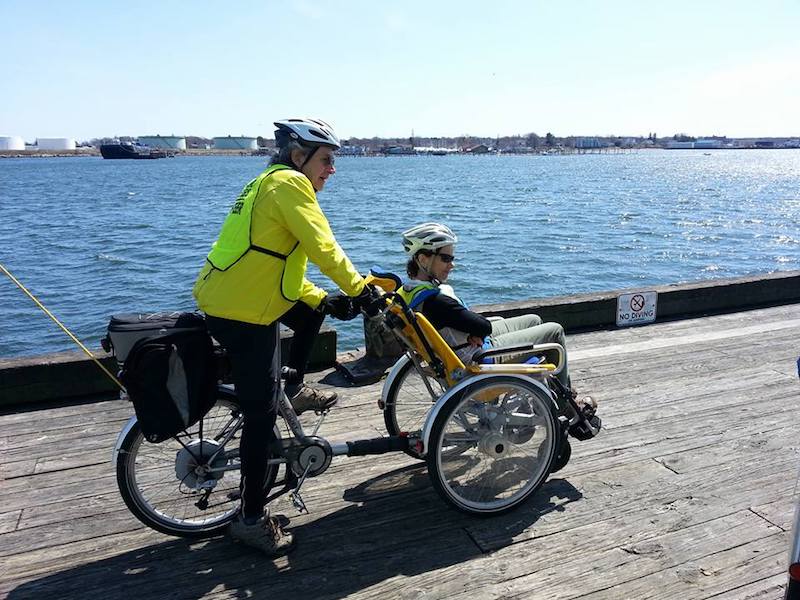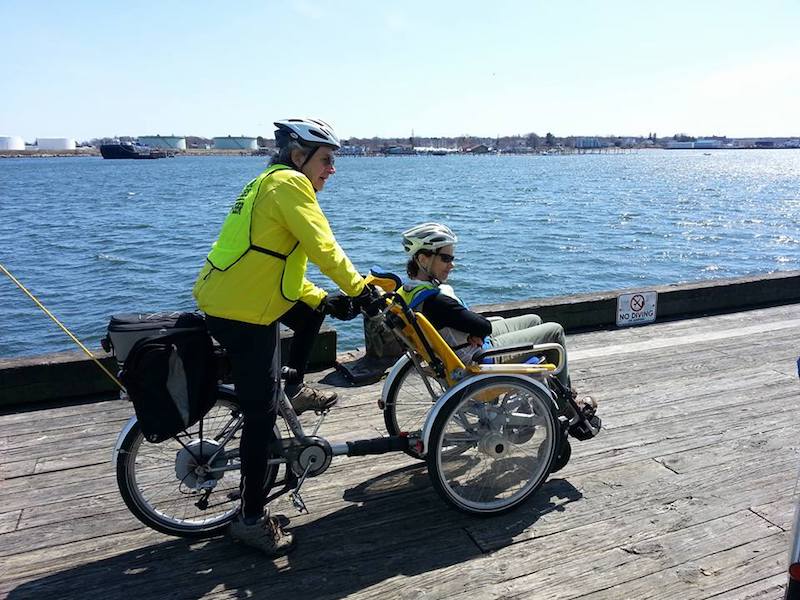 If you love to ride a bicycle and you're looking for a way to give back to your community, I have a great idea for you. If you live in the greater Portland, Maine area, become a Portland Wheeler. There may be a similar group in your neck of the woods.
From May to October, the non-profit organization offers free recreational rides for people young and old and in between who are living with a disability and can't ride a bike by themselves. Doug Malcolm, a registered nurse who used to work in a rehab hospital, founded Portland Wheelers after seeing a similar program in Cape Cod. "I saw the need," he said. I wanted to see if we could bring the program here and we did. It's going very well and we're having a great time."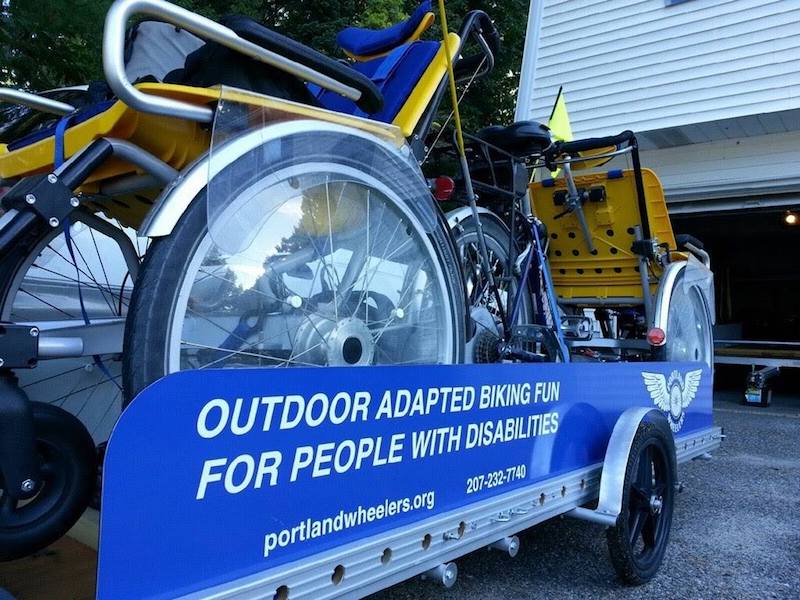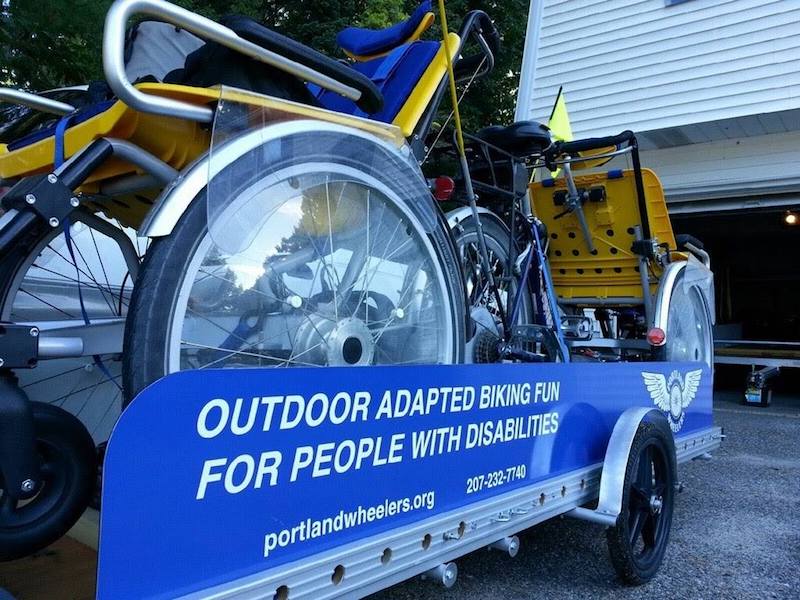 The bikes are specially adapted three-wheelers or tricycles with two wheels up front and one in the back. The passenger or wheeler sits up front and the pedaler or pilot sits in the back.
"The unique quality of this bike, the way it's engineered," explained Doug, "is that it comes apart. The rear breaks apart from the front and the front becomes a standalone wheelchair. We can wheel the wheelchair into a facility, grab Mary or Bill and get them outside."
Right now, the Portland program has about 30 pilots but they expect to give hundreds of rides at facilities all around greater Portland this summer and could use 10 to 15 more.

What does it take to be a Portland Wheelers pilot?
"It takes somebody who has a background in riding bikes, who's comfortable on bikes and likes being outside riding," said Doug. "Mostly they just need to enjoy people of all ages because they have a wonderful connection during the ride with their wheeler and the wheeler has a wonderful connection with them. And they need the willingness and the ability to learn a new way of riding a bicycle because a tricycle rides very differently from a bicycle."
One of the differences is a trike doesn't lean when you steer, so you can't lean into a turn. Another is that there are two centers of gravity instead of one — the pilot and the wheeler.
Learning to pilot the bike is a bit tricky says volunteer Joe O'Donnell, but fine once you get the hang of it. "They are top heavy so they feel a little bit tippy," he said. "And they turn in a really broad circle so you have to plan ahead and you have to think constantly about the safety and comfort of the client, so there's a lot of thinking as you're peddling."
Why volunteer?
Joe's a volunteer because he loves to be outdoors and he loves to help. "My mother was a polio victim," he explained. "I learned what it was to help someone and how useful it is. It's hard to not to keep doing that. Being a pilot is great fun."
Rob Petrillo agreed. "It's fun and it's good to do," he said. "It's a great way to meet people and give something back to people who have given all their lives. I would definitely recommend it to other people. The training takes about a day. It's thorough and Doug does a terrific job. And then, you're ready. You get your first wheeler and at the end of that first ride when you come back, they're so exhilarated. It's a wonderful feeling."
Kristin Grant is a volunteer because she loves being active and loves giving other people a chance to be active. I met Kristin and the other volunteers at Avita of Stroudwater, a memory care facility in Westbrook. "My mom lives here at Avita and I've been wanting a way to connect with her in the outdoor activities we grew up doing together," she told me. "I get to share it with her and lots of other people who can't get out on the roads independently anymore. It's really been a great experience."
The rewards
Molly Nute, Director of Social Programming at Avita, recalls the first time the group wheeled up to Avita. "The residents were so excited when they saw the bikes. They were like are we going to go on them? Are we going to participate? The first group went out and they came back laughing, smiling. They loved it and the weather was perfect that day."
On the day I caught up with the group at Avita, it was a bit cool and overcast but it didn't matter one iota. The residents were anxious to ride and even though they might not remember how to steer a bike anymore, they remembered how it felt.
Gini: "I'm looking forward to it. When I had my bike, I used to take my neighbors for rides on it. I'll enjoy it I know."
Hank: "I used to do a lot of foolish things out there." How about bicycling? "Oh, yeah, sure." Why? "Because I just like touring and going to different places."
On this day, he got to tour some Westbrook neighborhoods he'd hadn't been in before.
It might be easy to assume that someone with a disability or a condition like dementia can't participate in certain activities — like going for a bike ride. It often just takes a different approach.
"I always tell families it doesn't matter," Molly said. "They're diagnosed with dementia but that doesn't mean their life has to stop. We try to provide programming and activities that are still fun, but we support them and it's safe. They just have that little extra support that they need.
Watch this short video to see just how far the extra support Portland Wheelers provides can go in bringing joy to someone — in this case, to the wheelers and their pilots.
More information about Portland Wheelers
If you'd like more information about the Portland Wheelers, visit their website. And, by all means, if you love to bike and you're looking for a way to give back, consider becoming a wheeler. Click here to contact Doug Malcolm.