It's been a little over a year since Danielle and Bobby Cochrane stepped into what still seems like a nightmare. Up until then, they were a busy, happy couple with two lively little boys —Griffin, who was three and his little brother Sawyer, who had just turned one.
On a Sunday night in June 2017, they took Griffin to the ER because he fell and hit his head. They mentioned to the ER doctor that he hadn't been his usual energetic self that summer and that they had noticed some red spots on his legs and chest. He ordered a blood test and the results were heart-stopping
The ER doctor came in and said we're sure that your child has leukemia. They rushed us up to The Barbara Bush Children's Hospital where the oncologist met us and talked to us for hours about what was going on. ~Danielle
Griffin started getting chemotherapy the next day. Life-saving drugs were delivered through a Mediport that was inserted into a vein in his chest.
It was unimaginable what was going on. Day after day, they sat us down for hours going over different parts of treatment and what the would look like, chemotherapy and side effects, additional testing to determine the exact type of leukemia. It was difficult to take it all in. It didn't sink in until the following week or so. ~Danielle
A bone marrow aspiration confirmed that Griffin had acute lymphoblastic leukemia (ALL), the most common form of cancer in children. According to the American Cancer Society, "The 5-year survival rate for children with ALL has greatly increased over time and is now more than 85% overall."
Danielle and Bobby quickly learned that ALL was an umbrella term and that there were many subtypes. Further testing showed that Griffin had B-Cell and Philadelphia chromosome-like ALL.
There are so many different types and different types have different outcomes. For Griffin's type, the Philadelphia-like has a more unfavorable prognosis, not 85%. Another type might have 95-98%, but the average is 85%. ~Danielle
Griffin spent the first phase of his treatment in the hospital. The primary goal was to kill all of the leukemia cells in his blood and bone marrow and get him into remission.
The big gold benchmark as far as prognosis is whether you are MRD positive or negative at the end of the first phase, the induction phase. He had another bone marrow aspiration and thankfully, he was MRD negative, meaning there was no detectable leukemia in his bone marrow, which was very favorable as far as his prognosis. Although his cytogenetics are not favorable and he's high risk, within three days he had no cancer cells in his blood. He's a fast responder to chemo, which is wonderful. It's what helps ground us. ~Bobby
Even with the hopeful news, Griffin will continue treatment for the next two years, a total of three and one-half years. He's past the induction and intense chemotherapy phases and is now in the maintenance phase.
He now gets a lumbar puncture every month so they can put chemo directly into his spinal cord. He also gets IV chemo in his port once a month and then has daily chemo at home.. He's used to all of it now and is pretty much able to function as a normal, rambunctious four-year-old. ~Danielle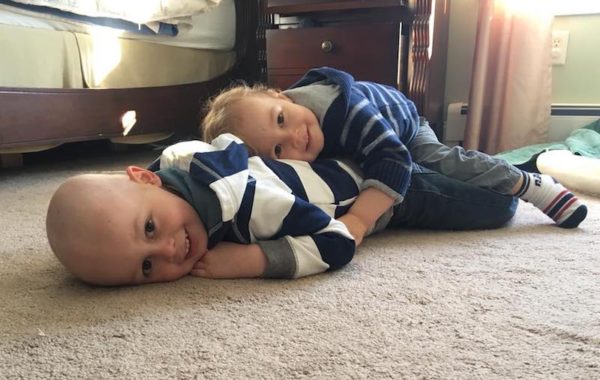 The family may have established a routine of sorts, but ever since Griffin's diagnosis, their lives have been flipped upside down. Bobby and Danielle are both physical therapists. Bobby practices at OA Centers for Orthopaedics, but often has to adjust his schedule. Danielle had to stop working, so she could take Griffin to his treatments.
We have a calendar to keep track of his medicine every night. We pick and choose where go, what do, depending on his blood counts. We can't be like a normal family. This is normal for now. Everything revolves around his treatment. Griffin thinks his younger brother just isn't old enough to have a port yet. If another kid at preschool is going somewhere he thinks they must be going to clinic. ~Danielle
Danielle's mother, Rhonda Lamb (AKA Nana), is convinced that Griffin did so well after his first round of treatments because, as you might expect a couple of physical therapists would do, his parents kept him active.
Shortly after, I was reading an article that had just been published by MD Anderson. It said they've shown that kids who stay active during their treatment have better outcomes. I showed that to Danielle and Bobby and said, this is probably why he did so well, because of you. And Griffin didn't even realize he was staying active. We made it fun.
According to the American Cancer Society, childhood cancers make up less than one percent of all cancers, but rates have risen slightly over the past decade. Currently, about 15,000 people under 20 are diagnosed every year. A recent CDC report showed that Maine, where the Cochranes live, had one of the highest incidence rates of pediatric cancer between 2003 and 2o14.
Incidence rates of pediatric cancer between 2003 and 2014
| STATE | INCIDENCE/ 1 MILLION | NUMBER OF CASES |
| --- | --- | --- |
| New Hampshire | 205.5 | 816 |
| Washington, DC | 194 | 306 |
| New Jersey | 192.3 | 5,308 |
| Maine | 190.5 | 725 |
| New York | 186.6 | 11,378 |
Overall, the pediatric "cancer types with the highest incidence rates were leukemias (45.7), brain tumors (30.9), and lymphomas (26.2)."
Over the past 50 years, the Food and Drug Administration has approved about 190 cancer drugs for adults, but only three for children. Only four percent of federal government cancer research funding goes to study childhood cancers. That's something the family just can't understand.
I always thought they'd made huge advances with treatment. I was blown away once I got an embedded in all of this. Blown away by what few advances they have made in the past 70 plus years. ~Rhonda
The current drugs used to treat ALL were discovered in the 1960s. Before then, the disease was essentially fatal. No new drugs have been introduced since then but, based on research, there have been changes in dosing and how the drugs are used. Those changes have resulted in the 85 percent overall survival rate.
Griffin is part of a research study for high-risk B Cell ALL through the Children's Oncology Group. The organization offers nearly 100 clinical trials at any given time on childhood cancers and is supported by the National Institutes of Health (NIH). His local treatment team is at Maine Children's Cancer Program.
The research is helping him but also the kids who will be diagnosed 20 years from now. ~Danielle

Griffin's doing well today because of all the kids who passed away from leukemia 20 years ago, and that's heavy. We're very hopeful for the future: We have to be. ~Bobby
Why Bobby and Danielle are sharing Griffin's story
We want people to recognize the lack of funding and support or fundraise for their local children's cancer organization. If you're in Maine, the Maine Children's cancer program and The Barbara Bush Children's Hospital, but at a larger level, I think it would be awesome if everyone wrote to their legislator and said four percent is unacceptable. ~Bobby
Family support
Danielle and Bobby and their families have become experts on leukemia the hardest way possible. In addition to local support groups, they have found the following online support groups especially helpful.