Guest post and recipe by Chris Ward
When I was in my 20s (unfortunately, a very, very long time ago) I spent several summers in Germany. I lived with a wonderful family in the tiny village of Heimbuchenthal, a magical place nestled in the Spessart nature park in northern Bavaria. One of the memories I hold closest to my heart is making sauerkraut from scratch. Once you have tried home-made sauerkraut you will find it difficult to go back to the sour, salty, store-bought stuff. But the good news is that sauerkraut is easy to make and you can store it in your refrigerator for months. It just keeps getting better with age!
The health benefits of sauerkraut are significant. Not only does it have fewer calories than most other vegetables, because it is naturally fermented, it is packed full of vitamins C and K. Sauerkraut is also a significant source of iron, manganese, copper, magnesium, and calcium. It is also a very good source of fiber. A quick Google search will turn up article after article on the many health benefits of sauerkraut.
Let's make some sauerkraut!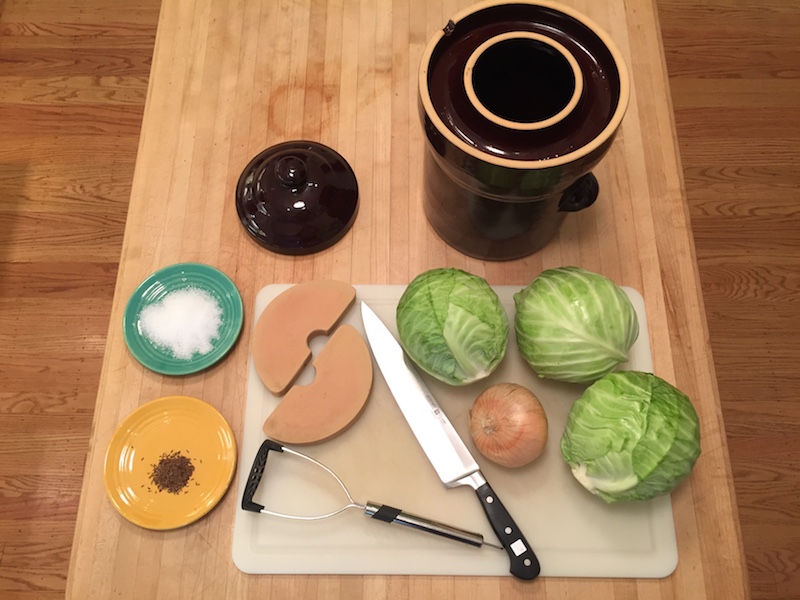 Sauerkraut is fermented cabbage. No heat or processing, other than natural fermentation, is used in the making of this wonderful food. Sauerkraut fermentation is an anaerobic process, which means it is done without the presence of oxygen.
This means that you will need to make a small investment in equipment—specifically, you need to get a fermenting crock (available in many price ranges on Amazon). The fermenting crock has a water seal lid, which keeps oxygen out but at the same time allows the gasses created during the process to escape. A fermenting crock can be used to make anything from sauerkraut to dill pickles, so it is a handy tool to have in the pantry.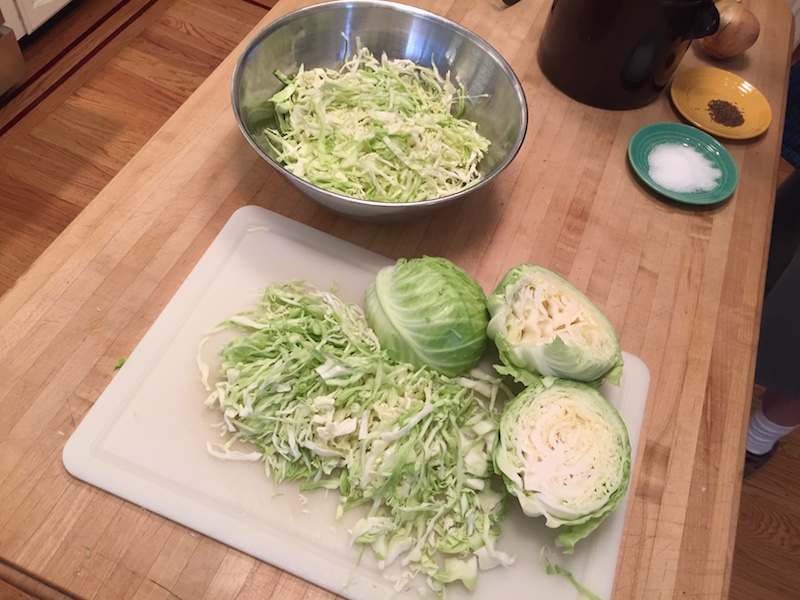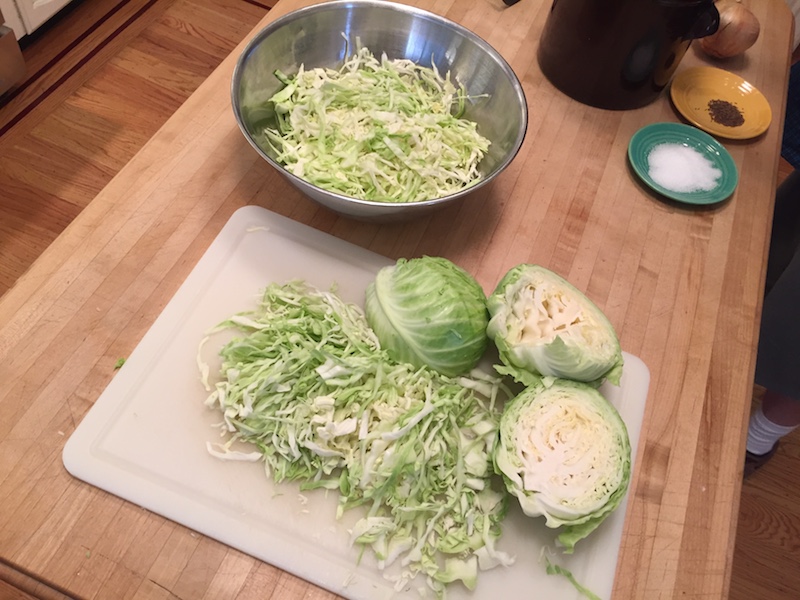 To make the sauerkraut you will need several heads of cabbage (my fermenting crock takes three large heads). The fresher the cabbage, the better the results. Core the cabbage, remove the outer most leaves, then thinly slice the cabbage.
Peel and finely slice one large yellow onion and mix it with the cabbage. Add one tablespoon of caraway. For every five pounds of cabbage and onion, add two tablespoons of kosher (or another non-iodine salt) and one tablespoon of white sugar. Mix thoroughly and prepare to use some muscle.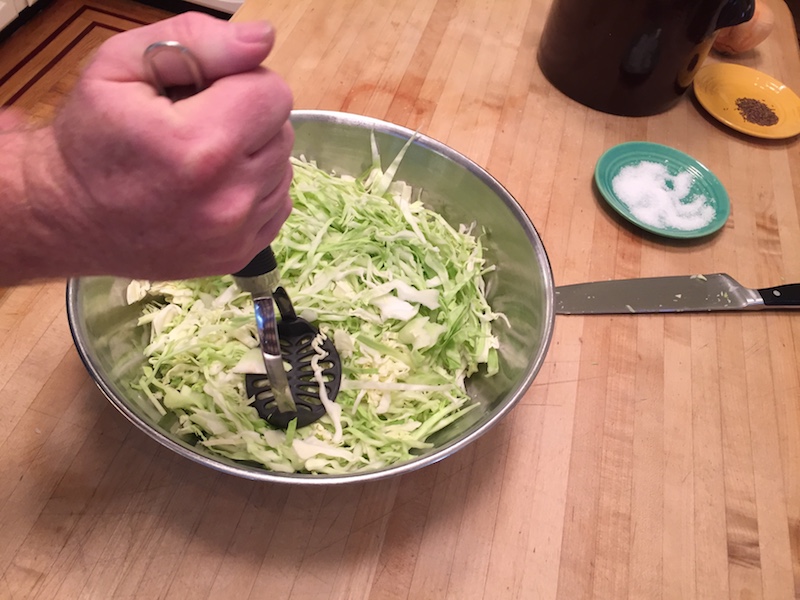 Using a potato masher, pound the cabbage mixture as hard as you can, breaking down the cabbage to let the juice start flowing. Pound and then pound some more—at least for five minutes.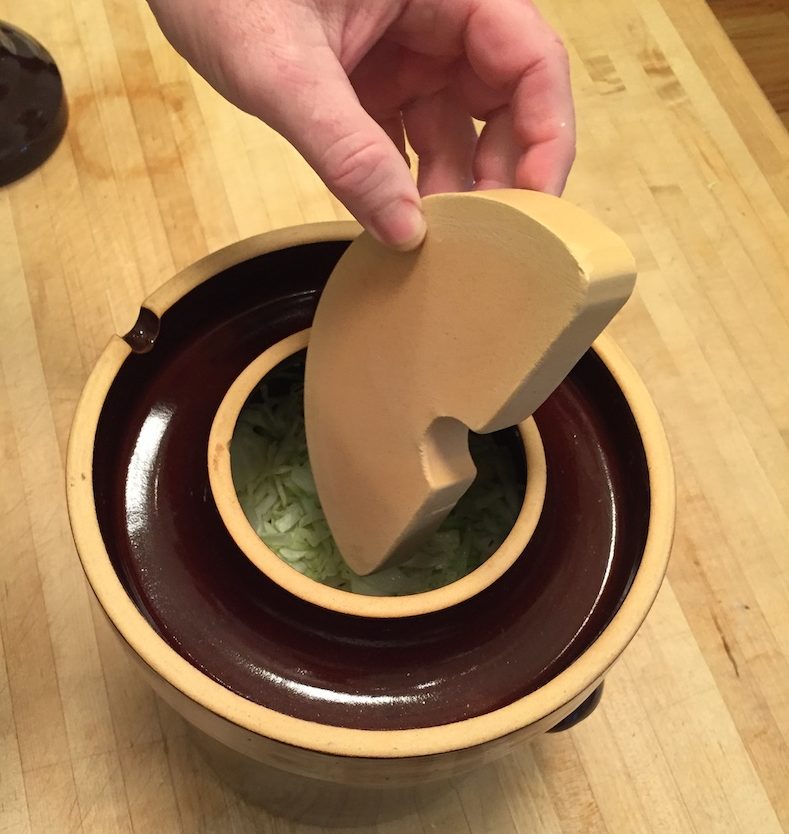 Tightly pack the cabbage into the fermenter crock. Add the stone weights (these come with the crock and are used to keep the cabbage submerged). Add enough non-chlorinated water to just cover the cabbage. Wipe down the inside of the crock to make sure that there is no un-submerged cabbage (it will spoil and ruin your sauerkraut).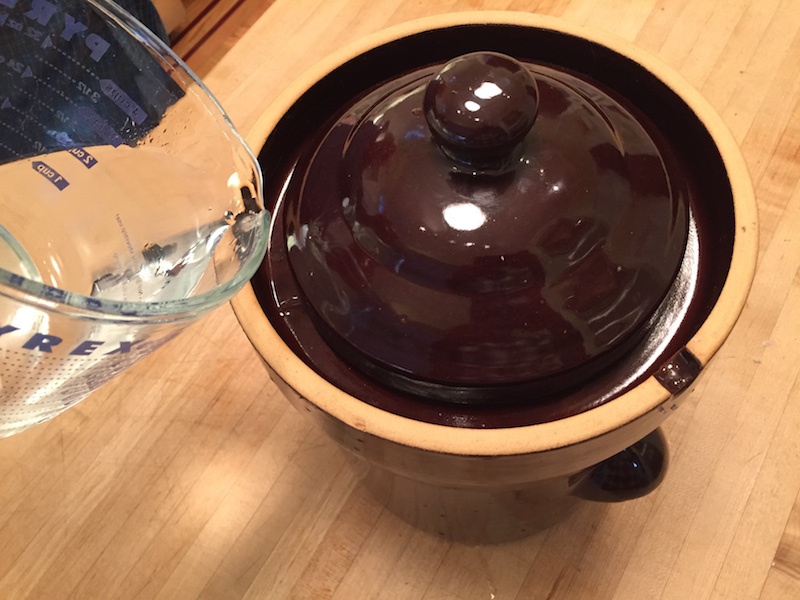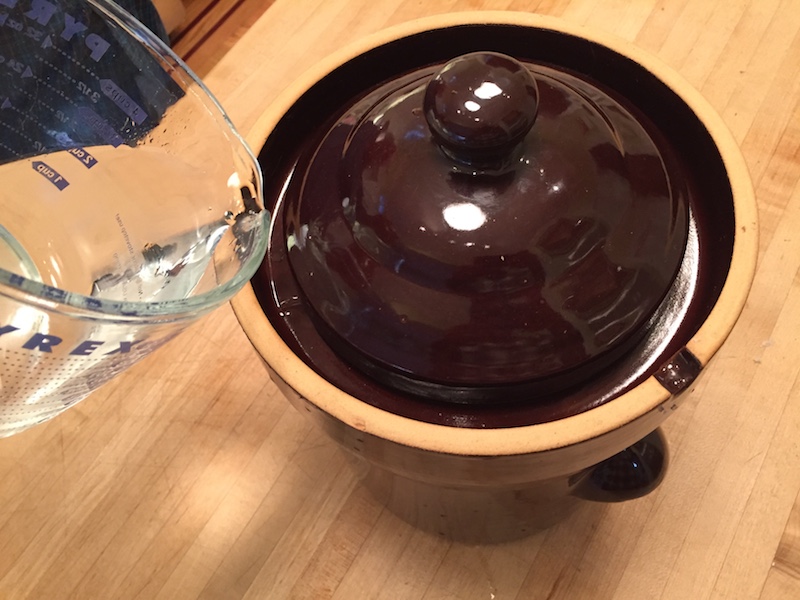 Put on the lid and fill the reservoir with water. Place the crock in a cool place, ideally between 50 and 60 degrees, but a wide range is tolerable. In spring and fall, when there is no threat of freezing, I keep the crock on my back porch.
The fermentation process takes between four and six weeks. Check every few days to make sure the water in the crock lid has not evaporated. If it has, then refill the crock.
You can look inside every week or two to see how the cabbage is coming along. Do not fear the strong odor — it will start to smell like sauerkraut after several weeks. The longer you ferment it, the stronger in flavor it will become. Start tasting it after a few weeks, and when you think it is where you want it to be, put it in jars and keep in the refrigerator. It will keep for many months.
A bonus recipe: Rippchen mit Kraut
One of the best ways to use your fresh sauerkraut is to make Rippchen mit Kraut, a specialty of Frankfurt, Germany. And, if you don't have your own fresh sauerkraut, you can use store-bought in a pinch.
In a skillet, saute one finely chopped apple with a finely chopped onion in several tablespoons of butter (or duck fat, if you have some). (Or Diane suggests olive oil.)
When translucent, add four or five cups of sauerkraut. Do not add sauerkraut juice.
Add a splash of white wine, a teaspoon of sugar, additional caraway, and some ground black pepper.
Place four smoked pork chops on top of the sauerkraut and cover. Simmer for a few minutes until the pork chops are thoroughly warmed. Serve with roasted potatoes.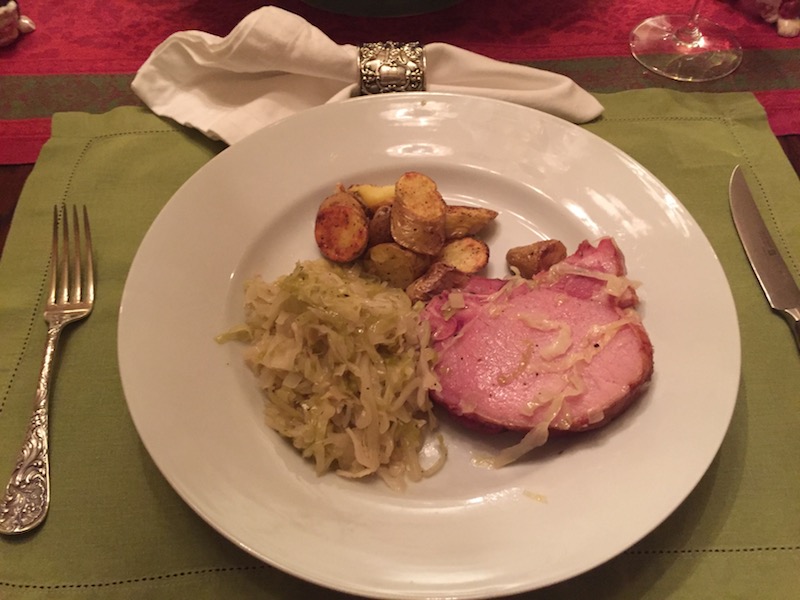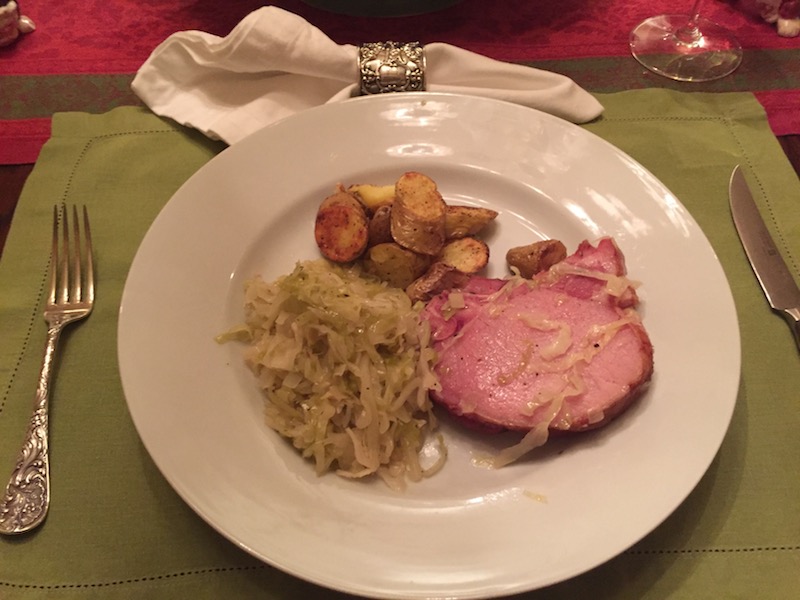 Das schmeckt wunderbar, Chris! Guten Appetit!
Note from Diane
A caveat about sauerkraut: It may have plenty of health benefits, but because it's fermented with salt, it can be high in sodium. Right now the recommendation is 2,300 milligrams a day or no more than 1500 milligrams if you're over 50 or have high blood pressure, diabetes, or chronic kidney disease. My recommendation is to not deny yourself any sauerkraut, just don't gobble it all up in one fell swoop!
One more thing: Because Chris lives in San Francisco, he didn't know about the fabulous Morse's Sauerkraut and Euro Deli right here in Maine. Next time he visits, it will be on his itinerary, for sure. If you're not up for making your own sauerkraut or simply want to enjoy a new experience, check out Morse's website. They're located in Waldoboro, but you'll find their products in stores all over the state. You can also do mail order. And if you're in town, you're invited to dine at their restaurant Kraut Haus or their Euro Deli.