Imagine that you've finally retired and are about to fulfill your retirement dream of spending a year in a foreign country. Now imagine that soon after you arrive, because of COVID-19, that country is locked down. It sounds like a dream that has turned into a nightmare. Well, it's a reality for Deb Keating and her husband.
She tells their story:
¡Holá! ¿Qué tal mis amigos en cuarentena? I'm a California resident writing from Sevilla, Spain. My husband and I began the process last May to acquire a one-year Residency Visa in Europe. We were retired, were healthy, had always enjoyed trips to Europe: so, why not seize the moment, really experience living abroad, and do some extended exploring of the Continent? We got approval in November, had to arrive in Spain within three months to apply in-country. COVID-19 was in China when we left, but we took the chance that it would be contained, much like SARS. Bad bet … but, in our defense, it was our only play if we wanted to make our dream a reality.

We were seeking our Residency Card in Sevilla, Spain. We like the country and my husband´s sister has lived in Sevilla for 12 years. We thought we could rely on her local knowledge and language skills to negotiate the final immigration interview. Happily, that meeting went flawlessly and we were told simply to return on March 17 for our cards. Yippee … We would enjoy exploring Andalucia in the next 4 weeks, then go to Barcelona to explore up north on March 18 with our newly-minted cards.

On Saturday, March 14, Spain announced a two-week Lockdown.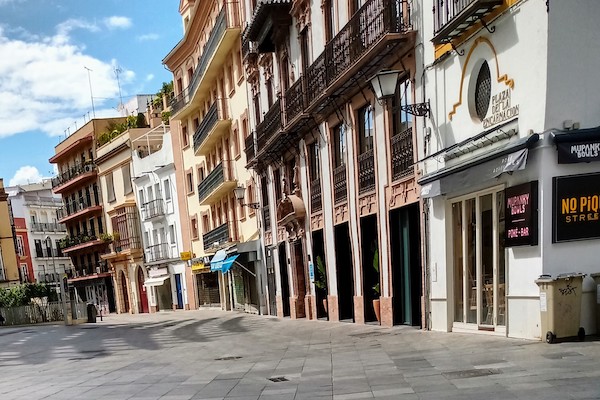 We stayed because we truly weren't sure what would happen and thought delaying a decision for two weeks was not a big deal. Most of the cases in Spain were concentrated in Madrid and the north. Once Lockdown was instituted, we contacted the host of our Airbnb in Sevilla. If there were upcoming reservations for our unit, they were certainly canceled so no problem for us to extend our stay (nor any to cancel our Barcelona res). Since that fateful day, the Lockdown has been extended twice. We are in Lockdown until April 26. Our Airbnb host has been kind and generous. Actually, the Spanish people have all been kind and generous to us.

A reasonable question is why we did not return to the U.S.? Well, I can't say we didn't talk about it and, frankly, still do. However, at the beginning of this Lockdown, the U.S. decided to close borders. That meant lots and lots of flights were canceled, so getting a ticket became difficult and time-consuming (think +4 hours on phone) and the trip was non-trivial (think 2, 3 or 4 stops and long layovers). We thought crowded conditions for an extended time was more perilous than hunkering down here in the south of Spain which was not experiencing a huge caseload. Of course, the number of cases blossomed both here and in the U.S. over the last several weeks, so traveling became a more dicey proposition. Not to say that staying wasn't also pretty scary.

O.K., so here we are. How is it for us to be in Spain during this pandemic? Let me break down how we have been affected on three fronts: physical, mental, and emotional. Some of our issues, I am sure, are the same as everyone staying at home worldwide is experiencing. Some may be unique.
Physical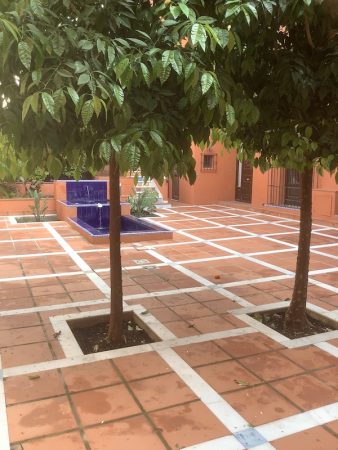 Lockdown here involves staying in your residence. We can go outside to get groceries, to go to a job in an essential service, to walk (briefly) one's dog, to go to a laundromat or pharmacy. No walking for exercise. Police patrol and scofflaws have been escorted back home or ticketed. The range of fines is 100€—600,000€. Yikes: these guys are serious.

Getting exercise is a bigger challenge here than in the U.S. However, our apartment complex is entered from a solid, locked door and we are the sole residents. So, the lovely, but small, inner courtyard is ours to use. Such luck! We walk round and round ¨The Yard¨ — think every prison movie you've ever seen. Occasionally, we climb the stairs up to the roof (39 Steps— another great movie). As we do this boring walk day after day, we are so thankful that we can safely be out in the fresh air. Little things have become so precious.

Of course, we also use YouTube videos of exercise routines and/or yoga. There is no shortage of YouTube videos being generated these days!

And, if you wondered about our ability to get food (meat, fish, fruit, veg). Absolutely! So, we can eat a relatively balanced diet. For us, in this apartment, we have no oven and limited tools. We do eat simply since we don't want to completely stock a kitchen. But, the bread here is dynamite and we have plenty of toilet paper on the shelves. Small mercies.
Mental
Accomplishing tasks like reorganizing closets, installing shelves, etc. that my friends tell me they are finally doing in their homes are not things available to those of us staying in small Airbnbs. But, we are in a foreign country and want to learn the language. We took lessons before the Lockdown but now are relying on Podcasts, YouTube, and iTalki to move forward. We spend about two hours a day either listening, learning vocab, or practicing speaking Spanish. Does it stretch our mental capabilities? OMG — learning a language at our age: muy dificil!

Also, Amazon has a Spanish subsidiary. It is still able to operate and deliveries are allowed as essential. So, we have been able to get puzzles, a keyboard, a screwdriver, a music stand, and strings. Say what you will about Amazon (and I have) but they have saved us from losing our minds.
Emotional
Ah, so now, this one is the hardest to master. We are lonely … oh, we do have wifi and access to Zoom, Skype, and FaceTime, but we are +6 to +9 hours from home. While others tell of virtual dinner parties, it doesn't work for us. We do keep in touch but there is a definite sense of being isolated. Again, we are lucky since my sister-in-law lives nearby so we have a daily check-in.

We are sad … our grand adventure has been scuttled or at best, seriously derailed. It is hard to imagine places springing back to normal even after quarantines are lifted. And a vaccine? Our visa will long since have expired. We are angry, too. Could earlier intervention by governments have prevented this? What a mess! We are very eager to blame someone… it would feel so very, very good.

Finally, we are anxious to the point of (for me) panic attacks. Should we get the virus, we would have to negotiate the Spanish healthcare system and we don't speak the language. Hospitals have been overcrowded and workers stretched. Patients, of course, are isolated from all outside contacts. We do not have a doctor here. We are not young. Can you feel me hyperventilating as I write this????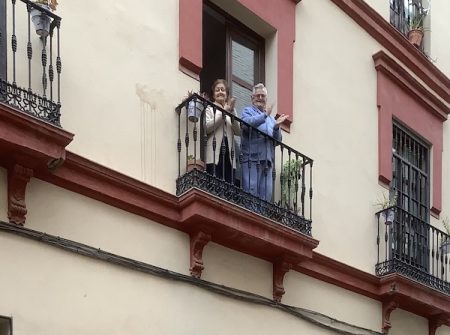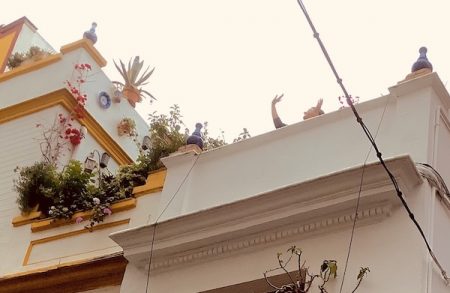 Now, having complained about our challenges, I need to say that, to date, both my husband and I and our immediate families are all well. Those who have lost their lives or loved ones are the ones who have most severely experienced this horrible disease. They are the victims. We have been discomforted and distressed (okay, so maybe severely) but we are not victims … and we validate this EVERY NIGHT when we step out our door at 8 p.m. and join our neighbors who are on their balconies and rooftops. We wave to these strangers with whom we now have a shared bond as we all clap loudly, along with the whole of Spain for those affected, especially the dedicated healthcare workers. And, that is the final experience here for us … one of solidarity with other human beings (nationalities aside).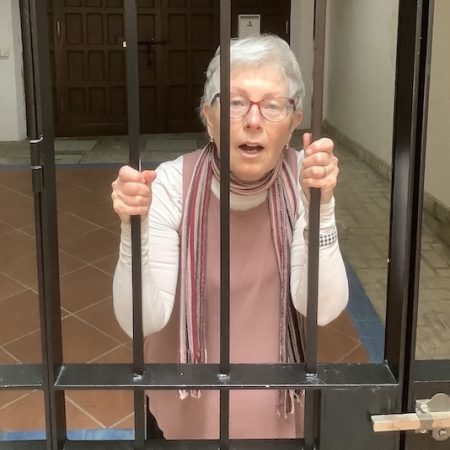 Stay safe. Take care of each other. Hasta la vista.

Deb Keating