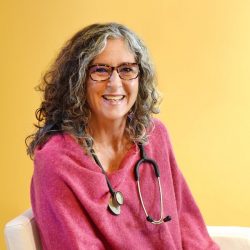 The way I see my role is to honor and respect women and how they choose to care for their bodies no matter what that is. I also share information and education and support them in their values and beliefs.

Carrie Levine, Certified Nurse Midwife
Those are the words of Carrie Levine. She's an advanced practice registered nurse who has been working with women for more than 20 years. She began her career as a Certified Nurse Midwife at Miles Memorial Hospital in Damariscotta, Maine, and now sees patients in her private practice based in Newcastle and Brunswick.
I am a trained Certified Nurse Midwife, so I am essentially a nurse practitioner trained to take care of women through their entire lifespan, including the childbearing years, as opposed to a women's health nurse practitioner who cares for women except during her childbearing years. For the first seven and a half years of my career, I was a full scope midwife attending births, but I haven't attended a birth since 2006. I now function a lot like a primary care provider.

Carrie Levine
Functional medicine aka root cause medicine
Carrie's specialty is functional medicine. The simple answer to what is functional medicine is that it asks how and why illness occurs and restores health by addressing the root causes of disease for each individual. A slightly more complicated answer is that it looks at the interconnectedness of our biological systems. Instead of thinking that a gynecologic issue is just a gynecologic issue, a gastrointestinal issue is just a gastrointestinal issue, or a psychological issue is just a psychological issue, functional medicine looks at the biochemistry that connects those things.
Here's an example:
Neurotransmitters are hormones that affect our mood, like serotonin, the anti-depressant neurotransmitter, and GABA, which is an anti-anxiety neurotransmitter. For sure, when people have depression and anxiety there can be a genetic predisposition, there can be a situational component to it, but there also can be a neurotransmitter production issue. The primary production site of neurotransmitters happens to be in the gut. If you have an underlying gut imbalance, constipation, diarrhea, irritable bowel, gas, bloating, as well as a whole host of other symptoms that people don't think have a gut-related component like psoriasis, eczema, or itching, it's possible that you are not optimally producing neurotransmitters, and therefore, lending yourself to depression and anxiety.

Carrie Levine
Because of that possibility, if she has a patient with anxieity and/or depression, Carrie is likely look at her gastrointestinal health as part of her workup. What she is interested in discovering is a possible root cause. In fact, functional medicine is sometimes referred to as root cause medicine.
Instead of asking the what, we ask the why. Another example would be a woman who walks in and says, I have irritable bowel syndrome. My question is why do you have irritable bowel syndrome? You weren't born with it, something happened along the way to change the health of your gut that has led to the development of these symptoms. What happened? And why? And can we correct that underlying physiologic imbalance instead of just placating it with medication so that optimal health is restored?

Carrie Levine
She says she is astounded by how many women have the answers.
The language usually goes something like this, I haven't been the same since such and such a time or when such and such happened. Usually, when they complete that sentence, they know exactly what happened and when their health went off the rails. I haven't been the same since I got bucked off my horse. I haven't been the same since I traveled to Africa. I haven't been the same since I had a baby. I haven't been the same since I stopped a medication.

Carrie Levine
She also has patients create a timeline beginning with their birth and childhood. Were you born vaginally or by c-section? Were you sick as a child? Did you have trauma at any time? When women look at their life through this timeline they can see either the snowball of things that happened or the triggering event that tipped them into disease. Once they figure out the way, her primary treatments tools are nutrition and lifestyle changes.
One of her goals is to hold women accountable for taking care of themselves. It's not always an easy task because women are generally socialized to care for others and not themselves. It's good to have things to do, to have a purpose-driven life but she says downtime is also vitally necessary. Women need to allow room for a nap, read a book, do nothing. You may also need to work on recognizing when you are tired and need a break. Does that sound familiar?
She sees women of all ages. From women with various health issues to those who simply want to learn how to lead healthier lives or to age successfully. A lot of the women she sees in her practice are generally well. They're interested in their annual wellness check but they are also there because of her approach, which tends to be pretty comprehensive.
I can do a slightly different, potentially more thorough blood chemistry, workup, and interpretation. I can manage autoimmune diseases. I can manage simple psych things. A lot of women want that. They want to be treated as an integrated person. When I talk to women about a plan of care, I'm always talking about a continuum from the least interventive to the most interventive. And also, from free to expensive because there's more than one way to do everything. We just have to think creatively about how to do it.

Carrie Levine
Throughout the pandemic, like many health practitioners she has been seeing patients virtually. It turned out to be an unexpected silver lining.
I'm doing a lot of telehealth with women all over Maine and even out of the state. That's really lovely because people living at a distance no longer have to weigh whether or not they're up for taking the time to drive to Newcastle or Brunswick. We can bypass that altogether. I also like telehealth a lot more than I thought I would. It doesn't feel like a barrier to me at all in terms of my capacity to connect with people. Some women still like being seen in person and I am doing that more with precautions, masks, and social distancing, but I will continue offering telehealth sessions.

Carrie Levine
Carrie is committed to making what she has to offer accessible and to that end, she is also writing a book about women's health and functional medicine. Her intention, she says, is to offer information of value for women about taking care of themselves.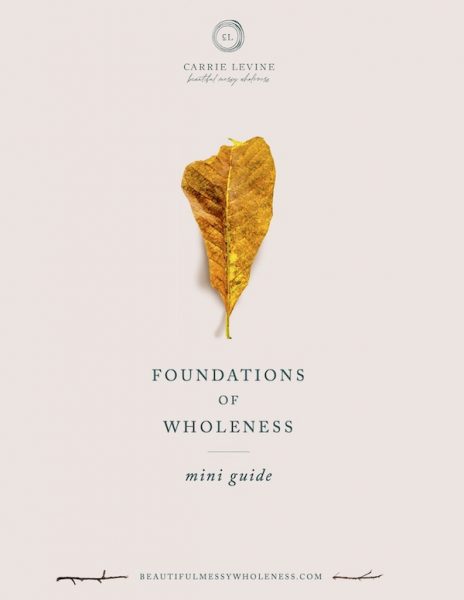 If you'd like to learn more about her project, visit her new website Beautiful Messy Wholeness. In exchange for your email address, she will send you a free mini-guide called Foundations of Wholeness.
To learn more about her private practice, visit wholewomanhealthcare.com.
PS
As a postscript to this blog post, I will tell you that I recently started seeing Carrie because I'm trying to decide whether or not to do annual Reclast infusions for the next three years to build bone mass and help prevent osteoporosis. As some of you may know, I recently broke my shoulder. Ironically, I had seen the specialist who made the Reclast recommendation just a few days before my accident. Over the years, bone density tests have shown a decline in my bone mass and that I have osteopenia, a precursor to osteoporosis.
I've been researching Reclast and I'm really worried about doing the infusions, but I'm also worried about possibly breaking another bone. It's a dilemma that I hope Carrie can help me sort out. Maybe we'll come up with some other options or maybe I'll end up saying yes to the infusions. What's key for me is to make a fully informed decision. If any of you have done Reclast I'd love to know how it went and if you had any side effects. And at some point, I'll do a blog post with Carrie about our process and my decision. Stay well!