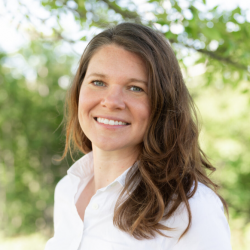 Even before COVID hit, Lindy Graham, a licensed clinical social worker who founded Wellspace Maine was thinking about how to increase access to therapy for more Mainers.
She had already seen firsthand how difficult it was for many people to find a therapist. One of the reasons she decided to transition from being a solo practitioner to opening a larger practice that includes several therapists was because her schedule was always full, as were many of her colleague's schedules.
She became frustrated by how hard it was to connect people with good therapists, and how searching online or going down a list of names supplied by a doctor's office or insurance company was overwhelming for a lot of people.
She discovered that many employers were also experiencing the same frustration, but coming up with a workable solution was more of a long-term goal for her. And then came the pandemic, which has resulted in an exacerbation of mental health issues for everyone everywhere.
In a December 2020 McKinsey survey of approximately 1,000 employers, "90 percent reported that the COVID-19 crisis was affecting the behavioral health and often the productivity of their workforce. Gallup reported that almost half of US workers were concerned about one or more of four possible job setbacks—reduced hours, reduced benefits, layoffs, or wage cuts."
That same year, in July, Celine Frueh, the head of Human Resources at Allagash Brewing Company reached out to WellSpace looking for mental health resources for their employees.
With increased pandemic stress, we anticipated that this would be of interest to employees of all departments, levels, and genders.

Celine Frueh, HR Director, Allagash Brewing Company
She had the forethought to recognize that the fall and winter would be when people would be struggling. In the beginning, people were kind of doing okay because they had the benefit of the coming summer when people could actually see each other safely outside. It was clear there was an impending mental health crisis and we were open to different possibilities because this was our first foray into this.

Lindy Graham
The result a new division of WellSpace Maine called WellSpace@Work. Services include a dedicated phone line for employees that connects them directly with one of their therapists. That therapist would have a 10 or 15-minute phone call to get a sense of the individual's needs, and the person would be matched with one of the therapists in the practice determined to be a good fit.
What we're guaranteeing is they get in with one of the therapists in a short period of time. We are eliminating the whole process of finding someone, figuring out where to go, and hoping they have openings. We take that off the table.

LIndy
Celine said the partnership they have developed shows their team how much they care about them. It also helps normalize mental health support and destigmatizes some of the negative associations about asking for help when you need it.
We are collectively experiencing the most stressful time of our lives during the COVID pandemic at Allagash and throughout the world. Our team is our number one priority and essential to our surviving the pandemic. With respect to mental health counseling, there are two general obstacles: finding a therapist and affording the cost. By partnering with WellSpace@Work, and Allagash paying 100% of the cost, we were able to remove both of those barriers."

Celine Frueh
In addition to access to a therapist, WellSpace@Work also provides education and emotional support through monthly webinars. Recent topics include seasonal affective disorder, how to navigate parenting school-aged children during the pandemic, healthy eating, substance use, and mindfulness.
Mark St. Germain, president of St. Germain, a science and engineering company in Westbrook, Maine also reached out to LIndy, and together, they came up with a plan that fits the needs of his employees. He said that the COVID-19 pandemic has impacted everyone and changed the way they work.
It has caused us to renegotiate a lot of our healthy habits — things like going to the gym at lunch, joking around with co-workers in the office, or simply having child care and an office door that closes. Because these changes are so diverse and personal, we want to provide our team members the opportunity to work confidentially with a WellSpace counselor any time they need some extra support.

Mark St.Germain, President, St. Germain
A growing number of employers have begun to realize that the mental health challenges now emerging represent only the tip of the iceberg.
We really can't fully process trauma until we're safe and we're still in the middle of all this. I think we'll see a lot more distress emerge as things begin to settle down more. People will be in a position to finally say, okay, that was awful and now I can try to deal with it. I think employees can be in a really great position to make some requests around what their needs are. Even if it's not adding an extra benefit like WellSpace@Work, there are great resources out there for improving wellness at work.

Lindy Graham
For the time being, all therapy sessions are online. After they return to their offices, Lindy says they expect to continue offering some online sessions, which Celine appreciates because it means they can provide mental health services to their entire team — from Maine to California. Another step toward removing barriers.
As an employee who is utilizing counseling services recently said to me "We always knew Allagash had our back but when this was announced … wow. I can't tell you how much of a difference it's made. Thank you!"

Celine Frueh
You'll find more information about WellSpace@Work on the WellSpace website.