At the end of March, Ericka Dodge Katz went to the hospital with some symptoms she suspected might be related to COVID-19. She never got a confirmed diagnosis, but she did get very sick and spent nearly a month in isolation at her home. Last week Ericka wrote about her experience on Facebook, including why she didn't get an official diagnosis. She gave me permission to share her story here on the Catching Health blog. Thank you, Ericka, I'm glad you continue to feel better every day.
Ericka's story, originally posted April 24, 2020
Today I had my first outing. After more than 26 days in isolation, I'm free. I rode in the car, walked on the beach, and bought dog food. On any other day, this would seem mundane. Today, it was the mark of accomplishment.

Three and a half weeks ago, I came "out" at the beginning of my COVID journey in an attempt to put a face (since I'm not included in the numbers due to lack of available tests) on the virus. Today, I'd like to pull back the curtain a bit to share what these weeks have been like.

I'll start by what it's not. It's not "like the flu." It is the scariest health experience in my life. I am a healthy 49-year-old woman with mild, well-controlled asthma. I exercise, I eat healthy, I take my vitamins. Yet, for more than three weeks, I was the sickest I've ever been. I had days where I couldn't breathe properly. Couldn't fully inhale. I went to sleep at night wondering if my lungs would adequately do their job. For 15 straight days, I had a fever. I had soaring blood pressure and then especially low blood pressure. My heart raced like it was going to pound out of my chest.

I had a daily (sometimes hourly) meditation practice to remind myself of my body's strength and ability to heal. I had the good fortune of so many kind, supportive, and relentlessly encouraging friends and family. Your check-ins, words of encouragement, photos, movie and podcast recommendations all helped ease the uncertainty.

I am so incredibly thankful, blessed, and downright lucky to have Roger —more than 15 feet away, loving and cheering me on. (He even learned his way around our kitchen, rather capably preparing tasty and well-garnished meals!). Our dog, Hudson, provided constant companionship throughout those long days and nights. And, here I am, on the other side of this virus…and on my way to gaining back my stamina and energy to return to this new COVID world of physical distancing, Zoom, and take out food.

Here's the thing: I've seen your posts. It's boring. It's hard. You want your life back. If you're like me, your brows are resembling Frida Kahlo's. And, I'm about to fulfill a teenage dream of growing dreads.

Buck up, people. This is what we need to do to get through this. The reported numbers are but a fraction of the people who have the virus—who are sick for weeks.

Today on my Grand Tour of the World, I went to the doctor's office for lab work. In the waiting room, there were 6 people, including myself. Five were not wearing masks. ***Please, please, please people wear a face covering when you are in public. It is irresponsible to do anything less.*** Stay home. It's not hyperbolic to say that by doing so, you're saving others from the virus—including yourself.

Thank you for indulging me with my story. I hope each of you is staying safe out there. We will get through this but only if we're all in it together. ❤️

Ericka Dodge Katz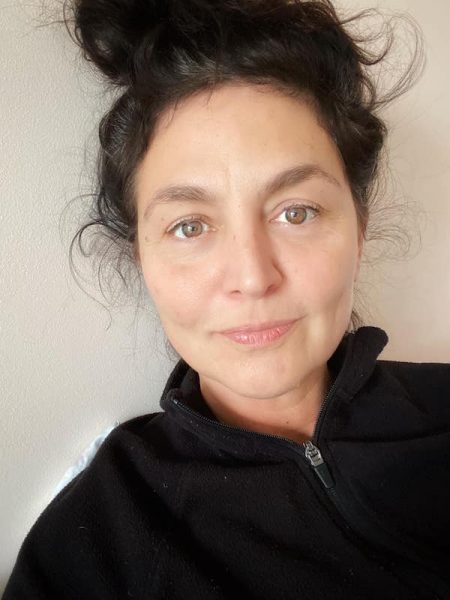 An update
Nearly a week has passed between Ericka's original post and this one. I checked in with her this morning and this is what she had to say about how she is doing:
I'm still very much in recovery mode. While I'm getting stronger every day through my walks with my pup and husband and slow treadmill walks, it remains slow. I'm hoping to return to work on a part time basis by next week. Thanks again for all you do. And, stay safe and healthy!

Ericka
Yes, everyone, stay safe and healthy!