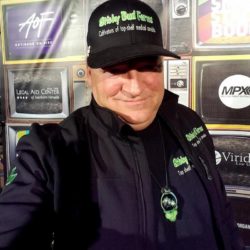 In 1993, when Dave Whitten was in his early 30s, he was going down a slide at a water park in Maine when the tube he was in flipped over. The accident left him with a broken neck.
Fortunately, Dave wasn't paralyzed, but his life was altered because of constant pain. To manage it, his doctor prescribed hydrocodone. Over the course of several years, Dave went from that to oxycodone to oxycontin. "I was on oxycontin for a number of years and then started needing it," he told me. "It wasn't working anymore because I had built up a tolerance."
Addicted
His doctor labeled him an addict and recommended a recovery program. It didn't work. "I had muscle spasms and the chronic pain was debilitating," he said.
Because it was obvious Dave needed something for his pain, he was prescribed Fentanyl. He started at 50 micrograms and gradually increased to 150 micrograms. He was also on several other drugs to combat various side effects of the opiates.
All in all, it was a vicious cycle that lasted nearly a dozen years and one that he couldn't seem to escape. "I don't know whether there's something in the opiates or something that is just a psychological response to it," he said, "but what happens is that you not only become physically dependent, you become mentally dependent. All I thought about was my pain. What my level of pain was at any given moment. It basically consumed my life."
The switch to medical cannabis
One day, his son suggested that he try medical cannabis (which was legal in Maine) for his pain. Dave had smoked marijuana in his teens, but not in the 20 or so years since he'd gotten married, had a family, and started a successful business as a painting contractor. He decided to give the cannabis a try. The first time, it only made him feel paranoid. The second time — months later — his pain diminished.
He told his doctor he wanted to get off his medications and use cannabis instead. He got little to no support for his idea. "He wasn't open to a discussion about the benefits of cannabis," said Dave. "He might have under other circumstances but the practice he worked under had a policy and would not prescribe anything because cannabis was federally illegal and they were federally funded. They didn't want to lose that funding."
But Dave knew that he had to get off the opiates or they would kill him. His marriage and his finances had already suffered and now he was having problems with his liver and kidneys. So, in 2010, without his doctor's approval, he made the decision to get off the opiates and switch to medical cannabis.
It wasn't easy. In fact, it was hell. It took him six months to withdraw, but he did it. He got a prescription for medical cannabis from another doctor. It was a challenge to find someone who could legally supply him with the cannabis, but he managed. He was allowed to possess 2 1/2 ounces.
Growing his own
Within a few months, Dave decided to grow his own marijuana plants. At first, he grew it in a washing machine box lined with aluminum foil under a 600-watt sun tube light in his basement. "I did pretty well," he said. "I only grew the six plants I was allowed to grow. It took me four months to get my first crop. I learned how to clone and pop more seeds so that I had another crop ready to go into flower and had enough to last me until my next harvest."
He learned a lot — from both growing and using his product. He now understands that different strains produce different effects. "Sativa dominant strains can make you a little bit antsy and increase paranoia," he explained, "whereas indica is more relaxing and just sets you back in your seat. It's really better for chronic pain."
He said he also started to feel again. "It had such an impact when I started to smile again," he said. "I think you can smile without really smiling and laugh without really laughing. I started to watch a show and found myself crying. I hadn't done something like that in years. I was like, wow, I've got my life back."
Another thing that happened was that he cultivated some strong opinions about using opiates to control chronic pain. "I'm against opiates," he said. "I think there's a time and a place for them, like after surgery or something like that. But I think doctors need to put more emphasis on really trying to wean people off instead of just writing that prescription and passing them on."
Becoming a caregiver
When Dave decided to use medical marijuana instead of prescription drugs to control his chronic pain, it never occurred to him that one day he would also become a caregiver for other people, become an outspoken advocate, and open his own store, but that's what happened.
"I continued growing and eventually got pretty good at it," he said. "I met others around the state doing the same thing  — the cannabis community. I started buying more equipment. Then I had a serious epiphany. I wanted to do this for other people and so, I became a caregiver."
To become a caregiver in Maine, you have to register with the Department of Health and Human Services (DHHS). You're allowed to provide for up to five patients and have to pay an annual registration fee of $240 for each one, as well as $30 a year for a background check.
Dave spent the first years as a caregiver (2012-2013) learning the ropes and how to navigate the system. By 2014 he was making tinctures, edibles, special blends, and capsules — becoming a full-service provider.
"Some people have breathing conditions and they can't smoke but yet they benefit from cannabis," he explained. "So what do you do? Do you give them an edible? Well, what if they have cancer? You can't give them an edible because the sugar is like fuel for cancer. So then we make them a capsule or a tincture. There are all sorts of different things that we take into consideration."
He is licensed to grow a certain number of plants per patient. He asked that I not say how many he grows or where his growing facility is located. He does all the work himself. No one is allowed in his grow room except state inspectors, police, and with permission, city officials.
He also rents space in a commercial kitchen in Portland to make cannabis butter that can be used in cooking and dog biscuits. Yes, dog biscuits infused with 3 mg. of CBD (cannabidiol) oil.
Research
CBD is one of dozens of compounds or cannabinoids that are found in the cannabis plant. The most active and most commonly known is THC (Δ9-tetrahydrocannabinol), which is what gets you high and gives you the munchies. CBD does not get you high and has been found to have some medical benefits.
A study published in the Journal of Experimental Medicine in 2010 showed that CBD and its modified derivatives "significantly suppress chronic inflammatory and neuropathic pain without causing apparent analgesic tolerance in rodents."
In another study reported in 2015 in Neurotherapeutics, researchers said their preliminary data sets the foundation for more studies that look at "CBD as a therapeutic intervention against opioid relapse."
Recent studies have also shown that CBD has the potential to treat epilepsy and some other neurological problems. The problem is there has been no conclusive evidence of the good or harm cannabis can do when it comes to treating various medical problems.
In January 2017, the National Academies of Sciences, Engineering, and Medicine published a report on The Health Effects of Cannabis and Cannabinoids. The authors say this is a pivotal time: 28 states, including Maine, have legalized cannabis to treat medical conditions. Eight of those states, including Maine, have legalized it for recreational use. The report summarizes the current state of evidence on both the beneficial and harmful health effects of cannabis and makes specific recommendations for more research. It also points out that regulatory barriers have made it difficult to do research on health effects and recommends steps that could be taken to clear the way.
Dave said he and other caregivers often take careful notes when they're treating patients. He networks with and shares information with about 100 other caregivers. He estimates there are 5000 throughout the state. "The caregiver can be the spouse of a cancer patient, for example," he said. "They have a license to grow a certain number of plants. It's pretty common, actually. Or mothers growing for their children with epilepsy who haven't responded to any traditional medicines."
Medical versus recreational
In 2016, voters approved a referendum that made recreational or adult-use marijuana legal in Maine. Lawmakers continue to debate and hammer out the details, which has meant several trips to Augusta for Dave and other caregivers. They're worried about a lot of things, such as a proposal to integrate the two programs. Right now the medical marijuana program is overseen by DHHS. Dave thinks it should stay that way and remain separate from the adult-use market. "To me," he said, "the adult use is more of a cash crop. It's grown for pure profit, with people coming in from all over the country and putting millions of dollars into state and grow facilities."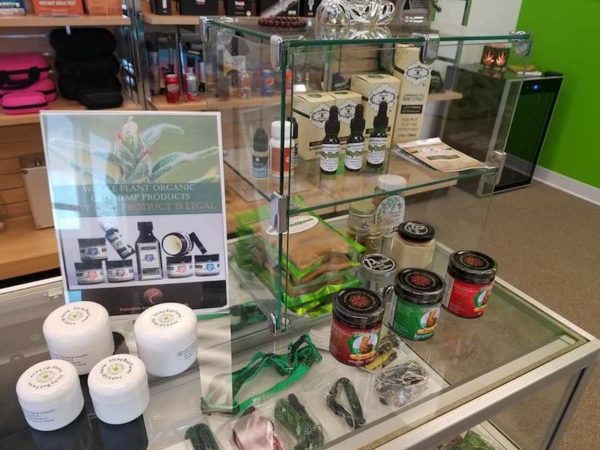 A couple of months ago, Dave decided to open his own store in Windham — it's known as a caregiver storefront. He calls his business and the store Sticky Bud Farms. He can't sell to the public, only to his patients — five at any given time. It does, however, give him an opportunity to interact with new people. "Part of this is being able to have more people come in here and educate them on all the uses of cannabis," he said, "and show that it's not just about smoking a joint anymore and that it does have some clear medical benefit."
The way things seem headed, it's possible he won't be able to continue being a caregiver. "The adult use is already starting to affect the medical program," he said. "Lobbyists are trying to phase out the caregiver model. I would entertain moving into the adult model but would offer a separate room for people needing a medical consultation or consultation surrounding cannabis use. But new businesses could drive me out of business. In the meantime, I'll keep doing what I'm doing until they tell me I can't."
And, as far as his own use of medical cannabis, Dave has found a regimen that seems to work for him. "I mostly use CBD during the daytime and a vape pen with concentrated THC at night," he said. "You push the button and draw on it like an e-cigarette. It works fine for me. If I'm having muscle spasms or especially bad pain, I will have a low dose edible. That allows me to sleep through the night. I used to take Ambien to sleep. I don't anymore. I sleep fine and wake up pretty clearheaded. The only prescriptions medications I take now are for high blood pressure."