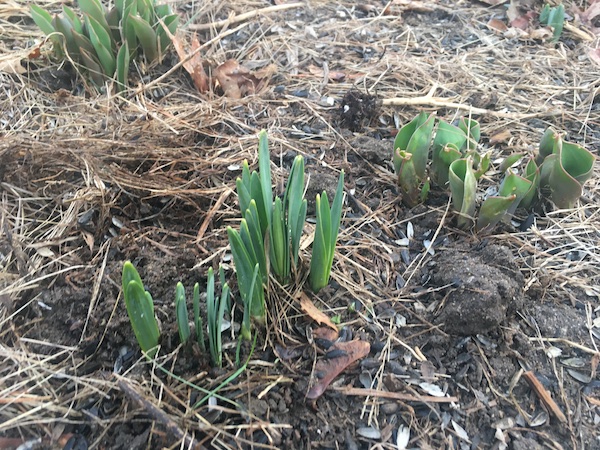 Spring has arrived, spring has arrived! Won't be long before our daffodils will be in bloom.
I can't believe a week has passed since I wrote the first Bright Side post. I confess there have been moments when nothing looked bright. They tend to happen near the end of the day or if I wake up at 2:30 am and my brain kicks into gear instead of allowing me to go back to sleep. I feel afraid, lost, overwhelmed. I'm guessing that I"m not the only one.
You will not find any coronavirus/COVID-19 numbers or advice in the blog post. It's purely as the title says: Bright Side. I'm just going to post random things that have brought me a smile, a belly laugh, a moment of comfort, or a moment of pure joy over the past week. Like these two sweetie pies.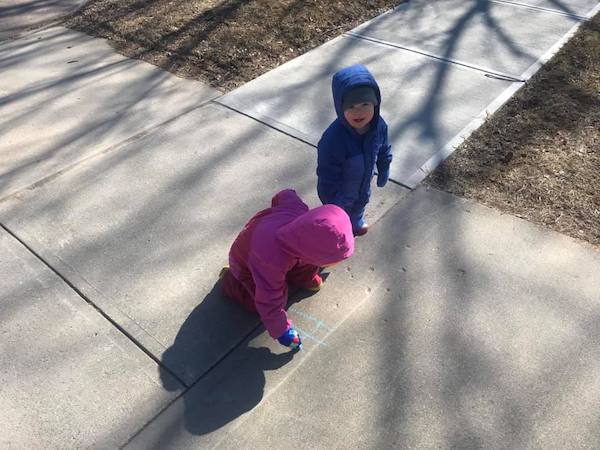 Our son-in-law Keegan and two granddaughters have been going for daily walks in their neighborhood in VT.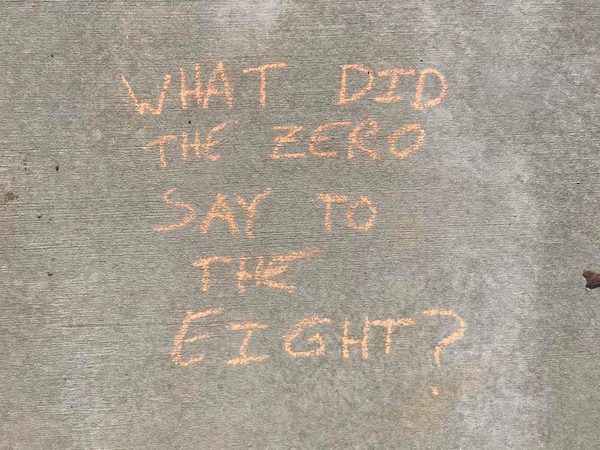 In a Facebook post today, Keegan wrote, "Teaching the girls to bring joy to others during these times…with jokes, messages, and sidewalk chalk."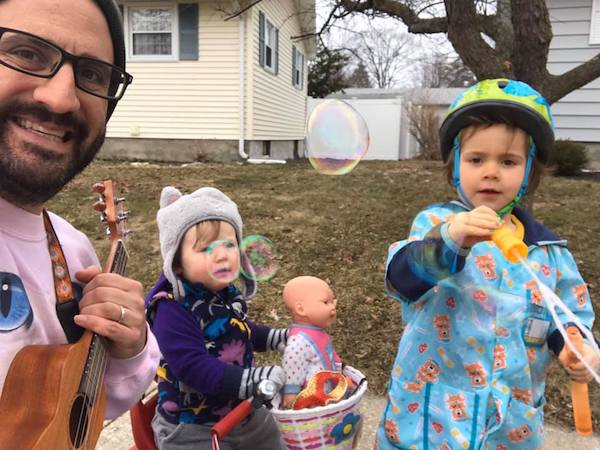 On yesterday's walk, Keegan played his ukelele while the girls blew bubbles. There may have been some singing too, and that is, indeed, a healthcare worker's outfit my granddaughter is wearing. Doing her part.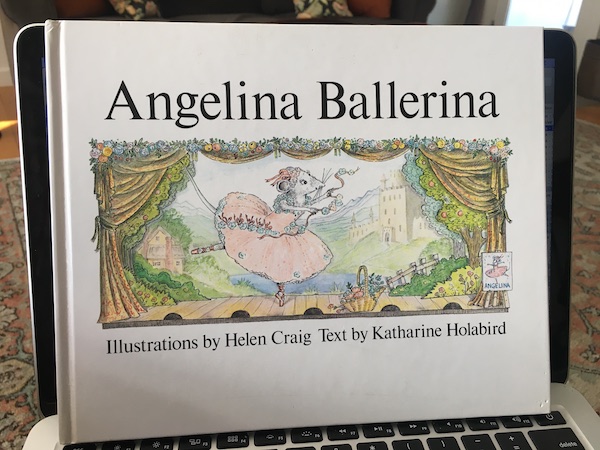 I am grateful for FaceTime so that we can have real-time chats with them. The other day, we read a story together. We also dove into our costume chests and tried on costumes together. Our chest is filled with items that their mother and aunt wore when they were little. We also played with my dollhouse. Yes, I have a dollhouse that I'm hoping my husband will now have time to finish wiring after promising (in writing) that he would about 25 years ago!
I'm looking for other creative things we can do online with our grandchildren if you have any suggestions.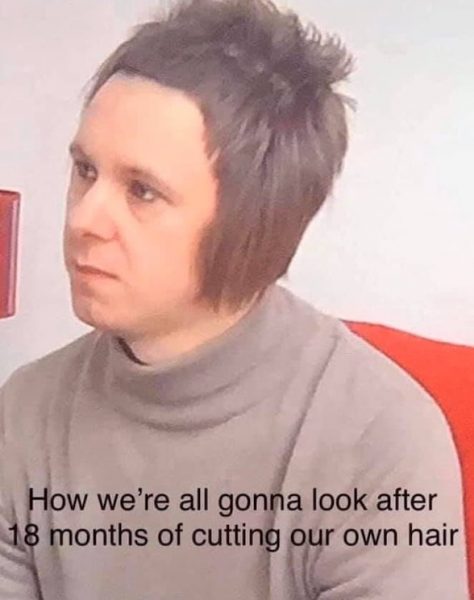 My husband informed me that at some point I would probably have to give him a haircut. Oh, oh. Not one of my gifts. Saw this picture somewhere. About sums it up. Won't show it to my husband.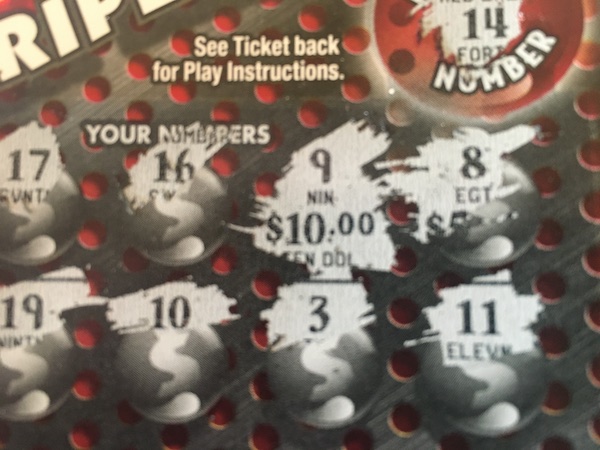 This is definitely on the bright side. We're lucky if we win $1, but this morning, we won $10.00. It was our last scratch ticket. Hope I don't misplace it before we can get to the store and cash it in. Our two daughters had a lengthy discussion about us last night. They don't even want us to go out for groceries anymore. Not at 6 am, not at 8 pm. Not at all. So our daughter who lives in Portland will now take our orders and deliver to us. No thank you hugs allowed. Feel loved. Cared for.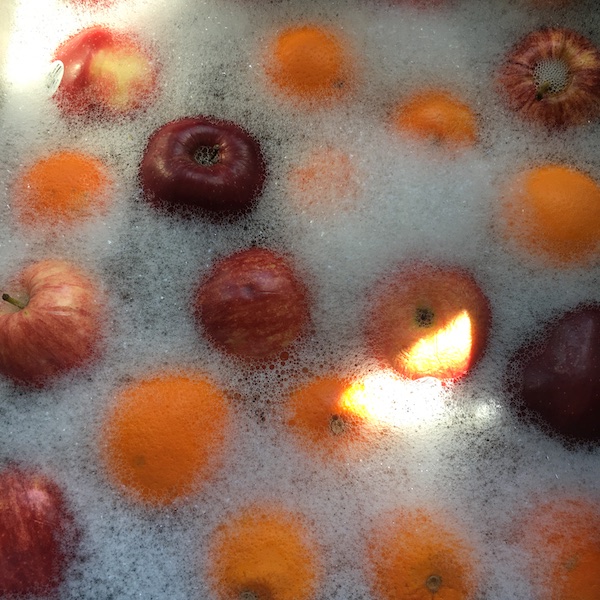 Apples and oranges my husband bought on his final foray to the store for a while. Having a little bubble bath in the kitchen sink.
I'll end this post with what for me was a belly laugh. I don't know where this video originated, but I think it's hilarious. Thank you to the friend who sent it to me. I hope it makes you all laugh, too.
PS. Do you know the answer to the riddle? What did the zero say to the eight? Write your answer in the comment section below!