Ever since I started the Catching Health blog back in 2011 I've worked out of my home. That arrangement doesn't suit everybody, but it does me. Or it did. The past few months I've been antsy and it's been challenging to settle down and write. I decided that I needed a change of scenery. Two weeks ago, I started renting a co-working space in downtown Portland. I love it!
As you can see from the picture, I still spend a lot of time on my laptop writing blog posts. What you don't see is that instead of the company of my cats, I share the new space with humans. There's a lot of creative, friendly energy in the room.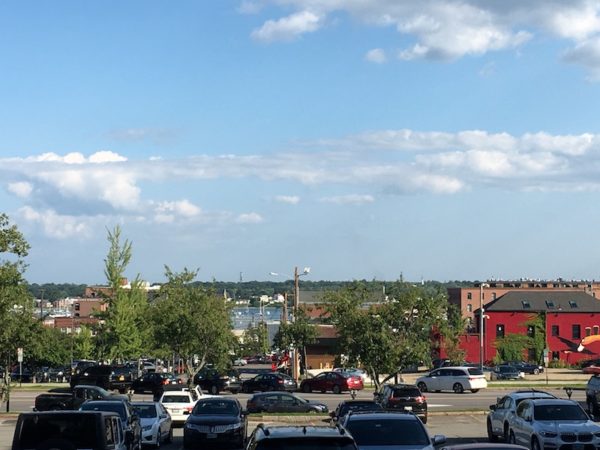 One of the other benefits is that I'm walking more and lucky me, just outside the door is a view of the waterfront. See it? Where I live, I usually have to get in the car and drive to a walking trail or get on the treadmill. In Portland, I've been all over the place — to the Farmers' Market, the Old Port, Congress Square, everywhere.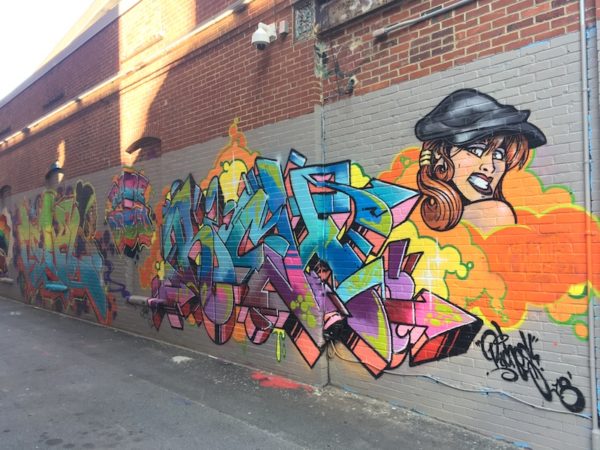 So many interesting things to see. This graffiti wall is on the side of AURA, a nightclub on Center Street. General Manager Mark Curdo told me it's the work of Money Mark. I'm still looking for more information.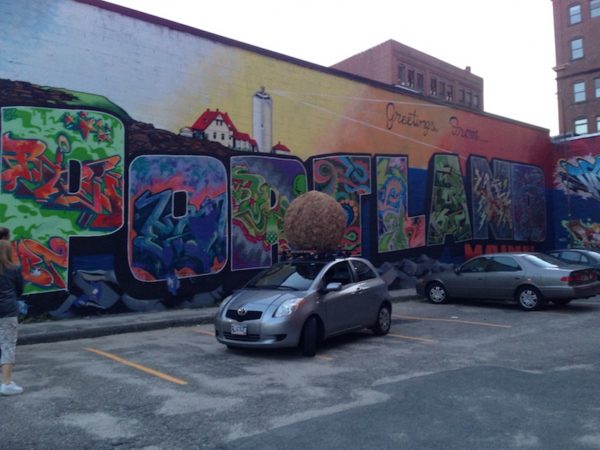 There was an iconic Portland "postcard" mural on the back of the building when it was home to another club known as the Asylum. Unfortunately, it came down during construction in 2016. Mike Rich organized the painting of that mural — each letter was done by a different artist. "Mike Rich is an artist who's been working on the walls of this venue for a LONG time," said Mark. Mike is known around the country for his work and beyond really."
There's a story behind that car with the giant ball on top, too. I took the picture in 2014 when my nephew and I drove around Portland with sculptor Michael Shaughnessy. He's the head of the sculpture department at the University of Southern, Maine and has created exhibitions and installments around the world. The ball is made of hay — you may have seen it before. I have to say you sure get a lot of attention when you drive around with a hay ball on the top of your car!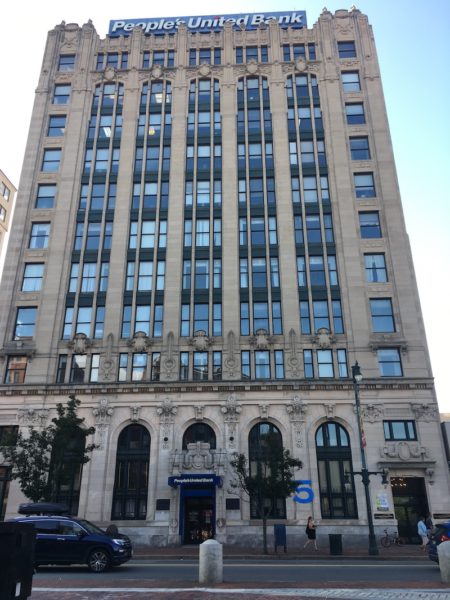 The People's Bank building in Monument Square always reminds me of my mother. She worked there as an "elevator girl" when she was in high school and every night she'd go up on the roof to watch the maintenance man take down the flag. She loved looking over the city. The thought of being up there makes me weak in the knees.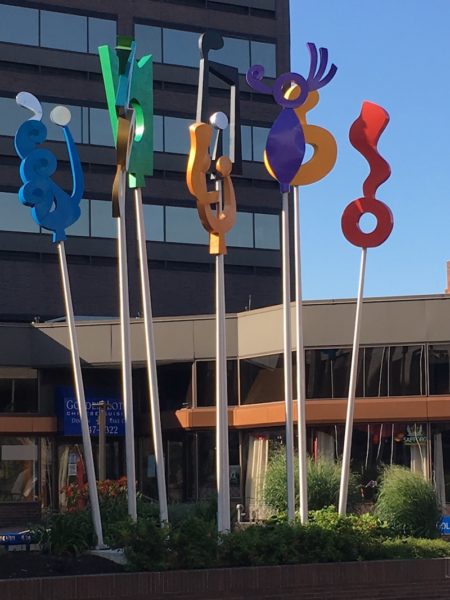 This fun sculpture on Congress Street was done by Charlie Hewitt and is called Portland Rattles.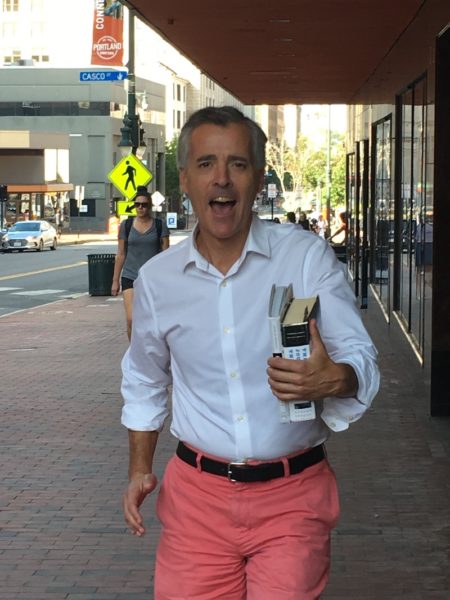 And you never know who you might run into when you're walking in downtown Portland. It's the ever-serious Rob Caldwell from NEWS CENTER Maine, hamming it up for my camera and walking backward. One of my favorite humans.
Walking is a good thing, no matter where you go. Good for the soul, good for the mind, good for the body. It's been especially fun and invigorating to be in the city. Where do you like to walk?