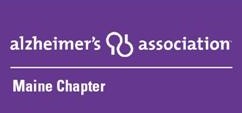 On Saturday I attended a volunteer recognition reception hosted by the Alzheimer's Association, Maine Chapter. It was an enlightening afternoon.
As you may know, my mother has Alzheimer's disease. Even though our family is fortunate to have each other and the help of professional caregivers, I often feel overwhelmed — with worry, sadness, responsibilities …
Then, I'll meet someone who is also struggling with this awful, awful disease and will be reminded that my family is far from being alone. At the reception, I met Bob O'Keefe, who received the Maine chapter's highest honor, the Marilyn Paige Founders Award.
Marilyn Paige's husband was diagnosed with Alzheimer's disease in 1982.  She couldn't find a support group so she started her own. Two years later there were 14 in Maine and Marilyn founded the Maine Alzheimer's Disease Association. In 1987 it became affiliated with the National Alzheimer's Association and was incorporated as the Alzheimer's Association, Maine Chapter.
Today, the Maine chapter provides comprehensive education and training programs throughout the state and maintains a 24/7 telephone Helpline. Bill Kirkpatrick, the program director, has assisted my family more than once by meeting with us and helping us work out some challenging issues. Most recently, he facilitated a telephone conference call so that my out-of-state siblings could participate. Those meetings have been enormously helpful.
Bob O'Keefe receives Marilyn Paige Founders Award
Back to Bob O'Keefe. Bob was diagnosed with Alzheimer's disease 4 years ago. He first reached out to the Alzheimer's Association as a client looking for information and support. He soon became one of its most ardent volunteers, seizing every opportunity he can to talk about his disease. He says the opportunity has changed his life.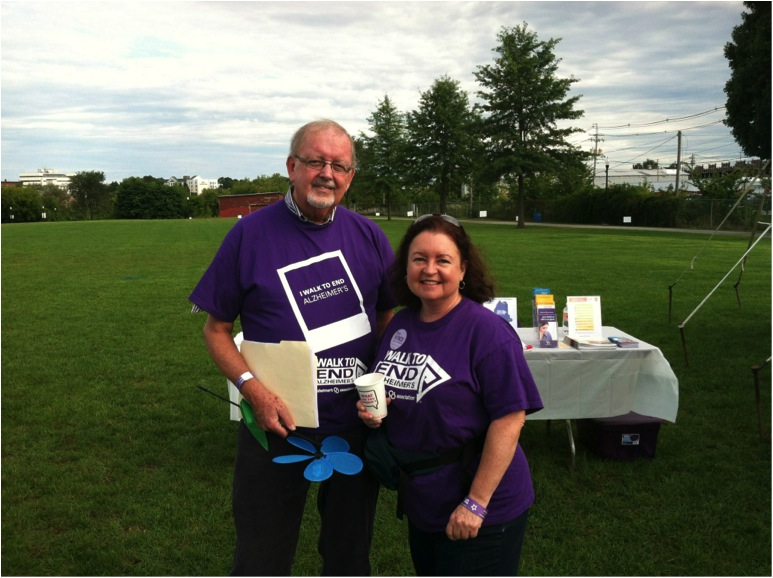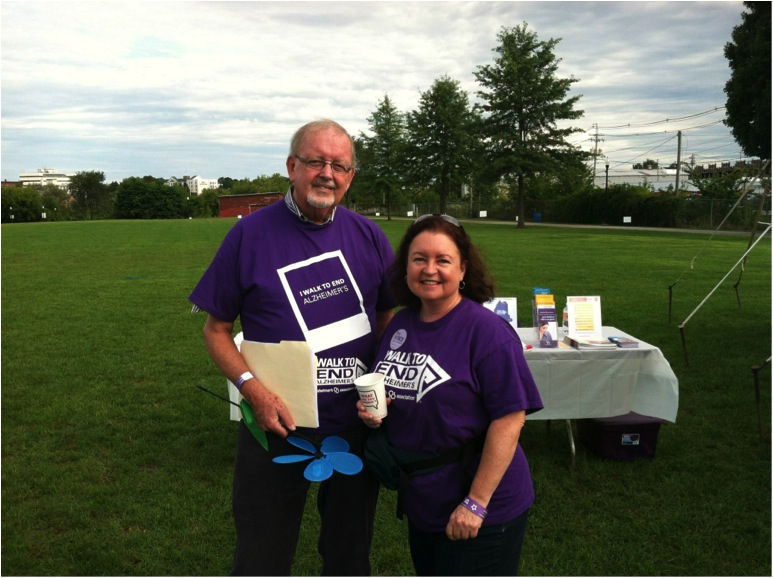 "I only can say I do what I do because if I don't do anything I'll only slip away," says Bob. "My wife and I have decided that's not the way that we want to do this. I know there's no cure and I know eventually I'm going to begin that 'long goodbye.' I can't imagine where I would be without this association. The people, the programs, the determination and the willingness to help of everyone at the Alzheimer's Association of Maine. It has changed my life for the better. I will continue to volunteer for as many things as I can."
Deborah Johnson receives Robert Stram Award for Advocacy
Deborah Johnson's husband was in his 40s when he was diagnosed. They're in the sixth year and the disease has progressed.  They've reached the point where he shouldn't be left alone anymore. Deborah works full-time and gets help from her husband's parents and a caregiver who comes in to make lunch three days a week. It's no longer enough.
They're drained financially and Deborah is in the process of applying for MaineCare and looking for a nursing home for her husband. She is also drained mentally, physically and emotionally and yet, she finds the time and the strength to volunteer for the Maine chapter. She even went to Washington recently to advocate for increased funding for Alzheimer's research.
How does Deborah manage? "It's like I'm operating in panic mode," she says. "I can't think beyond tomorrow. Some days I can't complete thoughts myself. I'm just surviving. He does things that don't even make sense, like all of the light bulbs are missing from the house when I come home or my mail is in the dryer and it's just constant — like living in a mad tea party. We had a great marriage. I took it for granted. He was the nicest, calmest … we did everything together naturally and to lose that — I haven't even had time to grieve that."
Deborah's willingness to be such a staunch advocate and tell her story so eloquently she moved some people in Washington to tears, the Maine chapter presented her with the Robert Stram Award for Advocacy.
Barbara Alberda received the Collaborative Spirit Award and the Maine Veterans' Homes received the Corporate Champion Award. Several individuals, families and businesses were also recognized as top fundraisers for the 2013 Walk to End Alzheimer's Awards. Also sharing their personal story were Lorna and Hank Blackmer. Hank has Alzheimer's and Lorna says that being able to participate in the chapters' social programs is a blessing — for both of them. "It's lonely for caregivers," she explains. "Nobody understands until they live with it. I'm better able to care for my husband because of the Alzheimer's Association. I thank you all who volunteer."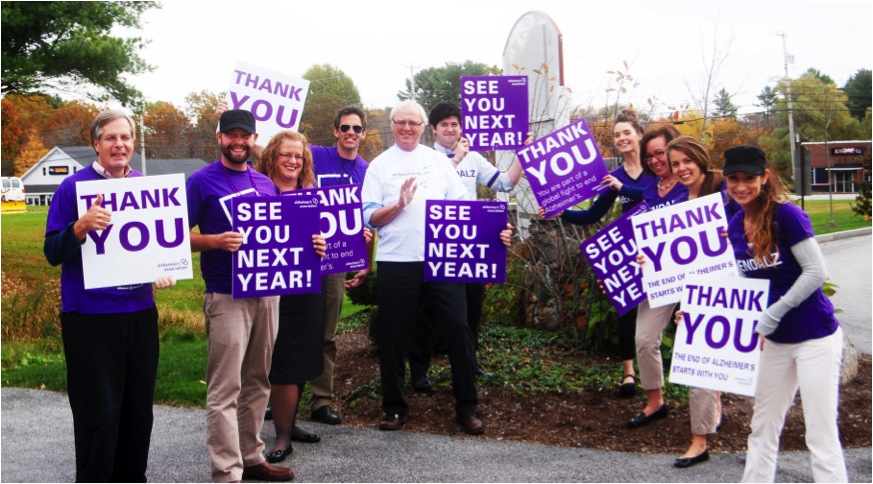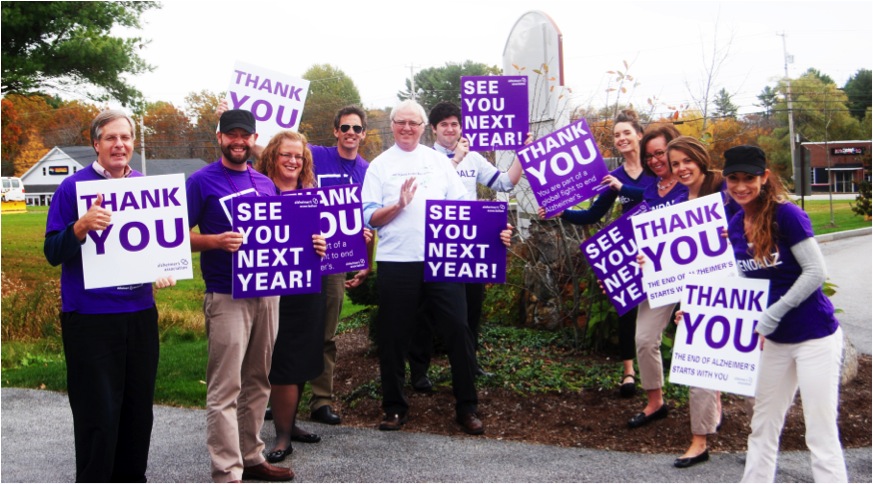 If you'd like to learn more about the Maine Chapter, Alzheimer's Association, which is located in Scarborough, visit the website or call 207.772.0115 or toll-free 800.272.3900.
If you need someone to talk to for any reason, call the 24/7 Helpline at 1.800.272.3900.
I'll end this post with the poem that Barbara Johnson read when she accepted her award.
The Dreaded Questions
So, how is it going?
Do you really care?
Are you just fulfilling a duty by asking?
I can't tell you the truth
Today my socks were in the silverware drawer
OK. Hanging in there.
How is your husband doing?
So sad and quiet
Drifting away slowly
I know about the families hit by tornadoes
Towns wiped out by tsunamis
But I don't sleep next to them
Oh, you know, some good days and some bad days.
Are the new meds working?
Big odds against experimental medications working
Cleaning up the brain plaque
Bapineuzumaab or Beelzbub
Terminal still means terminal
No cure
He's about the same.
How do you do it?
I cry (a lot) and I throw things
I depend on others
I pretend it's not happening
I plan many never-taken trips and I live in a bag of Doritos and visit a box of cheap wine
I am not doing it
Just day-to-day. You know.
But you don't. You never can.
by Deborah Johnson