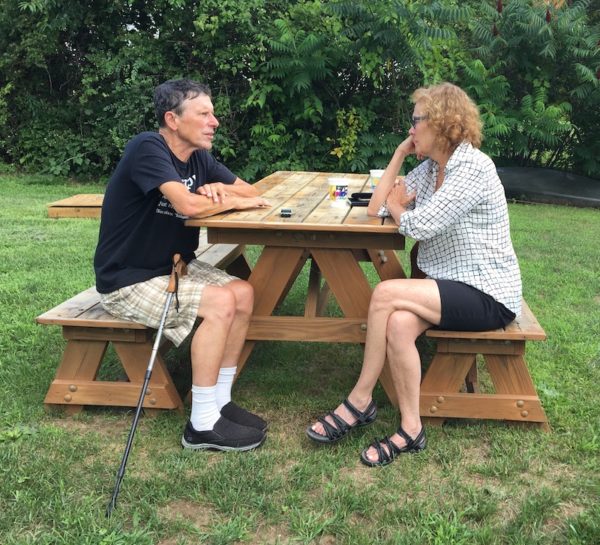 George Smith, who will celebrate his 70th birthday in October, does not seem to let anything get him down. He has to be one of the most inspiring human beings I've ever met. In 2017 he found out that he had Amyotrophic Lateral Sclerosis (ALS), also known as Lou Gerhig's Disease. ALS is a progressive neurodegenerative disease that attacks nerve cells in the brain and spinal cord. As it progresses, the brain loses its ability to initiate and control muscle movement.
We did a podcast last winter during which George described his symptoms and how he and his family were coping with his diagnosis. Last week my husband and I were in the neighborhood so we met George for lunch at the Olde Post Office Café in Mount Vernon, Maine. George lives nearby and often eats there — they even named a sandwich after him. "They called it the Gorgeous George," he told me, "but I asked them to change it to the George to keep me humble."
When I saw him about six months ago, he was walking on his own, but his right leg was getting weaker and he knew it wouldn't be long before he'd be needing a cane. He uses one now. For longer treks, he's got a walker and three wheelchairs at the ready including one that folds up so he can throw it in the trunk. Yes, he still can drive, but after about an hour he develops muscle cramps and has to stop for a while.
The biggest issue with his weakening legs is that he sometimes stumbles and falls. "It's frightening," he said, "especially if you hit your head because once you start falling, you're gone."
He has lost the strength in his hands and fingers, which gets in the way of all sorts of things. Like tapping out his columns on the keyboard. He can still use his index fingers, but barely. Voice-activated computer software helps him get around that problem. "We also bought a laptop that will let me write with my eyes," he said. "l look at the words and phrases and it writes it. It's pretty amazing."
The sound of his voice has changed and it's getting harder to breathe, especially when he's lying down. He told me he was going to start using a BiPAP machine, which should help him breathe better.
And his coordination is not good. That means George can't do a lot of things he has loved doing his entire life. Like fish. "No more fly fishing," he said. "A lot of my friends want to take me, but I'm okay not fishing. I've had unbelievable fishing experiences —Alaska, Montana, Quebec, so I'm not disappointed."
He did go spin-casting recently with his friend Ed Pineau. Deirdre Fleming went along, too, and wrote a wonderful article for the Press Herald. "He landed dozens of fish," Dierdre wrote, "losing count after an hour."
George is obviously someone who doesn't focus on the things he can't do. He finds ways to adapt or new things to try. And he manages to find the humor in situations that might push someone else a little over the edge. His wife Linda, who has been by his side for 40 years, shares that gift.
"The funniest thing was about four weeks ago, Linda was trying to kill a snake and she broke her right wrist," he told us with a little smile. "She got a shovel and she hit the snake, but she hit a granite wall. So between the two of us, we have one left hand. I joke that you should see us trying to open a bottle of wine. It's pretty funny."
There's also a thoughtful, serious side to George. It's fully present when he talks about people's kindness and generosity, from other people who are struggling with ALS to family and friends to perfect strangers. In his latest column, he wrote, "Good things continue to happen because I have ALS. Friends and family have stepped up to help — and we do need help."
What about ALS research, my husband asked him. Was there anything coming along that might help him? "There's nothing happening that's going to save my life," George answered, "but they are doing more research than they used to and they're starting to find some possibilities of at least delaying the symptoms. They still have a lot to learn about what causes it."
Day by day, his disease progresses and day by George Smith keeps pushing himself to do his best and then some. For instance, last March, he and Linda donated their 125-acre woodlot in Mount Vernon to the Kennebec Land Trust. He had dedicated the land to his late father Ezra years ago and at a ceremony on a rainy August 7th that dedication was made official. The woodlot is now known as the Ezra Smith Wildlife Conservation Area.
George told me that even though he has a disease that will leave him unable to breathe on his own or swallow, he considers himself lucky. He had three friends who died suddenly but with ALS, he has been given the gift of time. "I have all this time to spend with my family and friends and I'm still writing," he explained. "And as frustrating as the illness is, I'm a lot luckier than my friends were. They were just gone. We've had time to get an elder law attorney and get everything in order."
ALS resources
With a disease like ALS, you need access to a lot of resources and George is dogged about tracking down whatever he can find and sharing it with other people in similar situations.
Staying positive
If you're ever in Mount Vernon, Maine, make sure to wander through the Ezra Smith Wildlife Conservation Area and then stop by the Olde Post Office Café. If you see George, be sure to say hi. "Anybody wants to meet with me, I'm right here in Mount Vernon," he chuckled. "I joke that I'm getting a lot of free lunches lately. It's really good!"