It took me half my life to appreciate the taste of salmon. You need to understand. I grew up eating only one kind of fish: haddock (usually fried).
Salmon is good for us, but why?
Kitty Broihier, a registered dietitian and member of the Maine Academy of Nutrition and Dietetics, has the answer:
Salmon is highly nutritious, providing an array of vitamins and minerals, as well as being a high quality protein source. Canned salmon is notable due to the calcium provided by the bones that are included. But the big draw is salmon's omega-3 fatty acid content. Salmon is a fatty type of fish, and that's part of what makes it so tasty, of course! If you don't like salmon, you could choose another type of fatty fish, such as sardines, herring, mackerel, lake trout, anchovies or tuna).
Here's the quick and dirty on omega-3 fatty acids:
Omega-3s are essential fatty acids (meaning that the body cannot make them) found naturally in a variety of foods including fatty fish, leafy greens, nuts, flaxseed, olive oil and canola oil.

Omega-3 fats have been shown to benefit heart health for both healthy people and those who have had cardiovascular disease or are at high risk for it. They slow the accumulation of plaque in the blood vessels, decrease triglyceride and cholesterol levels in the blood and have anti-blood clotting and anti-inflammatory effects. Inflammation in the body can lead to heart disease. Omega-3s may also be beneficial in additional areas including diabetes and stroke.
The take home message about salmon
Most of us don't get enough omega-3 fatty acids in our diets, so aim to eat fish/seafood at least twice per week—particularly fatty fish.This means non-fried seafood. Both wild and farmed salmon have omega-3 fatty acids, so choose according to your preference. If you don't eat fish at all, make sure your diet includes plenty of the other omega-3 sources.
What about asparagus?
Asparagus is also loaded with health benefits. It's high in folic acid and a good source of potassium, fiber, vitamin B6, vitamins A and C, and thiamin. Best of all, it contains no fat or cholesterol and is low in sodium.
I never ate a single spear of asparagus until I was well past 30. What a sheltered life!  Have you ever tasted it straight from the garden? Thanks to my husband, who grows asparagus in our backyard, I get to eat it from May until early July — usually steamed and drizzled with lemon butter.
Vegetables and seafood are at the heart of the Mediterranean Diet. (Remember, it's not a specific diet, it's a way of eating.) If you want to eat Mediterranean style, you should have vegetables every day and seafood at least twice a week. Take a look at this Mediterranean Diet Pyramid, courtesy of Oldways.
A taste of the Mediterranean
For the next several weeks I'll attempt to cook Mediterranean style. The recipes I'll be sharing will come from a variety of sources. Maybe even you, if you have any you'd like me to try. Let me warn you, I know my way around the kitchen, but not nearly as well as around writing and blogging, so you'll have to bear with me as I also learn some cooking lessons along the way!
The first week, I didn't even use the oven except to toast some pita bread for pizzas and you'd think a tornado had swept through the kitchen. I should have taken a picture. I'm sure there'll be plenty of other opportunities!
Here's what I made last week.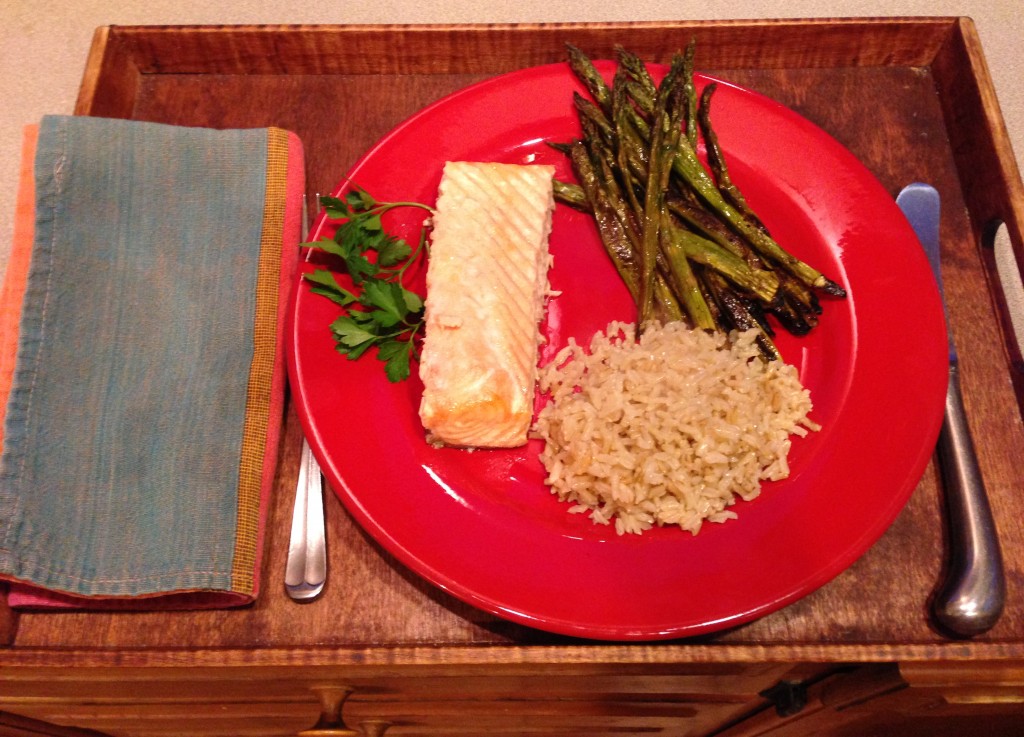 Spicy Salmon
(A slightly adapted recipe from Oldways. Serves 2)
1 clove garlic, chopped
1/4 tsp sea salt
1/2 tsp crushed red chili pepper (I used chili oil instead — a few drops)
1TBS extra virgin olive oil
Juice of 1/2 lemon
3/4 pound of salmon (original recipe called for salmon steaks, but we prefer fillets)
Crush the garlic with the salt in a mortar or mash with a fork in a small bowl. Add the chili pepper or oil, olive oil and lemon juice and mix together. Arrange the fish in a baking dish and coat with the marinade. Cover with plastic wrap and refrigerate for up to two hours. Preheat the oven to 450 degrees. Uncover the fish and bake for about 20 minutes or until the fish flakes easily with a fork.
I thought the salmon was amazing! It was really, really easy to make. If you don't like salmon or it doesn't fit into your budget, the marinade works well with any kind of fish.

Roasted asparagus
OK, so I could have done a better job roasting the asparagus, but I thought it still tasted pretty good and had a nice crunch! I bought a bunch in the produce section of the supermarket, broke off the ends (you grab each end of a spear and bend until it snaps) and spread them out on a baking sheet. I drizzled with about 3 TBS of olive oil and juice from 1/2 lemon, and sprinkle on some salt and pepper. Here's what I did wrong. I roasted them in a 425-degree oven for 20 minutes. I think 15 minutes would have been plenty, maybe less because they were thin spears. I'll know better next time!
Long grain brown rice
Brown rice is whole grain rice. The main differences between brown rice and white rice are how they are processed and their nutritional content. Take a grain of rice and remove the outside layer or husk and you've got brown rice. Remove the next two layers — the bran and the germ — and it's white rice. As each layer is stripped away, vitamins and minerals are lost, so brown rice is considered more nutritious. If you see enriched white rice, it means some of the lost nutrients have been added back.
I cooked the rice according to the directions on the package. I was cooking for two, so used 1/2 cup rice and 1 cup water (the general rule of thumb is 2 cups water for every 1 cup of rice). Rinse the rice in a strainer or colander and put into a saucepan. Add water and a pinch of salt. Bring to a boil, lower the heat and let simmer with cover on for about 35 – 40 minutes or until rice is tender and water is absorbed. Remove from heat and let sit, covered, for 5 minutes. Fluff with a fork and serve.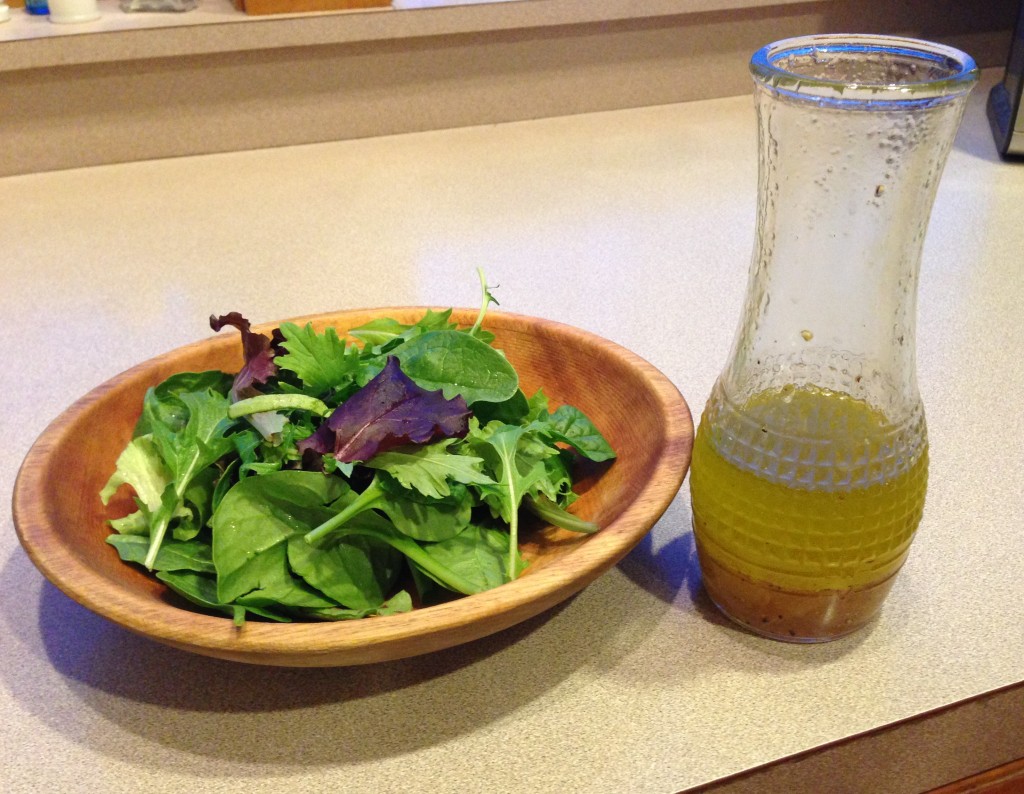 Tossed salad greens with vinaigrette
I would much rather make my own salad dressing than buy it ready-made. I prefer the taste and it's usually much less expensive. Most vinaigrettes are simple to make.
1/2 cup olive oil
1/2 cup cider or red wine vinegar
1 small shallot, sliced
Salt and pepper to taste
Whisk together the oil, vinegar and 1/4 tsp each of salt and pepper. Add the shallot slices. I made the vinaigrette before starting anything else and set it aside.
There you have it. A mostly successful Mediterranean meal. If you try it, just remember to take it easy when you roast the asparagus!
If you have suggestions or questions about anything — recipes, process, information — please don't be shy. Send me a comment. I want all of us to benefit from my special project.