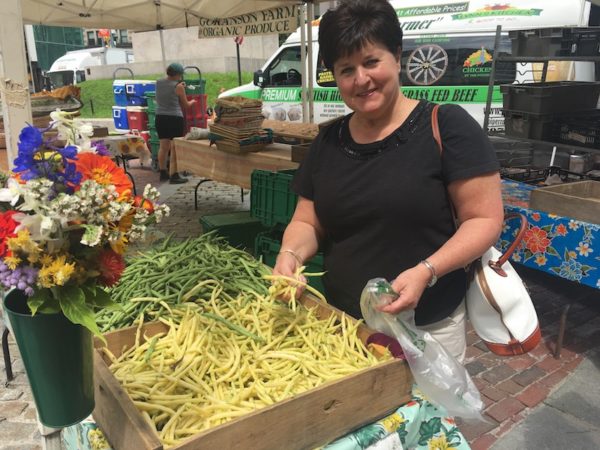 I was in town Wednesday (Portland, Maine) and popped over to the Farmers' Market in Monument Square for some inspiration. I wasn't disappointed. There was Lisa Vaillancourt filling a bag with freshly picked wax or yellow beans.
"I love them because they're sweet," she said. "The smaller they are, the sweeter they are and the beans inside are too big either."
Waxing eloquent about wax beans brought me right back to my childhood. When it was my birthday, my mother would let me choose my favorite meal and wax beans were always on the menu.
Lisa says her mother used to cook them all the time, too. "She usually added chicken broth to give them more flavor," she said, "and onion and then threw in some potatoes. So everything is all in a pot."
My mother only steamed her beans, which was fine with me, but the way I like them best of all is raw, just picked off the vine.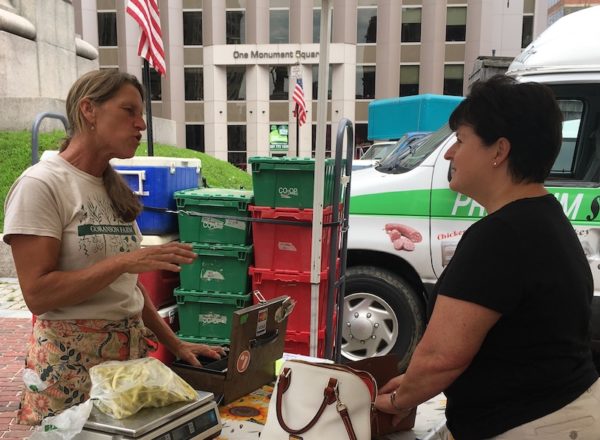 Lisa bought her beans from Goranson Organic Farm. I visited Jan Goranson at Portland's Winter Market last December and she passed along some great tips on cooking spinach and kale. Today she shared with me that she prefers green over yellow beans.
"My husband loves the yellow beans," she said. "I think it's whatever you grew up with that brings back that flavor or that feeling of home. To me, green beans have more flavor. I do think Lisa's spot on that the yellow beans are probably a bit more tender."
Jan likes to fry her green beans in a little olive oil with onions, tamari sauce, and sesame seeds. "They almost shrivel up in the frying pan," she said. "I can't see doing that with yellow beans."
According to Cook's Illustrated, the difference between green and yellow beans is that "Green beans get their color from chlorophyll, and yellow wax beans are simply green beans that have been bred to have none of this pigment."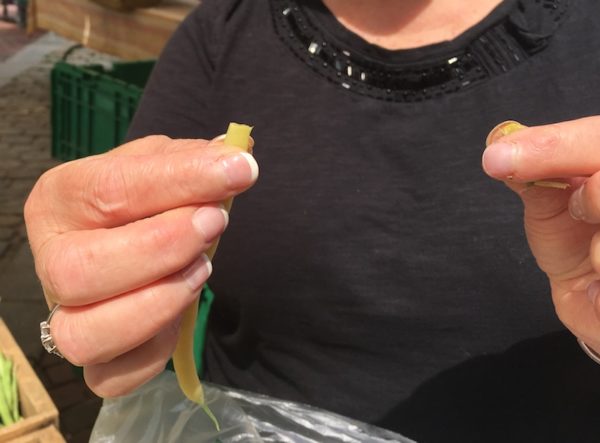 However you like your yellow or your green beans, you can't go wrong. They're low in calories and a great source of fiber. Make sure you choose ones that have good color, are fresh, and snap easily. All you need to do is snap off the end that was attached to the vine and they're ready to cook.