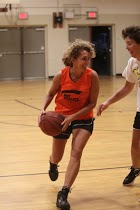 However you choose to acknowledge it, turning 50 is a milestone. For Susan Pillsbury, from Cape Elizabeth, Maine, it meant she was finally old enough to join the Maine Senior Women's Basketball Team, which she did last year. At the end of July she'll be playing in her first National Senior Games tournament in Cleveland, Ohio.
"I'm very nervous but really excited," she told me when I went to watch the team practice a few weeks ago.
Susan played basketball in high school, but not in college, which she regrets to this day. She has her sister Mary Whited to thank for getting her back in the game and on the team.
The National Senior Games happen every two years. This year about 90 women's basketball teams from all over the country will be playing, including a group of feisty women in the 80+ division.
Mary participated for the first time four years ago in Palo Alto, California in the 50 – 54 division. Her team "Triple Threat" won a gold. "Hot Flashes," the Maine team for women 55 – 59, also brought home a gold. Deb Smith, who has been coaching Maine Senior Women's Basketball for nearly 15 years, was on that team. "It was the most exciting day of our athletic lives," she says.
Deb Smith played basketball in high school and college, and for 15 years coached 8th-grade girls at Memorial Middle School in South Portland. In 1999, before she'd hit her own 50th birthday, she was asked to coach the "Maine Pioneers," a group of women who were 55 and older. "People started trickling in and we started getting some publicity," she says.
When she turned 50 in 2004, Deb put together a second team and they both played in the National Senior Games. No medals, but great fun and a lot of confidence-building. Since then, the Maine Senior Women's Basketball Team has played in many tournaments, including the Maine Senior Games, and just keeps on growing.
The oldest Maine players are 65+. Right now everyone is focused on getting ready for Ohio. "We're very fortunate," says Deb. "People just love helping us. We have guest coaches come in all the time — high school coaches, college coaches. We also scrimmage with younger players for about 6 months before we go. If we can beat you and you're 35, we can beat anyone who's 55 and older!"
Susan says when she first started playing with the team, she almost wanted to walk away. "My skills were really rusty," she explained. "Now I've got a lot more confidence. The women I play with are amazing. They're great friends. We do a lot of social things together. I feel like I've got 36 new friends and that's been very special."
"Our common bond is basketball," says Deb. "Everyone loves the game of basketball. Out there on the floor, we're all so competitive and when we're done, we're just friends. You don't know how much joy there is in that."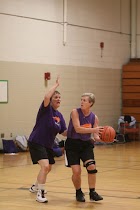 Are you turning 50? Love playing basketball?
The Maine Senior Women's Basketball Team practices from 5:30 – 7:30 Wednesday nights at the Memorial Middle School in South Portland. Right now they're working hard as they gear up for the big tournament. Go watch. You'll be inspired.
For more information, send Deb Smith an email. She also runs a basketball camp in Maine for women over 50, called Not Too Late. There won't be a session this summer because of nationals, but you can learn more about it on the Not Too Late website.
Join the team. You know you want to. If there are no over 50 teams in your area, maybe you can start your own. Deb's a great coach. I'll bet she can tell you how.