Once a month the Children's Museum of New Hampshire in Dover invites a group of adults for a bit of socializing. Although they are welcome to join them, it isn't necessary to have children in tow.
The invitation is to the museum's Alzheimer's Café — a  place for people living with Alzheimer's, their family members and care partners. Where they can spend time with friends and forget about the unrelenting challenges they face.
It may seem incongruous to have such a program in a children's museum, but for Paula Rais, it's a perfect match. "It's  a welcoming, open, inclusive place," she explains. "It's also physically accessible and colorful and intergenerational."
Paula is the museum's Vice President of Development and Community Engagement. She also oversees the Alzheimer's Café. About four years ago, she read an article about an Alzheimer's Café at the Children's Museum in Santa Fe, New Mexico. It caught her eye for two reasons.
"One," she says, "because in my previous job we had a pilot program called the Elder Arts Initiative. We often worked with people who have Alzheimer's and
[other] dementias. It also caught my eye because it was in conjunction with a children's museum."
She contacted Dr. Jytte Lokvig, who founded the Santa Fe Café, and with her encouragement got the ball rolling in Dover. "It started out small," she says. "We put posters up, we put something in the paper and we had one husband and wife who came. We had some refreshments and served coffee and sat around and talked and got to know each other. There were more facilitators and volunteers than visitors but we had a great time. They came back the next month and a few more people came and it just kept building."
Today, between 20 and 30 people attend. And it's a testament to Paula and the café that four years later, their first couple is still coming.
New Hampshire Public Television produces a program called Changing Aging in the Granite State. One segment includes a profile of Woody and Judy Sponaugle. Judy has Alzheimer's. In the video, Woody explains what the café has meant to them both.  "One of the secrets, I think, of the café," he says, "is the fact that it's at a fun place — a children's museum! Through the café and through support groups, you begin to relate to others who have the same problem you do. You learn from them, they learn from you. You're all speaking a common language, you all understand what each other is doing and how do deal with it."
Paula is quick to point out that the café is a place to get away from those problems. "It's a place to leave the disease at the door and just enter as a person," she says. "An interesting person who's going to chat with other interesting people. It's a social time and we make sure everyone's included in the conversation. It's about making some friends and networking and just enjoying time together. Time that's safe and fun and away from what might be a day in and day out difficult journey."
By all accounts, the Alzheimer's Café is a success. Attendees seemed to enjoy themselves. Some have formed relationships that extend beyond the monthly get-togethers. In 2012, the Museum received a Leaders in Innovation Award from the New England Museum Association in recognition of the uniqueness of the Alzheimer's Café program. But, Paula wanted to know for sure if it had a beneficial effect, so she decided to conduct a study.
With financial support from AARP and help from the nursing director and a nursing student at Keene State College, she and her team studied the benefits from the perspective of those who come to the café. They designed a three – pronged approach to gather data from participants. It included observation, surveys and interviews. The Human Subjects Institutional Review Board (IRB) at Keene State approved the study protocol.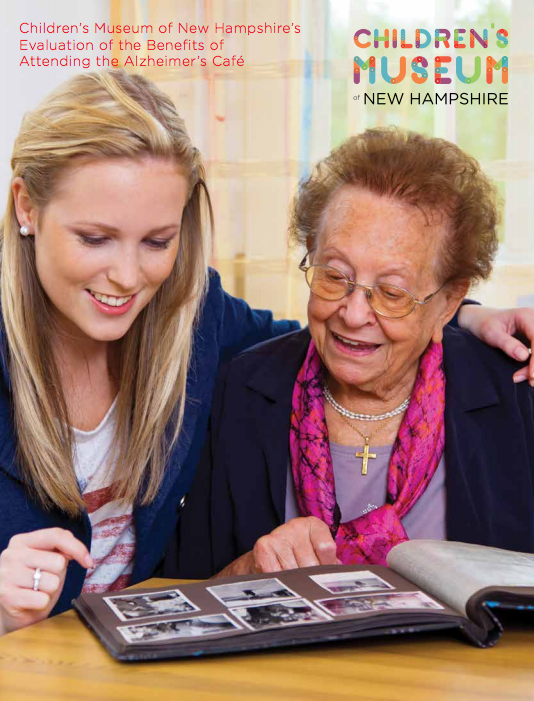 In a nutshell, they learned that the Alzheimer's Cafe is beneficial. These are some of the benefits they highlighted in their final report:
The café is perceived as a fun, relaxed place that promotes a sense of normalcy.
It's a non-judgmental environment. Both care partner and care partner feel happier and find a strong sense of connectedness to others and to a community.
The same relaxed feeling was reported by staff and volunteers.
The café is a place where care partners find an opportunity to relax and feel happiness at seeing their loved one happy.
Significantly, unanimous whole-hearted agreement came from both partners who say they would recommend the café to others.
One notable finding is that people with dementia reported that what they liked about coming to the café was seeing "familiar" and "good" faces.
Despite the short-term memory loss associated with dementia, repeated visits with people whom they have seen before seems to have a positive effect.
Those who attend often seem to feel a sense of inclusion and camaraderie.
One respondent wrote: "My husband loves to come. He has people here that he knows and he loves it. It cheers him up to be out with other people; he feels isolated at home. He may go home exhausted but he feels better about his life."
Another said: "I like seeing the happiness of the person I'm caring for, seeing them comfortable and not afraid; keeping alive those cognitive skills is important."
The research team recently shared their findings at a public symposium at Wentworth-Douglass Hospital. "We also had a panel discussion on a variety of topics," says Paula. "It was a lively discussion with lots of good questions and lots of good energy going forward. We're hoping that more and more people will learn about cafés. They might go to them or they might start one. It can be a high point of somebody's day or somebody's week."
You can read details of the study and its results in the final report. At the end of the report, there is a comprehensive list of resources, including other Alzheimer's and Memory Cafés now available in New Hampshire. (If you live in Maine, check out this list for Memory Cafés around the state.)
Thank you for reading this post. My mother has Alzheimer's disease, so my family and I know first hand about the challenges. I've observed the difference in her when she's around people. She chats, teases, smiles, her eyes light up. Does someone in your life have dementia? I'd love to hear how things are going for you and your family. Have you ever tried attending an Alzheimer's or Memory Café? Add your thoughts to the comment section near the end of this page. ~Diane Atwood