John Turrell, the Wellness Coordinator at the Greater Portland Branch of the YMCA of Southern Maine wants us to feel healthier and be a little adventurous, so he's encouraging us to try (or retry) nine new healthy foods. We're on number six — chile peppers.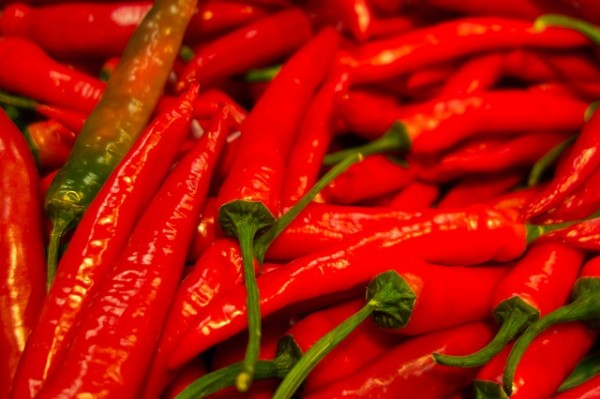 Guest post by John Turrell, Wellness Coordinator, Greater Portland Branch, YMCA of Southern Maine.
On a vacation to California and Arizona a few years ago, I was excited to be served the healthy food I featured a few weeks ago — avocados. They were sliced on top of a salad and spread on a ham and cheese with lettuce and tomato sandwich. It seemed like the natural ingredient for my hosts to serve in both settings.
Avocados are richly smooth and slightly sweet. Last week's health food — mangoes — are also sweet and soothing to the palate. This week we're going for a spicy burn. We're going to try some chile peppers. (Also spelled chili.)
Salsa now outsells ketchup in the United States, but despite their rising popularity, fiery chile peppers still scare some people.
The hot sensation of chiles comes from a compound called capsaicin, which binds with nervous system receptors in the tongue and throat, triggering a sensation of heat. At high concentrations, the brain responds to this stimuli by releasing endorphins, which may explain some of the attraction for chile-lovers. These hot peppers contain the majority of capsaicin in their seeds and white fleshy ribs, so removing these parts will tone down the spiciness.
Chiles contribute a broad range of flavors that will spice up a dish while you can cut down on salt. They contain vitamins A and C and potassium while adding hardly any calories.
All that heat from the capsaicin also provides health benefits. According to registered dietitian Kitty Broihier, "The body of research on capsaicin is quite large. Much of it is on heart health effects, including helping decrease blood cholesterol levels and improving arterial blood flow."
At a Mexican restaurant in Southern California, I ate a burrito with 'mild' salsa. The salsa may have been rated 'mild', but it sure caused my scalp to sweat. I did feel happy after my meal, though. Maybe it was the endorphins.
To help you get started with John's recommendation, here is a recipe from Richard Emory McGary's blog REMCooks. He says it is a slightly modified version of a recipe he found in the cookbook Red Chile Bible: Southwest Classic & Gourmet Recipes by Kathleen Hansel and Audrey Jenkins.
Roasted Cauliflower with Red Chile, Cilantro and Lime
Now before you stop reading, this is not hot. It has a little warmth but this recipe is all about flavor. The cauliflower is SLOW ROASTED at 325 F. While you can cook the cauliflower faster at higher temps or using a convection oven, don't because SLOW ROASTING permits the cauliflower to absorb the chile flavor gradually and turn a lovely golden color. 
Ingredients
1 large head cauliflower
3 cloves garlic, minced
1 TBS Red New Mexico Chile Powder (or substitute Ancho Chile Powder)
1/2 tsp crushed dried red chile
1 tsp cumin seeds, toasted and ground
4 TBS olive oil
1/4 cup cilantro leaves, chopped
1/2 lime, juiced
Salt to taste
Instructions
Preheat oven to 325 F.
Separate the florets from the cauliflower
Put florets in a bowl with the garlic, chile powder, crushed chile, cumin, salt, and olive oil
Toss gently to mix together and coat well
Spread seasoned cauliflower in a shallow roasting pan
Roast 1 to 1-1/2 hours or until tender, stirring occasionally
When done, remove from oven
Dress with lime juice
Finish with chopped cilantro leaves
Serve and enjoy!
If you try the recipe, please let us know how it was. And if you have a tip on how to enjoy hot chile peppers share it with us! Passing along what we do (and eat) to stay healthy and well is what the Catching Health blog is all about. Add your thoughts and recipes to the comment section near the end of the page.