In 2003, Cynthia Scott had some unresolved issues that she wanted to put to rest. She ended up seeing a licensed clinical professional counselor (LCPC) whose primary counseling tool was something called TIR. TIR stands for Traumatic Incident Reduction. TIR therapy was developed by retired California psychiatrist Dr. Frank Gerbode in the 80s and is now recognized by the National Registry of Evidence-based Programs and Practices (NREPP) as an evidence-based practice.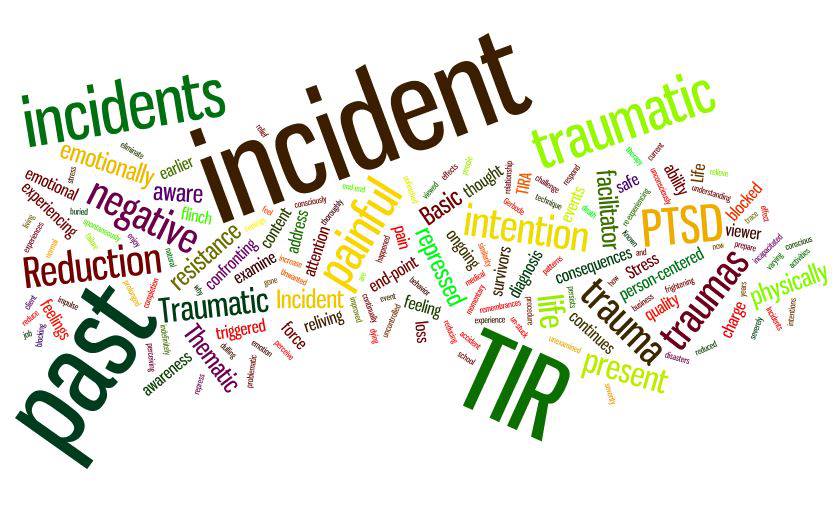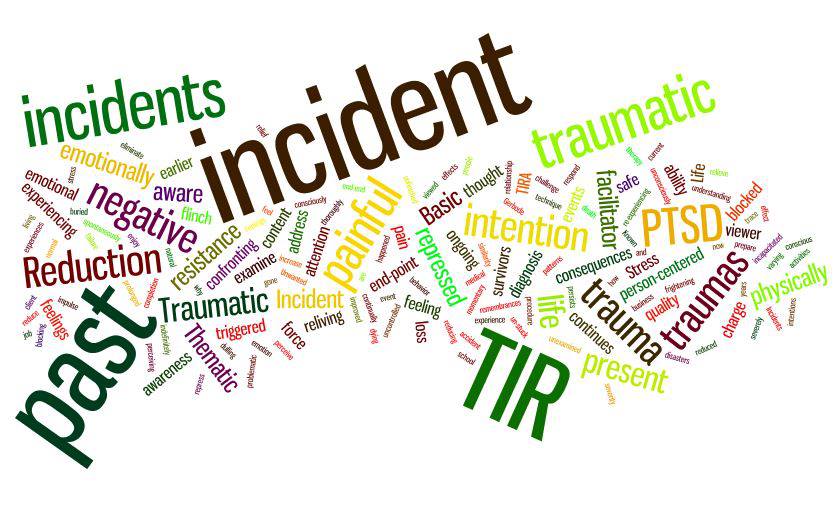 What TIR can address
TIR is used to help people address stressful and/or traumatic events from the past.
Crime
Violence
War
Disaster
Torture
Child abuse or neglect
Emotional abuse
Accident
Painful end to a relationship
Medical diagnosis or treatment
Death of a loved one
Job loss
Anything that may be related to post-traumatic stress disorder (PTSD), depression, anxiety or other troubling symptoms.
Basic TIR procedure
In a nutshell, TIR is designed to reduce symptoms by having the individual recall and talk about the traumatic or stressful experience. A trained facilitator asks a series of questions: What was the experience? When did it happen? How long did it last?  Where were you at the time? After those questions have been answered, the person is told to imagine the moment just before the experience began, close his/her eyes and relive the experience. Then the person has to say out loud what happened. The process of recalling and retelling is repeated as many times as it takes for the person to be able to talk calmly about the incident and without negative symptoms.
When TIR is not appropriate
TIR is not appropriate for all people, including those who
have ongoing problems with street drugs or alcohol
are on certain medications, such as sedatives, strong pain killers or tranquilizers
have a psychiatric disorder that prevents them from being able to focus on a specific area
are not really interested, but have been mandated to attend
Cynthia's experience
Cynthia had never heard of TIR before, but decided to give it a try. On her first visit, her new therapist asked her to answer a list of 18 questions. "What bubbles up to the surface with the questions are the things you need to work on," Cynthia explains. "She had me rate those on a scale of zero to 10 and then rate them again based on my interest in actually addressing and resolving them."
By the end of that first appointment Cynthia, who says she figured she'd probably be in therapy the rest of her life, had a list and, one by one, she and the therapist tackled the issues. Or rather, Cynthia did. Depending on the particular issue, her therapist would ask her a set of specific questions. "What happens," says Cynthia, "is that with each question that's asked, the client comes up with his/her own answer and they can make peace with it. If there is still something unsettled, there are more questions. She never commented on anything I said, which is very different from other therapy I'd had."
After just a few sessions, Cynthia asked the therapist what was next. Her answer: "She said, 'Well you don't have anything left on your list. Unless something comes up or you think of something else, there's really nothing more. I'm here if you ever need to process anything in the future.' I was amazed. I'd never had a therapist tell me I was done."
Cynthia was so "blown away" by how well the approach had worked, she wanted to learn how to do it herself. In 2010, she resigned as executive director of Pine Tree Hospice in Dover-Foxcroft, started Fresh Air Dogs, a training/day care/in-home lodging business and took her first TIR workshop. It was followed by an intense supervised internship — she had to "deliver a minimum of 50 successful hours of viewing sessions to a minimum of six clients." One of them was Cheryl Morin, who lost her son to suicide in 2005 and now runs the JD Foundation, a Maine-based organization that provides suicide awareness education and resources. "I saw her about six times," says Cheryl. "After only two to three sessions I felt relief from some of my issues. Because I saw how easy this was for me, with a past of many traumas, I believed it would help others and I decided to take the TIR training as well."
Lee Price saw a TIR facilitator because she couldn't decide if she should retire or not. "I was skeptical, but decided to give it a try and after about half an hour, I suddenly had an insight about why the decision had been so difficult for me. I decided the next day to retire and have never looked back."
Today, Lee is a life coach in Lewiston. She took a training course from Cynthia and now uses TIR techniques to help her clients.
Learning TIR techniques
Nothing pleases Cynthia more than to see people who, like her, have benefitted from TIR and want to learn how to do it themselves. She has gone through multiple trainings and now trains others to do the work. Cheryl plans to attend an upcoming training. "I will go so I may also get out there and train others who want to help people," says Cheryl. "You don't have to be a therapist to do this work. I also thought it would help veterans as well as people who are feeling suicidal."
Cynthia says that what is so unique about TIR is that it is designed so that lay people can do it. "Most people who take the training are therapists, because they're looking for new tools to add to their toolbox. It's appropriate for all levels of practicing social workers, psychologists, therapists, counselors, clergy, first responders and critical incident stress debriefers. There are a lot of veterans with PTSD who do the training and then can help other vets. It's the gift that keeps on giving. The common denominator to do this work is that you just have to care about someone."
More information
To learn more about TIR, visit the TIR Association website.
Cynthia offers three different professional skills training workshops that are 28 CE Contact Hours. For more information, contact Cynthia Scott at 207.717.4506 or send her an email.
She will be conducting a Trauma Resolution Workshop in Dover-Foxcroft Friday November 8 through Monday November 11. There may still be seats left. See the Catching Health Calendar for details.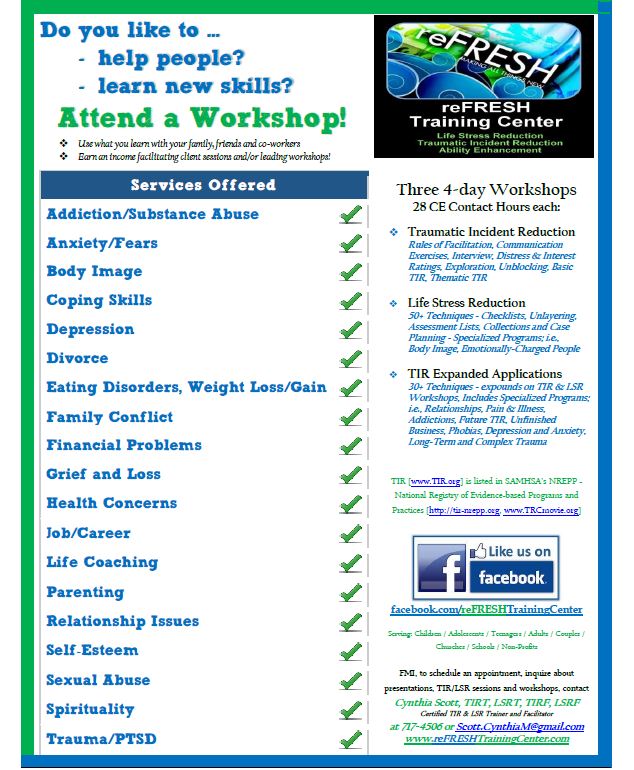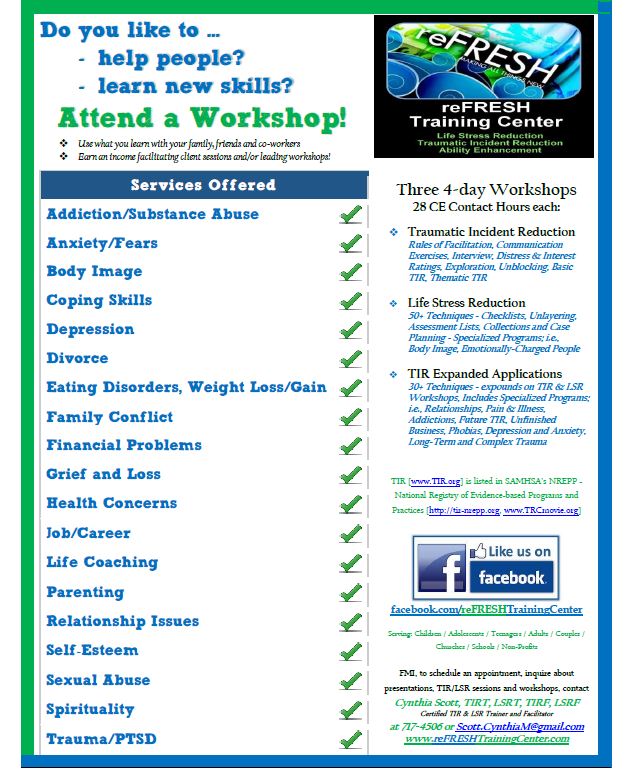 STAY IN TOUCH WITH CATCHING HEALTH
Sign up for the monthly Catching Health eNewsletter.
Browse the Catching Health calendar for health events across the entire state of Maine or post your own event.