Take a moment and look at this portrait. Try to come up with a story about the woman. I'll give you a few prompts. Her name is Aimee. She's in her early 40s and the mother of three daughters.


Source: Frannie Peabody Center
I met Aimee at the Salt Institute for Documentary Studies in Portland, where her portrait was hanging in the exhibit SeeingME: Profiles of Resilience. The exhibit included portraits of 25 people affected by HIV/AIDS — some are HIV-positive, some are not.
It was the second year in a row that Salt had teamed up with the Frannie Peabody Center, also in Portland, in an effort to raise awareness about HIV/AIDS in Maine. "One of the things that we believe we do well at Salt," explained Executive Director Donna Galluzzo, "is bring stories to the community that inform, educate and inspire dialogue and communication. It's as important as ever to keep talking about issues related to HIV/AIDS as part of an initiative and movement to help create change and find more and more successful treatments and ultimately, a cure."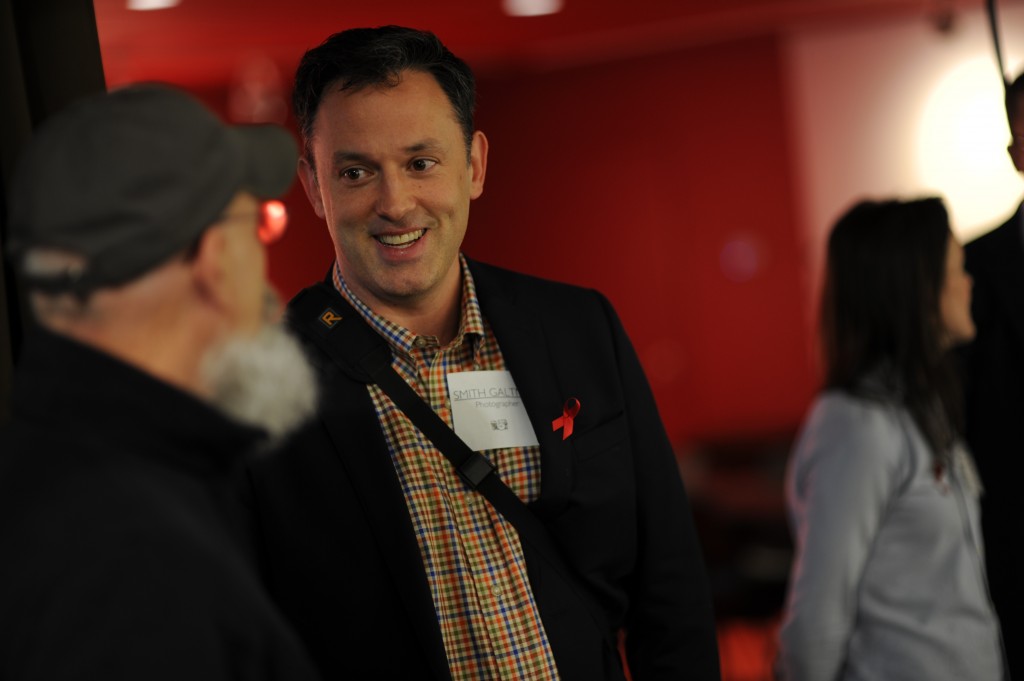 Photo by Brian Fitzgerald
Smith Galtney, who studied photography at Salt and recently graduated from the International Center of Photography in New York, took the pictures for the exhibit and interviewed the subjects to learn how HIV/AIDS had touched their lives.
He dove into the project thinking one thing and emerged knowing something different. "I'm a gay man," he said. "By the time I knew I was gay, AIDS was becoming headline news, so I've certainly spent a good part of my life in fear of it. But I've also spent about the last 10 years of my adult life thinking it was not as big a deal as it used to be. There is actually a generation of people who were born with it, so the experience isn't just about safe sex anymore. And at this point, people with HIV have been living long lives. They are experiencing old age and
[other diseases]."
Smith photographed Jimmy, who was diagnosed in his 20s and is now in his 50s. "Every year he wasn't expecting to be here the next year," Smith said, "and while that was a great thing because it helped him appreciate the moment, he never got to do some things a normal growing adult would do, like continue college."
He photographed Crystal, who lost both parents to AIDS. His reaction: "I never really considered that as an experience, what that might be like."
Photo by Shane Thomas McMillan
Smith's reaction is exactly what Katie Rutherford, the Development Director at the Frannie Peabody Center, hoped would happen to everyone who traveled through the exhibit. "I'm very much hoping that people will recognize that they had assumptions walking in and that maybe things are not the way they originally thought, "she explained. "People create stereotypes and make generalizations about the disease. One of the subjects said it is one of the only diseases you have to admit to having and people immediately judge you and want to know why or how. The exhibit gives you a specific look into each person's life and allows you to be free of judgment and able to connect with the photograph. You can actually see the person's face instead of talking about [HIV/AIDS] like it's an issue that doesn't impact you."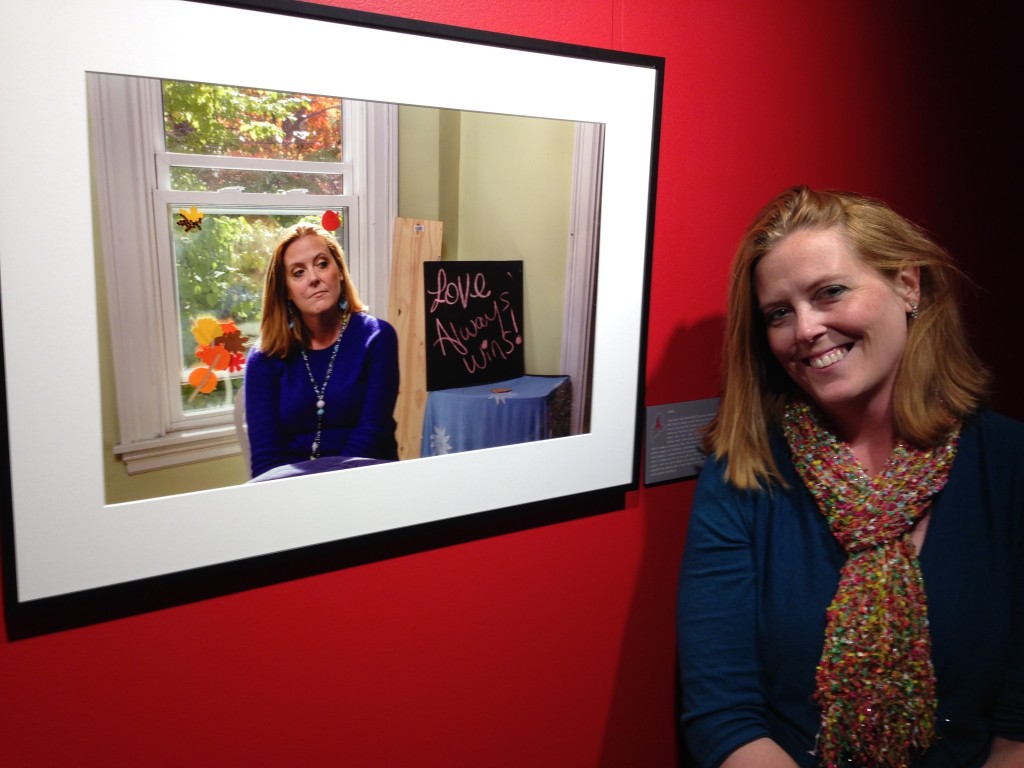 Photo by Diane Atwood
Let's take another look at Aimee's picture. By now, you may have decided that she must be HIV-positive. Or maybe you think she couldn't possibly be because she looks so …. so … so what?
Aimee's story is that after giving birth to her first daughter in her early 20s, she found out that she was HIV-positive, infected by her baby's father. Miraculously, their baby was HIV-negative. 
For the past 20-plus years, Aimee has been living with HIV. You wouldn't know that by simply looking at her portrait. A portrait that captures, among other things, the lines and wrinkles on her face. Who doesn't go there first when they see a picture of themselves? Aimee did, but only for a split second. And then she rejoiced. "I want to rejoice about that," Aimee said, "because when I think of the moment I was diagnosed … wrinkles were not going to be on my list of things I thought I was ever going to see. At that moment, I didn't even think I was going to see my daughter go to school."
Aimee eventually married another man and had two more daughters, who are both HIV-negative. Medications that were introduced about the time she was diagnosed have allowed her to live this long and to have a family. They also allowed her to slip into anonymity, under the radar, away from the stigma against HIV/AIDS that still exists today.
In 2013, Aimee let go of her secret. "People who didn't know reacted beautifully," she said. "It was a gift. I was lifted higher than I ever could have imagined. I hope that showing my face in the exhibit helps more people be available — to others and to themselves."  
An update
The Salt Institute is now part of the Maine College of Art (MECA) and its former director, Donna Galluzzo is the new Executive Director at the Frannie Peabody Center.