Today is a day of celebration. For on this day, Jen Boggs, my editorial accomplice here at Catching Health, came into the world. She helps me in myriad ways — keeps me on track and makes me laugh. Every day I am grateful for her existence!
She's also a woman after my own heart because she believes in buying herself birthday presents. Take a look at what she bought herself this year.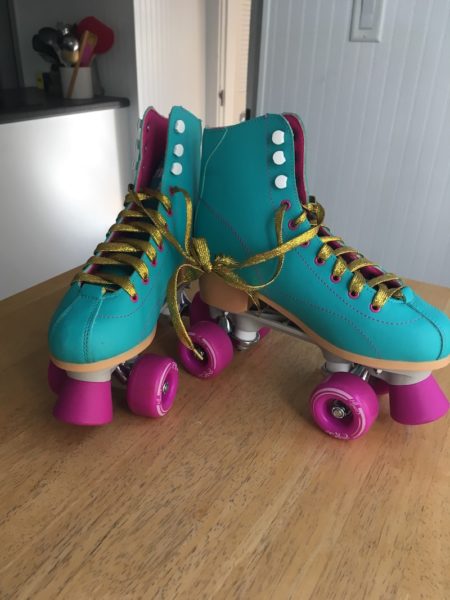 Obviously, she's not afraid to indulge herself. Bravo! And she's going to do the same for us. Check out these cupcakes and the healthy tips she has to share. Thank you and Happy Birthday Jen!
Today is my birthday!! To celebrate – Catching Health style – I decided to look for a better-for-you alternative to past birthday indulgences (which have included lemon meringue pie, German chocolate cake, and a package of Double Stuf Oreos).
This year I'm going to try a version of one of my favorite sweets, red velvet cupcakes! I found this alternative from the American Institute for Cancer Research. The recipe uses beets instead of dye, so there's a healthful ingredient AND no artificial dyes.
Here's what registered dietician Kitty Broihier had to say about it:
What's so great about beets?
There's really nothing "special" about beets, but they do work nicely in chocolate cake or red velvet cake. Pureed beets function as a substitute for fat in certain cake recipes because they contribute moisture. They also contribute a deep color and just their flavor is pretty hard to detect, depending on the recipe (don't use them in a mild-flavored or light colored cake). Beets are typically used in chocolate cake or cupcakes, where their color adds to the richness of the dark brown and their flavor adds a slight "spiciness" to the overall taste of the cake. Adding beets also contributes B vitamins, fiber and a slew of minerals—you can't say that for the oil it replaces.
Do you have any tips for making cakes and cupcakes better for you?
Another way to add more nutrition to cake would be to swap out some of the cake/pastry flour with whole grain pastry flour for added fiber and more nutrients. Frosting can be made with low fat or even fat-free Neufchatel cheese (find it next to the regular cream cheese). There are also recipes online for avocado-based frosting or tofu frosting.
Can you use other vegetables besides beets in baking?
Yes – and fruits too. Try these for lightening baked goods (the opposite of what beets do): pureed carrots, applesauce, prune puree, mashed bananas, pumpkin or squash puree, and even mashed white or black beans.
Do not eliminate ALL the fat. Start out by cutting fat by 1/4th and then swapping in an equal amount of your desired fruit or veggie. The best success is usually obtained by swapping up to 1/2 of the fat in a recipe, but no more.
Not every cake or cupcake recipe lends itself to a fruit or veggie swap. The ones that tend to work best have a more stable structure and aren't delicate—think spice cake, gingerbread (not gingerbread cutout cookies though), chocolate cakes and brownies.
And here's my Happy Birthday recipe!
Red Velvet Cupcakes
Ingredients
1 cup canned beets, sliced or whole, drained (An 8 1/4-ounce can yields slightly more than 1 cup. Make sure there is no sugar added and do NOT get pickled beets!)
1/2 cup reduced-fat buttermilk, divided
1/2 tsp. white vinegar
1/2 tsp. vanilla extract
3/4 cup plus 2 Tbsp. unbleached all-purpose flour
6 Tbsp. unsweetened natural cocoa, plus 1-2 tablespoons for decorating
1/2 tsp. baking powder
1/2 tsp. baking soda
1/2 tsp. ground cinnamon
1/2 tsp. salt, preferably kosher
1/3 cup canola oil, chilled
3/4 cup sugar
1 large egg, cold
Instructions
Preheat oven to 350 degrees F. Drop paper liners into cavities of a 12-cavity regular size muffin pan.
Working a knife up and down in a measuring cup, coarsely chop beets. Place beets in blender, add 1/4 cup buttermilk and whirl until beets are finely chopped. Add remaining buttermilk, vinegar and vanilla and whirl to a puree, making sure no lumps of beet remain. Set beet mixture aside.
In small bowl, combine flour, 6 tablespoons of cocoa, baking powder, baking soda, cinnamon and salt, and set aside.
In medium bowl, combine cold oil and sugar. With hand mixer on medium speed, mix until sugar is evenly moistened. Add cold egg and beat at high speed until mixture resembles mayonnaise and sugar is almost completely dissolved, 90 seconds. Add beet mixture and beat until combined. Sift dry ingredients into bowl and mix, either on low speed or by hand until combined with wet ingredients. Divide batter evenly among lined muffin cups, filling them about two-thirds full.
Bake cupcakes for 28-30 minutes, or until tops feel springy and when one cupcake is lifted out, bottom feels springy, too. Immediately transfer cupcakes to wire rack and cool completely before frosting. Cupcakes are best when stored overnight at room temperature in covered container.
Ice cupcakes, using about 1 tablespoon of frosting for each. Place remaining cocoa in a strainer and sprinkle it over frosted cupcakes. If desired, let cupcakes sit at room temperature to let frosting set, about 2 hours. The frosted cupcakes can sit at room temperature for up to 12 hours.
Makes 12 cupcakes.
Cream Cheese Frosting
Ingredients
2/3 cup confectioners sugar
4 Tbsp. reduced-fat cream cheese
1/2-1 tsp. vanilla extract
Instructions
In small bowl, work sugar and cream cheese together with wooden spoon or hand mixer until combined. Mix in vanilla. Makes a generous 2/3 cup. Best when refrigerated 8 hours to overnight, loosely covered, before using. It keeps in refrigerator for 5 days.
Enjoy your cupcakes and enjoy the day. I certainly will!