Yes, this is a health and wellness blog and yes, the recipe I'm offering up today is not necessarily a healthy choice. But how could I refuse? It's for panna cotta! Have you ever tasted panna cotta before? OMG! And it features two of my favorite flavors — vanilla and almond. So, there you have it.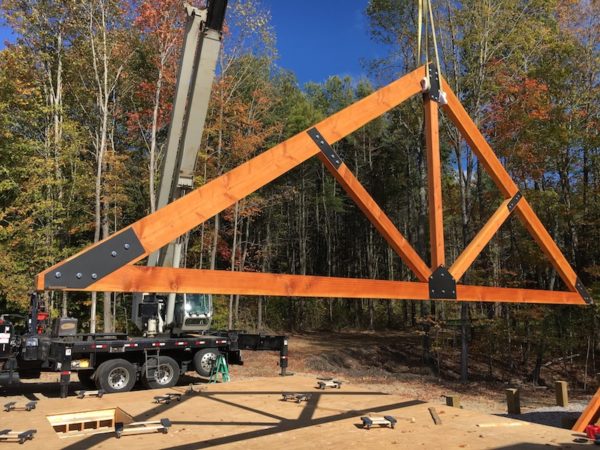 The recipe is compliments of chef Max Brody, who will be opening a new restaurant in Buxton, Maine this coming spring. Right now, he's in the throes of renovating the space — a 1780 Colonial on Route 22 that used to be known as The Mustard House antique shop. Its new name will be The Buxton Common.
Max's last restaurant, The Night Kitchen, was in an 18th-century gristmill in the Connecticut River Valley in western Massachusetts. He ran it for 10 years and he and his wife had lived in the area about 15. But when their son was ready to start kindergarten a few years ago, they decided it was time for a change and moved to Portland, Maine.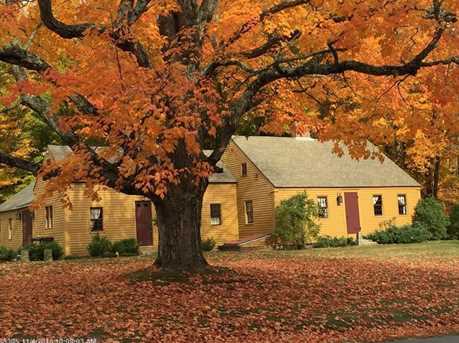 He'd been looking for a good location for a new restaurant and when he happened upon The Mustard House, Max knew his search was over. "I just appreciate inhabiting a place that has a lot of the old stories," he said, "and revitalizing it and bringing it back so it can be a part of the community again."
For all the restaurants you'll find in Portland, there's a dearth in the Buxton area and it's a void Max is excited to fill. "When I leave here about 5:00 5:30 there's a continuous uninterrupted line of traffic coming the other way," he said. "It's amazing how there's a pretty captive audience of people who would probably appreciate having some options."
He's hoping to attract customers primarily from Buxton and nearby towns like Hollis, Windham, Bar Mills, Gorham, Westbrook and maybe a bit beyond. He said The Buxton Common will be affordable, comfortable and family-friendly and in keeping with the character of the house, the dining rooms will be small and intimate. There will a new addition in the back that will include the kitchen a bar, and a deck.
The restaurant will be kind of a smokehouse grill, although Max doesn't want it to be pegged as just a barbeque place. He plans to work with local farmers and have lots of smoked and grilled items on the menu, from smoked chicken and lamb to barbecued ribs and homemade sausages. He'll also offer fresh pasta and vegetable dishes and, of course, steaks and burgers.
He's not only inviting people into his restaurant, Max is also planning to offer a unique lunch delivery service to some of the many businesses that dot Route 22. Smaller businesses with no cafeterias and lots of employees who either have to bring lunch or go out and buy something. His idea is that employees will be able to order from The Buxton Common online menu and their lunch would be delivered to the office.
"Some of those people have limited time, I imagine," he said. "They probably have a lunch hour, but if they drive 15 minutes in either direction to get something … there's really not a lot of options out there. I think that in February people would probably appreciate that they don't have to go out of their office to get a nice meal."
He also plans to offer a similar service to all those people stuck in traffic right outside his door on their way home at the end of the day. Again, they can order something online and then all they have to do is run in, pick it up, drive home and sit down to a delicious supper.
Max, who is showing me some antique bottles they found out behind the restaurant, has had a strong connection to food from the moment he entered this world. His mother is the known around the world cookbook author Lora Brody. Max himself has cooked around the world and he also ran a Mexican restaurant in Taipei with his brother.
He landed his first kitchen job at the age of 10. "We had family friends who owned a bistro in Cambridge and I would take the subway in and I would peel potatoes and onions and sweep and fold napkins and polish silverware. It was a great experience."
Max Brody has traveled a long way since then and now, he's landed in Maine. You can follow the progress workers are making on The Buxton Common Facebook page. That's also where you can connect with Max — so you'll know when he'll be hosting the grand opening next spring. And if you're looking for a job, he'll be hiring soon.
Here's that recipe I promised.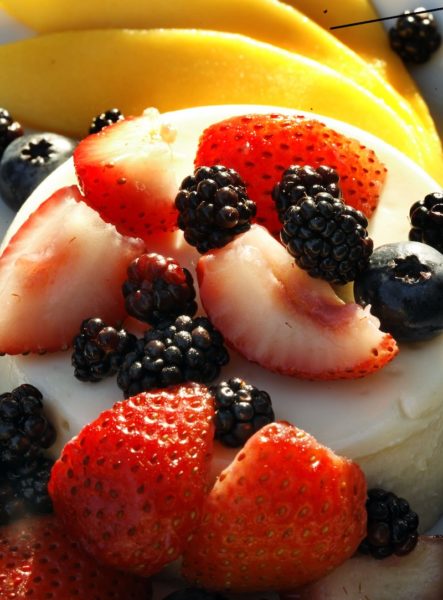 Vanilla Almond Panna Cotta with Port Soaked Cherries
Makes 14 6 oz portions
8 cups Heavy cream
2 Tbs Vanilla extract
2 Tbs Almond extract
1 ¼ cup Sugar
2 Cups Crème fraiche
9 Gelatin sheets
2 cups Dried cherries
2 cups Port wine
1 cup Slivered almonds – lightly toasted
Method:
In a heavy-bottomed saucepot, combine cream, extracts and sugar. Bring to a boil and reduce to a simmer. Simmer for 3 minutes and remove from heat.
Whisk in crème fraiche. Whisk in each gelatin sheet individually till well incorporated. Pour mixture into well oiled 8 oz muffin tins or silicone baking molds, fill ¾ of the way. Refrigerate for an hour or until firm.
While panna cotta is cooling, combine port and cherries in a saucepan. Bring to a boil and remove from heat and reserve.
To serve:
Carefully remove panna cotta from molds. Place on a serving plate, place a spoonful of cherries and port over the panna cotta and sprinkle with toasted almonds. (You can also use fresh fruit, like in the picture.)
Note from Max:
This is very easy to make and requires very few ingredients. You can change the flavorings if you so desire. I've made it with pumpkin puree and chai spices as well as lavender & vanilla, among others.