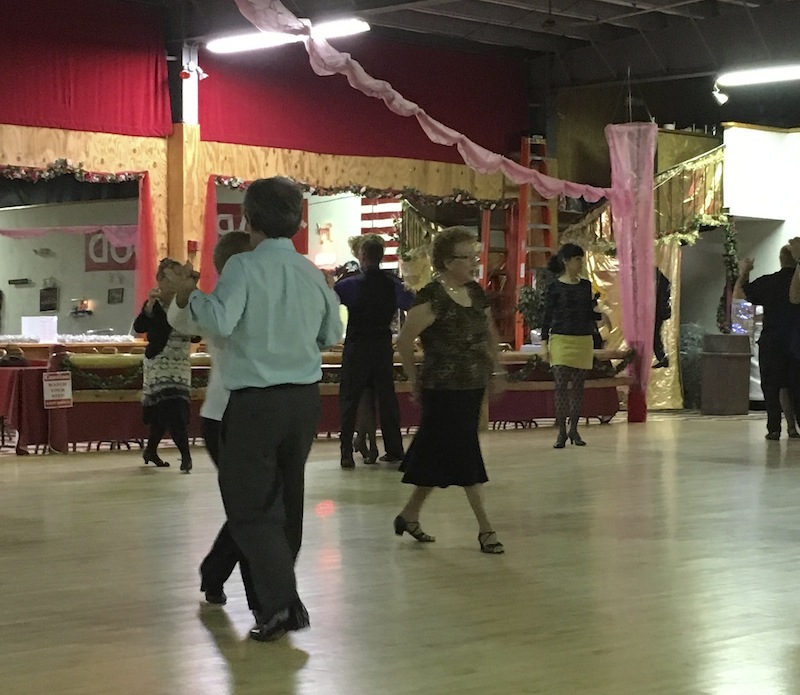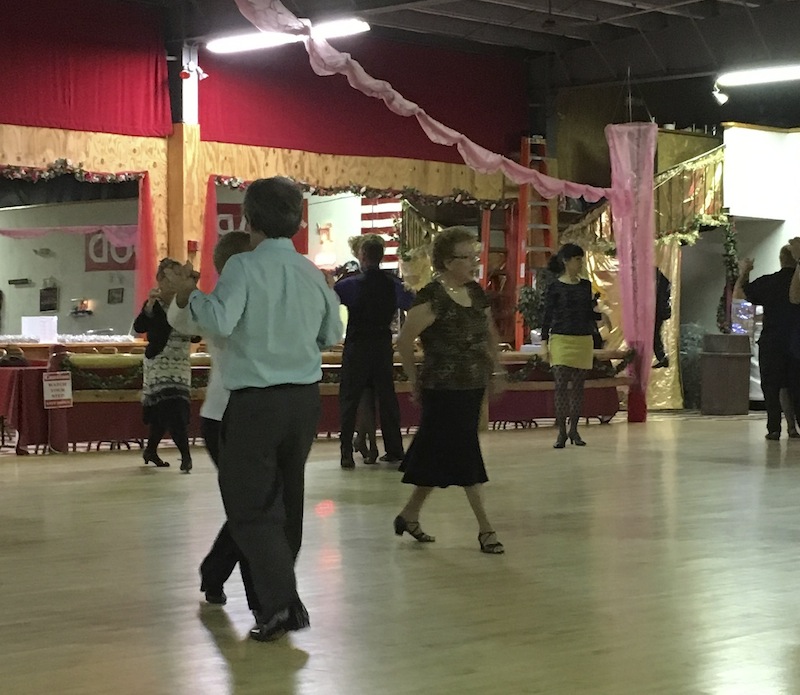 Joan Overton has been dancing nearly all her life. She just turned 82. I don't know what I expected when I agreed to meet her at her weekly dance class, but when she was pointed out to me I was surprised. I grabbed a quick photo of her practicing the Foxtrot. Looking stylish in a leopard print top and low-heeled, open-toed dancing shoes, she is as graceful and limber as a much younger woman.
Joan has outlived two husbands. Each was her dancing partner. When her second husband passed away, she stopped dancing for a while. Now, every Wednesday night, you'll find her at Maplewood Dance Center in Portland. She takes a group lesson and then stays to practice and have a wonderful time doing what she loves to do — dance!
Maplewood is a story in itself. John Vance, who is 84, opened the Center 20 years ago. He still DJs several nights a week. "I'm a little bit more than a DJ," he told me. "I play about 30 different kinds of dances and I also tell them what the song is good for. I see no reason to retire. What are you going to do? I can't sit and watch TV, so I come down here a couple nights a week. I play songs and have a pretty good time."
After retirement, John and his wife Joan, who's 83, would go dancing seven nights a week. "One night we'd be in Bangor, another night in Boston," Joan told me with a beautiful smile. "We'd come back home and go out the next night. We did a lot of ballroom dances. Waltz, Foxtrot, Tango, Cha-cha, Rhumba, Salsa, Swing. We loved to dance."
They opened Maplewood in 1995, partly because there was so much smoke at most of the places they danced. They decided to create their own smoke-free environment. They proudly point out that Maplewood was the first non-smoking public place in Maine, even before any laws were passed.
A funny story about looking for a place to build the dance hall: A South Portland neighborhood didn't want them because …? Because people would be dancing the tango!
"I don't know what they thought it was," says John. "Ballroom dancing is actually good, clean fun. Ballroom dancers don't tend to drink, for instance. Water is their big thing. They have to keep their minds clear in order to learn the steps and whatever."
Good, clean fun and also a great way to exercise. "It's good for the mind and the body," says Joan Overton. "I'll be here until about 9:30 dancing. If my back or feet start to bother me, I'll say it's time to go home, Joan."
Deb Roy, who owns Maine Ballroom Dancing, teaches the Wednesday night class at Maplewood. She believes that dancing is one of the best forms of exercise, whether you're two or 82. "It uses your whole body and your mind," she says. "You have to remember the steps or how it feels when you're dancing with a partner. Your mind is a muscle and if you don't use it you lose it just like anything else."
Studies have shown multiple benefits from dancing. It's good aerobic exercise, can help with weight loss, improve balance and improve your mood. I found one study that compared the Argentine Tango to mindfulness meditation in treating depression. The conclusion was that they both can help.
Deb's observation: "Dancing is fun. It's laughter. Everybody is happy."
One caveat: It's a good idea to check with your doctor before starting any kind of exercise routine. That includes dancing.
The Rhumba is Joan's favorite dance. "It's romantic," she says. "I also like the Foxtrot and I love the Waltz and the Swing. A good partner can make the difference."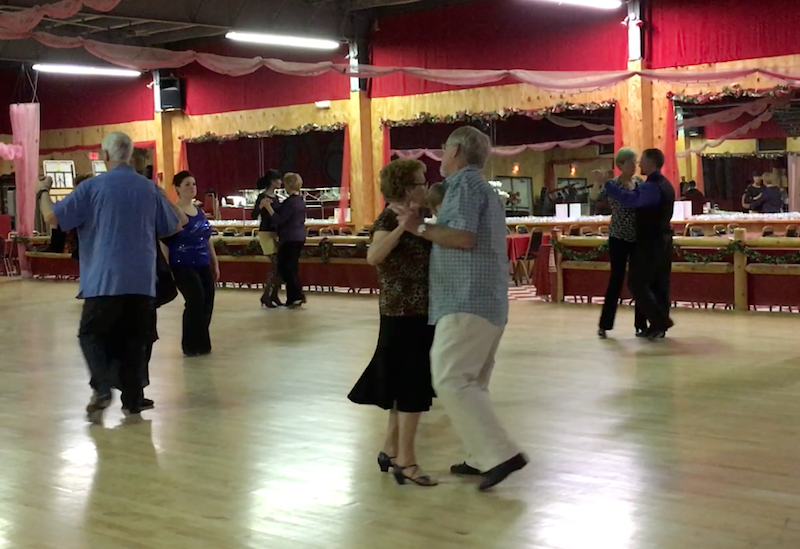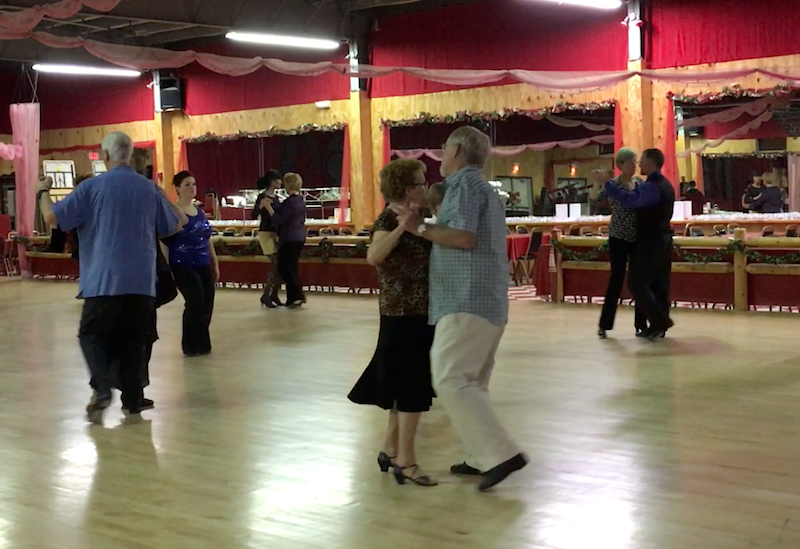 Speaking of a partner, you don't need to arrive with one to have a good time. During the lesson, Deb made everyone switch partners every few minutes and after, I noticed that Joan was never at a loss for a dance partner.
She may have great moves on the dance floor, but Joan also has something else going for her. A positive attitude. "I've got two children, three grandchildren and four great-grandchildren," she told me. "I want to be around for as long as I can. Keeping active is the healthiest way I can think of to do that. I also go to the gym two or three times a week and I take a Zumba class."
Her best advice for all of us: "Put a little fun in your life. Go dancing!"
This post originally appeared in the Advantage Home Care blog.