Why does someone become a nurse? I interviewed a lot of nurses for this series on nursing in Maine and asked many of them why they chose nursing as their career. Here are some of their answers:
My mother was a nurse and I grew up really admiring her dedication to her work. I have an advanced practice degree in public health nursing, which is a fairly new field. It enables us to do epidemiologic studies, along with grant writing and building and evaluating programs for communities. Jen Morton, DNP, MPH, APHN-BC, Director of Nursing at the University of  New England

---

I knew in junior high school that I was very interested in serving people, but with a science component. I thought a lot about becoming a nurse or a physician or going into the convent. I was guided by my high school guidance counselor with regards to my personality and characteristics that nursing was probably the best fit. Paula Delahanty, MHSA, BSN, RN, Regional Senior Director of Education and Professional Development, LincolnHealth, Pen Bay Medical Center and Waldo County General Hospital.

---

I love nursing. I'm very fortunate that I have a daughter who's a nurse and a granddaughter who is about to become a nurse. I think nursing is one of the finest, most noble professions in the world. If you think about it, we have nurses all over the world — an incredible network of nurses taking care of humankind. Marge Wiggins, RN, MBA, DNP(c), NEA-BC, Senior Vice President of Patient Care Services & Chief Nursing Officer at Maine Medical Center.

---

As long as I can remember, I have had an interest in helping people. I believe that every individual I encounter deserves respect and to not be judged. This is what drove me to become a nurse. You are caring for people in their most vulnerable state. Graham Ratner, nursing student

---

I think every nurse feels this way — they just want to help people and they want to be with people. I think that's the core of why people go into nursing. Laurie Dorr, RN,  CNOR, Senior Manager, OA Centers for Orthopaedics Surgery Center.

---

I've always been intellectually curious and have spent much of my life trying to balance making a living while finding meaning in the work. It was while taking care of my dying grandmother that I realized I was adept at caring for people who were sick and that I found it fulfilling. I took Maine Medical Center's CNA class with the intentions of working at MMC as a CNA to make sure that nursing was a good fit for me. I am now certain that being a nurse is what I am meant to be. Being of service to others has profoundly changed me and added meaning that I've sought my entire life. Bruce Raymond, CNA, about to enter nursing school.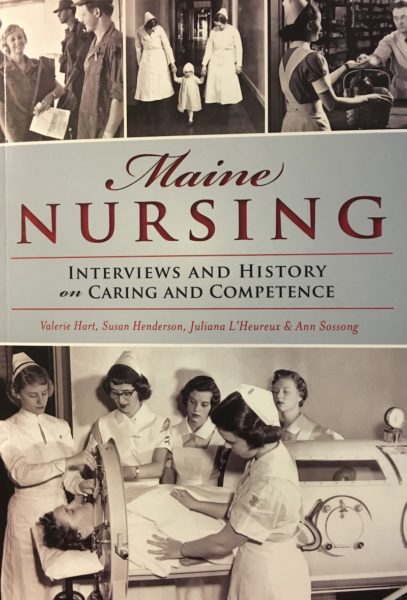 While at its core, the practice of nursing continues to be caring for people, the profession has undergone many changes over time. The book Maine Nursing: Interviews and History on Caring and Competence traces the history of nursing in Maine from 1914 to 2014 — marking the development of the Maine State Board of Nursing and 100 years of efforts to advance the practice of nursing in the state. Most of what I will share in this post will come from that book.
Before the board was established in 1914 and nurses had to show that they had attended a nursing school that met its standards, there weren't any rules, says one of the book's co-authors, Susan Henderson. "Anyone could say they were a nurse," she explained. "That's why it was so urgent to have some standards. If you were going to call yourself a nurse you had to come from a decent school, have a decent training."
There was already a rich history of nurses in Maine. Rebecca Usher from Hollis, for instance, served as a volunteer nurse during the Civil War. There is some information about her on the Maine Memory Network, including that she was one of 20,000 women who worked in Union military hospitals during the war.
The Grey Nuns
In 1878, the Sisters of Charity of Sainte-Hyacinthe, also known as the Grey Nuns traveled from Quebec to Lewiston. Their mission was to "set about providing healthcare and social services support for thousands of immigrant workers who were employed in the mills along the Androscoggin River."
In 1888, the Sisters founded what is now St. Mary's Hospital. It was the first hospital in Lewiston/Auburn and the first Catholic hospital in Maine. St. Mary's School of Nursing was established in 1908. "The sisters were phenomenal women," said Juliana L'Heureux, also a co-author of Maine Nursing, "but they didn't have credentials. They knew that they didn't have the sufficient training that was required for the scope of care they were giving. They established the school to set a standard by which nurses could be educated to a certain level."
Trained by doctors
In the early 1900s, nurses and doctors didn't know much about what caused infectious diseases, but they had a tremendous amount of respect for sanitation. Juliana said they found stories in about nurses in the Bangor area who were trained by doctors to sanitize a person's home in preparation for surgery. Yes, in-home surgery.
"They would literally go into your house," she said. "If you needed a hernia repair, for instance, or an appendectomy, the nurses would go into your house and set up your dining room as an OR suite. They were really attentive to hygiene and cleanliness and they washed the walls and the table and after the doctor did the surgery, the nurses had to clean everything up."
When the Board of Nursing was established you couldn't become a registered nurse if the only training you received was by a doctor. By then there were nursing schools affiliated with hospitals in Lewiston, Bangor, and Portland.
Ruth Henry was not from Maine but moved there in 1930 and founded CHANS (Community Health and Nursing Services) Home Health Care in Brunswick. "She was a real hero," said Juliana.
The same year the board was established, World War I broke out. The United States entered three years later and nurses were called to the battlefield. Many, like Ruth Weeks Henry, became Red Cross nurses. "These weren't famous women," said Susan, "They were just women who were intelligent and courageous and caring."
During World War II, nearly 60,000 nurses provided care wherever they were needed, even close to the front lines. Some died, some became prisoners of war, some were awarded medals for their service.
Agnes Flaherty, who was a nurse for more than 40 years and passed away in 2008, received the Air Medal in 1945 for her service as a wartime flight nurse. She served in several high-level nursing positions in Maine, including as executive director of the Maine State Nurses Association. As a flight nurse, she helped pick up the wounded on battlefields and ministered to them in the air. While they did have equipment and medicine on board, it was nothing compared to what would be available today. From Maine Nursing, this quote from Agnes: "Although on the Island of Canton, we treated a patient at an underground hospital with the first penicillin that was ever used, and he made it. He was very sick. We didn't think he was going to live. We specialed him around the clock. You had to use your knowledge and your experience to care for patients; some of their injuries are ones that you never expected to care for, and you really had to adapt."
After WWII, to be a military nurse, you had to be a commissioned officer with either a Bachelor of Science in Nursing (BSN) or an advanced nursing degree. In the early 60s that the American Nurses Association started saying that all nurses should have a baccalaureate degree. Many nursing schools were still affiliated with hospitals and only offered diplomas.
Susan, who is a retired nursing professor, graduated from a hospital diploma program but went on to college to get her BSN and then her master's degree. These days, most college nursing programs expect faculty nursing professors to have a doctorate degree. A master's degree is usually sufficient for nurses who are teaching clinical or hands-on skills.
In the late 70s to early 80s, nurses often had to travel out-of-state to pursue a master's degree in nursing and as far away as Texas if they wanted a doctorate degree. Online nursing programs now make those degrees more accessible but getting a college degree can still be challenging for some would-be nurses. In  Nurses Needed: Maine Takes Action, I looked at a new collaboration between Maine Medical Center and St. Joseph's College that is trying to address that problem.
Setting educational goals
A date to require nurses applying for a license to have a BSN has been reset three times. "It was supposed to have happened in 1962," said Juliana. "Now the goal is set for 2020. The nursing shortage is one big barrier. How are we supposed to fill hundreds of vacancies that are open, even today?  If every single nurse who graduated from every single nursing school in Maine applied for and got a job after graduation, they still would not have filled all the nursing positions."
Another issue is that technical colleges now offer two-year associate nursing degrees. "Those are challenging programs," said Juliana, "and they do excellent work, but the goal is for nurses to have a four-year baccalaureate degree. At this point, if you have an associate's degree, you're qualified for registration at the Board of Nursing. A lot of nurses can still get meaningful jobs and they're happy to stay there. But the research demonstrates for nurses to become nurse managers, Chief Nursing Officers, to work in independent practices without the support of an infrastructure like a hospital or extended care facility, where you really have to make decisions on your own, you need a baccalaureate."
Another issue is how some people perceive the nursing profession. "Nursing has a unique body of knowledge," says Susan. "But there is sometimes a tendency to not see what nursing does — to say well we can just get a person off the street to do that, why do you need that knowledge? So nurses have had to fight to articulate exactly what is unique about nursing. What is so special about nursing other than being trained to do tasks? It's the ability to have insight and to analyze the whole picture."
It can be a bit confusing to untangle the various paths now available to become a nurse. I found this helpful chart in an infographic created by the Institute of Medicine (IOM).
There are currently 14 approved RN nursing programs in Maine. Seven offer associates degrees (ADN) and seven offer baccalaureate degrees (BSN). Some programs in Maine used to train Licensed Practical Nurses (LPN), but there are no LPN educational programs approved by the Maine Board of Nursing at this time. Also, no more hospitals in Maine run their own diploma nursing programs.
A 2017 report issued by the Maine Nursing Action Coalition and the Center for Health Affairs states that as of December 2015 Maine had 27,400 licensed nurses — 23,371 Registered Nurses, 2,028 Advanced Practice Nurses, and 2,001 Licensed Practical Nurses.
They work throughout the entire state in hospitals, in outpatient settings, in education, in people's homes, in nursing homes and extended care facilities, and in the community.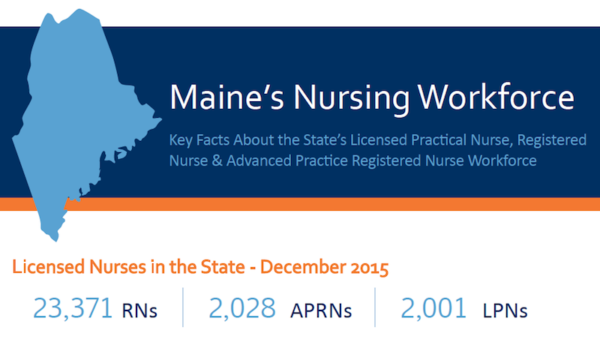 If you would like to learn much, much more about the history of nursing in Maine between 1914 and 2014 and to read some fascinating interviews with several Maine nurses, you'll want to get a copy of Maine Nursing: Interviews and History on Caring and Competence. It was co-authored by four Maine nurses: Susan Henderson, Myra Broadway, Ann Sossong, and Juliana L'Heureux.
Looping back to the beginning of this post and why someone chooses to become a nurse, I'm going to end with a quote from the late Sister Consuela White, who founded the Department of Nursing at St. Joseph's College in Windham. I was privileged to know her and to say that she was a remarkable human being would be a supreme understatement. The quote is taken directly from Maine Nursing and speaks to the quality of nursing.
I think nursing is one person tapping into the strength of another person and helping them in a mutual endeavor to restore health — to cure, if possible, but to care, always. Patients can distinguish between nurses who make a difference and those who are sort of mediocre or don't make a difference. I think what it is, is that connection or that dynamic that occurs, or that chemical reaction that somehow happens because the nurse wants for the patient what the patient wants for himself. There's a bit of mystery about it. It can't be described. It can't be captured. It can't be written about. It can't be packaged. It can't be understood fully unless you've either been a patient or you are a nurse.  Sister Mary Consuela White