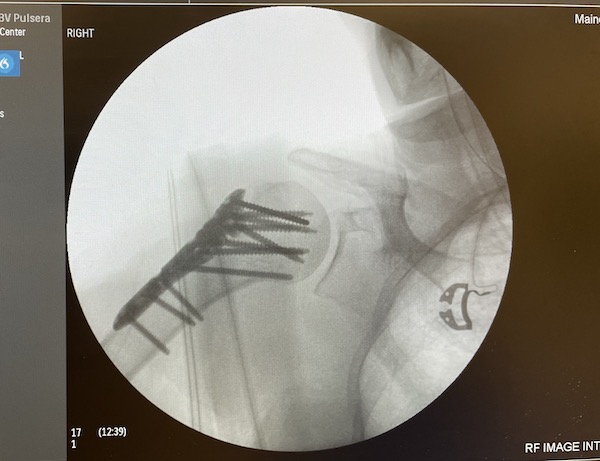 I thought I'd take just a week or two off to recuperate from surgery after fracturing my shoulder at the end of February, and before I knew it, a month had passed. I frequently encourage people to listen to their bodies. This time I had to listen to mine.
My bruised and battered arm is looking and feeling much better, but I can't start physical therapy until the first of next month. At least I don't have to wear that annoying sling anymore, especially to bed. I can also do some light exercises like pendulum swings which feel really awesome and shoulder rolls, which also feel great. What I can't do yet is lift my arm up, out, or behind me, but that's why physical therapy will be so important.
Something I'm especially grateful for is that I had permission right from the beginning to attend my weekly online yoga class as long I don't do anything risky with "the arm." I can't imagine the poor shape I'd be in if I couldn't do any kind of movement at all. I was even able to drive myself to the hairdressers the other day for my first haircut in more than a year. Wonderful, wonderful. The cut and the drive.
In other good news, since my husband and I have both had our COVID vaccines, we were able to drive to Vermont recently to visit our granddaughters and their happy parents, who haven't had a break since the beginning of the pandemic. They couldn't go out to a restaurant for dinner, but they did get to go for a long walk together. Here's a sweet picture of the girls brushing their teeth while Nana reads them a bedtime story.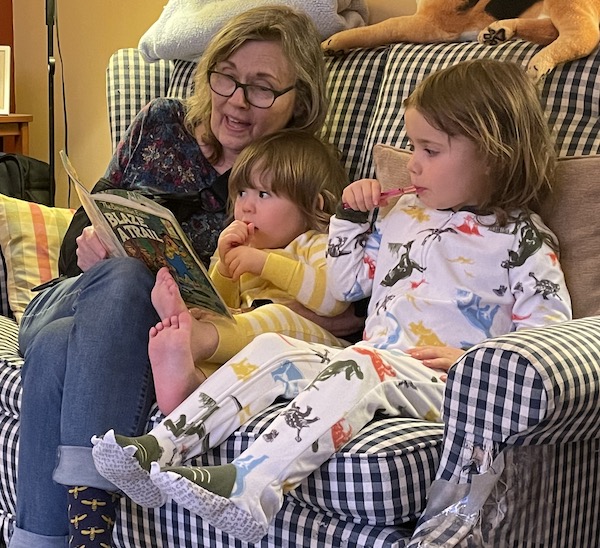 I hope now that spring and vaccines have arrived, you are all doing well. Any day now, the tulips and daffodils will be out. It's so healing to get outside and feel the warm sun on your face.
Before I sign off and put this blog and myself to bed, I have a favor to ask. It's been recommended that I have an infusion of an osteoporosis medication called Reclast. I'm terrified of breaking another bone, but I confess I'm also terrified of taking the medication. Has anyone else had a Reclast infusion and if so, would you mind sharing your experience with me. If you don't feel comfortable writing a comment below, you're welcome to send me an email. Thank you, and it's great to back!