Before the COVID-19 pandemic, I had gotten into a regular fitness routine with Andy Wight at AW Strength & Conditioning. Now that I haven't been able to go for the past three months, I really notice the difference. Oh, I'm still in pretty good shape — ha, ha, ha! — at least now that I've stopped the flurry of baking I did at the beginning of staying at home.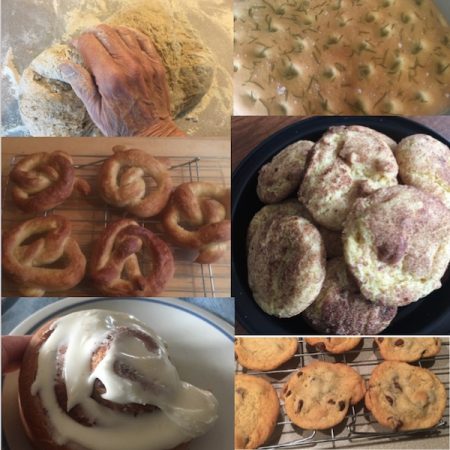 But, aches and pains I used to notice before I started working out with Andy have crept back and I'm not happy. I also haven't been terribly motivated to do much in the way of regular exercise. I mean to, only the hours seem to scream by and before I know it, it's bedtime. Even when I'm not productive, time flies. Why is that?
When the fitness team at OceanView, a retirement community in Falmouth, Maine, reached out to me about the possibility of sharing their expertise and demonstrating some exercises we can safely do at home I decided to jump (figuratively — a missed opportunity) on their suggestion.
They've been creating online videos for people, not just OceanView residents, but for anyone who's trying to get motivated to move. I'll share a few of them here, along with some inspirational tips. And if you've got some to pass along, please do. We need all the help we can get from each other.
Tips from the OceanView fitness team
I interviewed Kate Foley and Jameson Skillings, who are part of the fitness team at Ocean View. They offered up these tips to help us get on track.
We found that the folks who schedule in their workouts each day are far better at holding themselves accountable. And they find that having that task to check off each day helps keep them motivated, as well. So put it in your calendar and treat it as being just as important as visiting your doctor.
Some people who are working at home are using the time they'd spend commuting to instead, go outside for a walk or do some other kind of exercise.
Having an accountability buddy works great for some people. Having a friend you check in with who might be doing similar exercises is a great way to hold each other accountable.
We've heard from some people who want to be responsible and safe with physical distancing but still try to keep up with friends and keep up with their mental health. They may have a hands-free phone conversation with a friend during their 20 or 30-minute walk or there are plenty of people in my neighborhood who walk on opposite sides of the street. They're far enough apart so they can still talk and have that social time but be safe.
The number one thing is consistency. No matter what you do, if you're consistent with it, you'll be either maintaining or getting better.
Tips from some friends
I also reached out to friends on social media to see if they had any tips and got lots of helpful responses.
Livestrong has a fun community on Facebook and they offer a different challenge every month. They really keep things interesting, and everyone is so supportive. I've also done a month-long program called "Your Fittest 5k," then ran a virtual 5k. Now I'm doing a run one mile every day until the 4th of July challenge. Having goals works to keep me going. ~Judy
One can do their lunges while vacuuming. Push-ups using the counter while fixing supper… .also good for stretching calves. Functional exercise. ~Rhetta
I wrote down a bunch of yoga poses courtesy of Pinterest. I leave my mat out in my bedroom. ~Cat
I've been doing *Beachbody on Demand* 5 years – all kinds of workouts for all levels. 30 minutes and done; it's been a lifesaver for these times. Also, virtual Zumba (local Studio Fit Maine) and virtual Derby Skate Club rollerdance and fitness rollercise. Some do these workouts in socks vs. roller skates. ~Linda
I like to garden in the morning and by noon I'm too pooped to think about exercise. ~Jennifer
I am walking 3 to 5 miles a day. Nice to get outside. ~Lynn
Yoga! Once you are able to create your own home practice, you can do it almost anywhere, anytime. For me, yoga is a solitary fitness activity that impacts body, mind and spirit. I love it! ~Donna
I'm a fan of YouTube videos — especially Zumba! ~Jen
I'm telling my clients (I coach triathlon and running) that right now it's about working on improving their aerobic base. Aka, slower steady efforts that help maintain a healthy weight, build cardiovascular endurance, and overall improves health. Also foundational and functional strength aimed at stability, balance, and core strength. With no races in sight, doing frequent, very hard race-specific efforts just isn't needed and could result in injury and harm immune function. Run, walk, bike, swim, row etc…at a speed that keeps your heart rate in the aerobic zone. I recommend the MAF Fitness method right now. And strength training that does what I mentioned above but doesn't leave you sore and trashed afterward. Bridges, Jane Fonda's, clamshells, lunges, single-leg deadlifts, Supermans, lat pulls, planks, elevated push-ups, Turkish get-ups….to name a few. ~Amy
My friend and I just did a Portland Paddle sunset kayak paddle for 2 hrs. off East End Beach. Great exercise and a beautiful sunset to renew the soul. ~Marce
Yoga daily! And riding my horse Chancie. And gardening, walking, etc. ~Mary
Video inspiration
Jameson says the standard recommendation is to do full bodyweight exercise, such as strength training, and try to hit 150 minutes of exercise a week. He suggests starting with some lower body exercises that help you work on strength and balance. He and Christina Abbey, another member of the OceanView fitness team, demonstrate a few in the videos below. (You'll find more on their YouTube channel.)
Make the most of doing chores
Using what you have at home is kind of fun and different. So depending on what you have in your house, it might be a big bottle of detergent or a gallon jug of water or your cat or anything to make exercises that you do safely at home different or fun or unique. You can even make sweeping more of a core exercise just by the way you do it or opening your cupboards or putting things away.

Jameson
I think Jameson should add music to his broom routine.
Walk, walk, walk
We always recommend walking. It's actually number one on our list. of things that you can do. You can do it almost anywhere. There are no real restrictions if you're wearing a mask and you can walk with a buddy if you stay at least six feet apart. Remember to wear sunscreen when you're outside in the sun and walk on the sidewalk or if you have to walk in the road, make sure you're going against the traffic.

Jameson
One last tip
I added a suggestion to Jameson's broom video — music. And so, I'll end on that note (yeah, pun intended). Need some motivation to move? Turn on your favorite music and dance away.