At the end of 2018, my brother Bob retired and one year later, at the end of 2019, so did my sister-in-law Toni. Their retirement dream is to move to Honduras, which is where Toni (Her given name is Maria Antonieta and she answers to Toni and Maria) was born and raised and where most of her family still lives.
Bob and Toni met in Guatemala in the 70s when he was in the Peace Corps. They were married in Guatemala but decided to make their home in the United States, first here in Maine, and eventually, Florida. When he retired, Bob aka Dr. Robert Swett, was an associate professor in the School of Forest Resources and Conservation at the University of Florida and the coordinator of the Florida Sea Grant Boating and Waterway Planning Program. While there three children were still in school, Toni got her degree in nursing and worked on the Pediatric Unit at the University of Florida SHANDS hospital.
They were both really looking forward to their post-retirement life in Honduras and had been carefully executing their plan, step-by-step. And then … well, I'll let Bob take it from here.
Toni and I sold all our furniture and, on March 6th this year, we put our house in Gainesville, Florida up for sale. We were on our way to a smallish town in the mountains of Honduras to start our new life. Our long-held retirement dream was finally close to reality…or so we thought.

Before heading to Honduras, we spent several days (March 5-10) in Cancun & Playa del Carmen, Mexico spending time with dozens of relatives from Honduras while attending a nephew's wedding—a great way to kick off retirement!
We arrived in Honduras on March 11th and stayed at Toni's sister's (Christi) house in San Pedro Sula. Everything seemed normal while we were in Mexico and during our first few days in Honduras—there were only very faint rumblings of the virus. That did not last very long at all.
Cristi's husband, Pedro, a medical doctor, was closely watching the virus situation. Honduras, a country with about 9.9 million people, registered its first two cases on March 11th (there were about 1,000 cases in the U.S. by then). The Honduras government acted quickly, implementing a curfew on March 16th and limiting movement to essential services. On March 15th Cristi and Pedro decided that they and two of their daughters would be better off staying in their own small retirement home located in Santa Barbara, two hours north in the interior highlands. They invited us to accompany them.

Instead, we decided to look for potential rental homes in Santa Rosa de Copan, the city we had tentatively chosen as our retirement location. We booked a hotel online for a few nights, but then we were notified by the hotel that we could stay only one night, as they planned to shut down indefinitely due to the virus. We went anyway to check out the rental situation. We were able to gather a few leads by driving around the picturesque cobblestone streets, but everything was closing, and the pickings were slim. The next day we headed to Santa Barbara to stay with Cristi's family.
Cristi's and Pedro's retirement home is in a neighborhood called "Green Hill" that overlooks Santa Barbara. Green Hill is being developed by Pedro's nephews and, though only about 30% built out, it is home to many of his family members. Luckily, we were able to stay in a room in Pedro's sister's house that she rents out as an Airbnb. She was going to let us stay there for free, but we insisted on paying the $18(!) a night.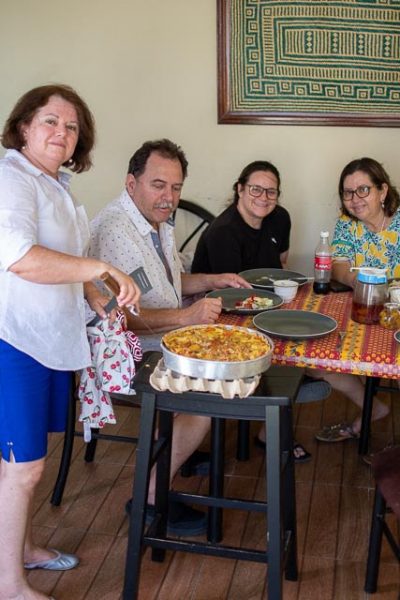 We ate all our meals at Cristi's house, trading off meal preparation with them. Neighbors controlled access to Green Hill to try and assure that it was virus-free. Essential services in the town (groceries, gas stations, banks, etc.) were open on a limited schedule, and we donned our masks when trips to them became necessary.

After a week in Green Hill, we decided that we best try to get back to the U.S. even though the number of cases in the U.S. was exploding daily. Honduras seemed to have a much better handle on controlling the spread of the virus: by March 30th when we flew back to the U.S. there were about 165,000 cases in the U.S. and 139 in Honduras. No cases of COVID-19 were reported in Santa Barbara during our stay there. Despite these statistics, our faith in the U.S. health care system and the food transportation systems versus those of Honduras was greater and we were also fearful of how things might develop in Honduras over time.

Though the Honduran government had closed its borders to all traffic, including flights, the U.S. embassy in Tegucigalpa was able to arrange a few commercial flights to transport U.S. citizens back home. We were able to book a United Airlines flight back to the U.S. on March 30th.
While in Honduras our house went under contract, but shortly after we arrived back home that fell through; the buyer owns a nail salon that is not doing so well due to the virus. So, we decided to take the house off the market and hunker down in it until things blow over. We were able to borrow a few pieces of furniture from friends and family and we are now quite comfortable and happy in our home with our dog Louie, living day-to-day.
There is much camaraderie among the neighbors in Green Hill and our time there was a delight. In fact, so much so that we are now planning to live there instead of Santa Rosa de Copan. We are looking forward to traveling back to Honduras and beginning anew our retirement dreams.

Bob Swett
A note from Diane
This past weekend our family participated in a video chat — there are 8 siblings, including me and Bob — and some of our spouses, partners, kids, and pets (Louie, too) joined the conversation.
Bob and Toni shared their story with us and we all agreed that as soon as they get settled in (and we assured them that it will happen) we need to plan a big in-person family reunion in Honduras. I can't wait.
By the way, our brother Patrick also shared a story about how he's doing during this pandemic. You can read it here: Staying at home in San Francisco. Lots of people have been sharing their stories here on Catching Health, and not just my relatives! Do you have a story you'd like to tell?