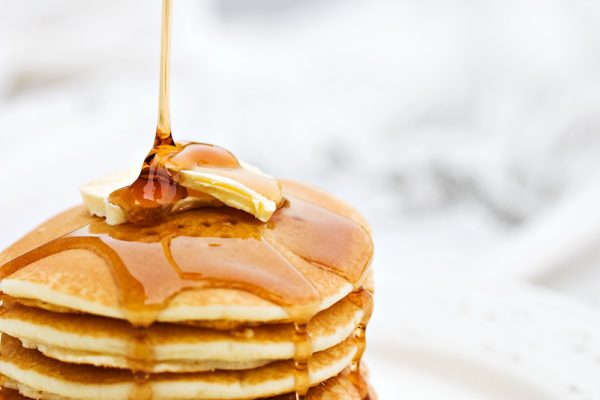 I learned as an adult that I was denied as a child. Not love, but maple syrup. We ate a large number of pancakes for breakfast because they were easy to make for a tableful of kids. But instead of smothering them in maple syrup we grew up on FAKE syrup. I won't mention the brand but take a look at these ingredients.
Corn syrup, high fructose corn syrup, water, cellulose gum, caramel color, salt, natural and artificial flavor, sodium benzoate and sorbic acid (preservatives), sodium hexametaphosphate. Oh yeah, that's a lot of sugar and chemicals. Now, I'm not saying maple syrup has no sugar because of course, it does.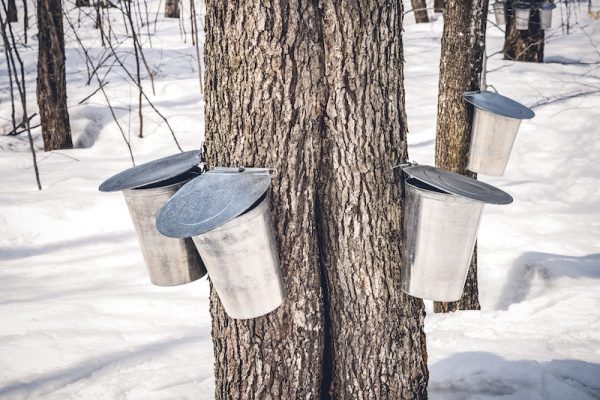 We've got a few sugarhouses in my neighborhood and so, it's a common sight to see lots of buckets hanging from maple trees during late winter and early spring. The sap that's being collected is known as sweetwater and you bet it is.
According to the Maine Maple Producers Association, one tree can yield as much as 60 gallons of sweetwater that will be boiled down to about a gallon and a half of syrup. No preservatives or other chemicals added — just pure, sweet, natural sugar.
Sometimes, you'll get more sugar in a tablespoon of pure maple syrup than in a tablespoon of fake syrup. But, let me tell you, once I had my first taste of the real stuff (not until my late 20s!) there was no turning back.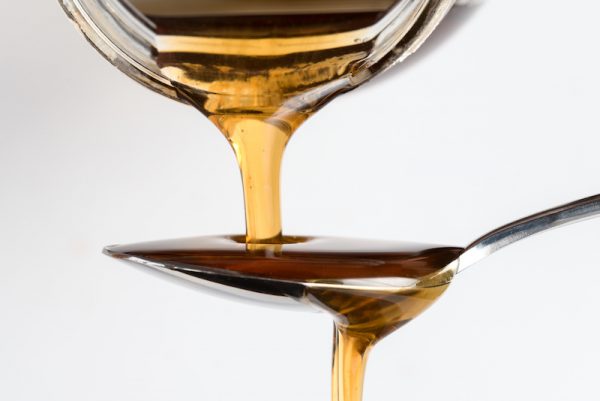 Maple syrup health benefits
There are a lot of claims out there about the health benefits of maple syrup, even that eating it can help you lose weight. WAIT! Put down that jug of syrup. It's not true. But some claims are. I asked Kitty Broihier, who is a registered dietitian, for the real story. Here's what she had to say:
Maple syrup, whether it comes from Canada or the US is basically nutritionally identical. While maple syrup is about 2/3 sugar, it does have some good things going for it nutritionally. It is a good source of the B vitamin riboflavin and contains several minerals such as manganese, calcium and zinc. Researchers have also identified over 60 compounds in maple syrup, including small amounts of amino acids as well as potentially beneficial phenolics.
I like Grade B syrup, which is darker and more flavorful than Grade A. That stronger flavor lets me use a bit less of it in cooking while still getting that maple taste. And by the way, switching to maple syrup does not lead to weight loss.


Kit Broihier, MS, RD, LD, Nutricomminc
More information. Pour it on!
You'll find everything you'd ever want to know about maple syrup, including where to find Maine sugarhouses to visit on Maple Sugar Sunday 2020 and a few maple sugar recipes on the Maine Maple Producers Association website. And just because I have family in Vermont, and that's where I had my first ever sugar on snow — OMG! — here's the link to Vermont Sugar Makers.
I'll end with a recipe made famous by the Black Tie Company in Portland, Maine. Avery Yale Kamila mentioned the recipe recently in her Vegan Kitchen column in the Portland Press Herald, stating that along with lots of other vegan news, "The top dessert, by popular vote, at a 2019 Maine Restaurant Week cocktail party in Portland was a vegan coffee cake from the Black Tie Company."
Black Tie Vegan Date Cake With Vegan Chocolate Ganache
Yield: 1 single layer 8-inch round cake or an 8- by 8-inch square cake. You will need a kitchen scale to make the recipe.
CAKE
Ingredients
200 grams pitted Medjool dates
2 tablespoons finely ground coffee
1 1/4 cups full-fat coconut milk
200 grams self-rising flour
1 teaspoon baking soda
1 teaspoon pumpkin pie spice
1/2 teaspoon salt
2 tablespoons ground flaxseed
7 liquid ounces extra-virgin olive oil
175 grams brown sugar
Instructions
Preheat the oven to 325 degrees F. Prepare the baking tin by spraying generously with canola spray. Line the pan with baking parchment.
Put the dates, coffee and coconut milk in a pot on the stovetop over medium heat. Let the mixture come to a boil, then let it simmer for a couple of minutes to soften the dates.
Meanwhile, sift the flour, baking soda, pumpkin pie spice, and salt into a bowl that will be big enough to hold all the batter.
When the date mixture is softened, transfer it to a food processor and process until smooth. Add the flaxseed, olive oil and brown sugar. Let this mixture cool to room temperature, then whisk it into the dry ingredients. Don't overmix or the cake will be gummy. Scrape the batter into the prepared pan.
Bake the cake for 25 minutes. If there is no liquid batter on a skewer when you insert it in the center of the cake to test for doneness, the cake is ready. If not, bake the cake for 5 more minutes and check again. While the cake cools, make the ganache.
GANACHE
Use more maple syrup than suggested here if you prefer sweeter icing.
Ingredients
6-9 dates, pitted
1/4-1/2 cup maple syrup
1 (14-ounce) can full-fat coconut milk
1 teaspoon vanilla extract
Instructions
Cook the dates with the maple syrup and coconut milk for several minutes in a medium-size pot on the stovetop until the dates start to break down. Process the mixture in the food processor until very smooth.
While the date mixture is still warm, add the chocolate and vanilla to the processor and process until chocolate has melted. Stop the processor and scrape down the sides. Run the processor again. Taste. If the mixture needs more maple syrup, add a couple of tablespoons.
Pour the ganache over the cooled cake, spread evenly to ice, then refrigerate the cake to firm up.
OPTIONAL
Make a fruit compote with your favorite seasonal fruit, a dash of lemon juice and a little sugar. Combine this mixture in a pot and cook over medium-low heat on the stovetop until the fruit breaks down and resembles loose jam. Serve warm or at room temperature with the cake.
An indulgence
So … as noted in a comment, the recipe is a higher carb and higher fat recipe. You can thank the 2 cans of coconut milk and all those dates for that. But it is a cake after all, and I never promised you that is was the healthiest choice. As long as you share it and don't eat the whole cake by yourself, I think it's ok to indulge every now and then.
As for nutritional information, I'm sorry but I don't have a breakdown of the ingredients. I asked Kitty about it she said you can use a calculator, but it's important to enter the information correctly and that's not as easy as it might look. Also, various calculators figure things out differently or are more/less reliable. There are some free online nutrition calculators if you want to try any out.