By Dora Anne Mills, MD, MPH, Chief Health Improvement Officer at MaineHealth
Originally published August 29, 2021
This week, the chief medical officers (CMOs) of Maine's four major health systems (Joan Boomsma from MaineHealth, Jim Jarvis from Northern Light Health, John Alexander from Central Maine Healthcare, and Steve Diaz from MaineGeneral) led an unprecedented joint press conference. First and foremost, they thanked the frontline healthcare heroes who have worked tirelessly during these last 18 months and despite being exhausted, are still working. The CMOs' main message to our communities was to please help us to protect you, your families, and your neighbors from COVID.
The Delta variant is pushing our hospitals to the limit:
Maine's intensive care units (ICUs) have as many COVID-19 patients as they did during the worst pandemic surge to date, last January.
Our hospitals are full. Maine Medical Center has been holding up to 50 patients every day in the emergency room, waiting for a bed at the hospital.
ERs at large hospitals in Maine have been closed to ambulances and new patients a number of hours on a number of days the last two weeks.
People waiting months for joint replacements and similar so-called "elective" surgeries are facing delays.
Additionally, rural hospitals in Maine have sick patients who need to be transferred to larger ones with specialists and specialized equipment. Yet there is no room for many of them.
A plea to reduce the spread of COVID
The plea from my colleagues, speaking on behalf of our health professional colleagues across our hospitals and practices, was simple.
Please act to reduce the spread of COVID-19 by:
Getting vaccinated.
Whether you are vaccinated or not, wearing a mask indoors (and in crowded outdoor places).
Maintaining good hand and respiratory hygiene.
Reconsidering attending large gatherings (especially those that are indoors).
Concerns about COVID's Delta variant
As I monitor the situation globally and around the country, I am very apprehensive. Surges caused by the Delta strain of the COVID-19 virus are not letting up. This means we may be several weeks away from reaching a peak, yet our hospitals are already full.
Because the Delta variant is much more contagious, it doesn't need much fuel to keep afire. Its fuel is the unvaccinated. Even those who contracted COVID-19 a few months ago are its fuel, as several studies indicate their immunity is not as protective or as long-lasting as vaccination.
Yes, the vaccinated can contract the Delta variant as well. But the evidence indicates they are not as likely to contract it, not nearly as likely to be hospitalized or die from it, or to transmit it. In fact, about 80% of those hospitalized in Maine are unvaccinated, and all of those in MaineHealth's ICUs the last several days with COVID-19 are unvaccinated.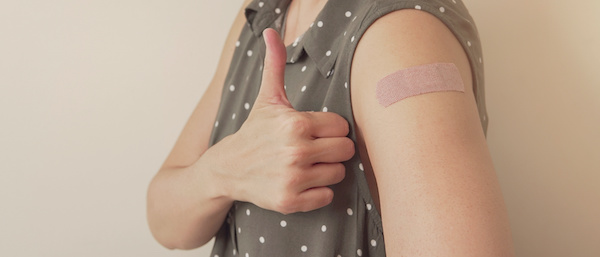 Why a COVID booster shot?
Like many (if not most) other vaccines, e.g., those against hepatitis, measles, tetanus, chickenpox, and pertussis, we will likely need booster shots soon against COVID-19. While the primary series of vaccines is intended to build an initial immune response, a booster shot reactivates your immunity, training your body to defend itself against the virus. The good news is the effect of a booster shot usually occurs within several days and increases immunity to higher levels than the primary series and for a longer period of time.
COVID in states similar to Maine
As I mentioned, monitoring other states and countries worries me. For instance, Oregon and Washington are similar in some ways to Maine. They have relatively high vaccination rates (58 – 60% of the entire population; Maine's is 65%), and they are also predominantly rural states with a couple of urban centers.
Their Delta surge started about two weeks ahead of Maine's. It shows no signs of letting up. Their hospitals are over full. They have had to reinstate emergency measures such as mask mandates. Their surge is also being fueled by pockets of rural communities that are unvaccinated or under-vaccinated.
One modicum of hope is that Maine's rural counties, though with much lower vaccination rates than our more urban counties (Somerset County 50% vs Cumberland County 73%), generally have higher vaccination rates than the rural counties in the Pacific Northwest, many of which are in the 30% – 50% range. Delta surges in Israel, the UK, and other states in the U.S. also show no signs of letting up. It seems with its much higher transmissibility, Delta needs only small pockets of unvaccinated people for kindling to keep afire.
Increasingly, studies are mounting that Delta is not just more contagious, but also causes more severe disease. A new study from the UK shows that patients infected with Delta are twice as likely to be hospitalized than those infected with the Alpha variant, which was previously predominant. A sampling of cases shows that 100% of people in Maine with COVID-19 are infected with Delta.
COVID and children
Across the nation, we're seeing the highest rates of hospitalization since the beginning of the pandemic for all age groups younger than 50 years of age. This is especially true of pediatrics, yet our ability to expand healthcare to care for a surge of sick children is much more limited than surge capacity for adults. Children are not just small adults. They need specific equipment tailored for them, different doses of medications, and their own specialists.
While many of the medications to treat COVID-19 are under an emergency use authorization by the FDA, some of them are not authorized at all for use in children. Often, other states are part of our surge plans. But with all states seeing increases in pediatric COVID-19 disease, we cannot rely on transferring an overflow of sick children elsewhere.
Across the country, higher rates of COVID-19 are being seen among older children, but higher rates of hospitalization are being seen among younger children, who more often need specialized services. So, yes, I'm anxious about the current state and about the next few weeks. I am also perplexed about the pushback on simple prevention measures.
Protests and pushbacks
I remember the days and months after 9/11 when many of our routines dramatically changed. Instead of sauntering through airports arm in arm with loved ones and hugging goodbyes at the gates, we transitioned to saying goodbye outside at the curbside. We then started waiting in snaking security queues, run by a newly-formed federal agency titled "TSA", armed with our newly-required government-issued photo IDs. We transitioned to lining up before X-ray machines, removing our shoes, and unpacking our digital devices. All of this was necessary to board a plane. We also now need government-issued photo IDs to board a bus or train. Security checkpoints popped up at entrances to ballparks and concerts, inspecting people's purses.
I don't recall protests or pushbacks on these new intrusive and inconvenient processes. None of us felt we were personally a threat to others. But collectively, we seemed to realize that these strategies needed to be applied universally and were for our own safety as well as for the safety of others. It's strange and sad that we don't share these same values for the common good during this pandemic.
Oh, Canada
Recently I took a brief weekend trip to Quebec City. I scanned my passport, driver's license, vaccination record, and a photo of myself into Canada's travel arrival app (ArriveCAN), and was tested a couple of days before travel. We arrived at the border north of Jackman by car and within three minutes were on our way.
Despite a delayed start to vaccinations, a higher percentage of Canadians are fully vaccinated than Americans (66% versus 52%), with Quebec Province having vaccination rates similar to Maine (68% versus 65%). The city was vibrant and joyous. Street entertainers sang, danced, and juggled. Restaurants were full. Shops displayed local artisan and agricultural products.
Very importantly, the city felt safe. People masked indoors and in crowded outdoor settings. They kept some distance to avoid crowding. We ate outdoors. Hand gel pumps greeted customers at retail entrances with reminders to clean one's hands. And fascinatingly, we didn't see one sign of protest or pushback. We saw people relieved to return to the freedoms of fun vivacious living without worrying about contracting a deadly virus or transmitting it to others.
Schools are restarting in Quebec, requiring universal masking with procedural (medical) masks when pandemic activity is above low levels. Vaccination is required for students eligible for vaccine in order to participate in high-risk extracurricular activities (e.g., theater or contact sports). I know from our numerous staycations in Maine the last 18 months, that many in our hospitality sector have made Herculean efforts to help people feel and be safe. Many schools are adopting recommended safety measures so that students can be assured to learn in-person full time. But these safety measures are not accepted in some places and are being fought by some.
Learning from experience
Two recent studies point out the importance of these measures. An unvaccinated teacher who was usually masked, briefly read aloud unmasked to a classroom of students on two different days, then tested positive for COVID-19 the following day. Half of the students in the classroom became positive, including 80% who were in the front, nearest the teacher.
Another new study from one of the largest and most diverse public school districts in the country – Los Angeles – showed a multi-pronged strategy including masking, physical distancing, testing, and vaccination can assure children can stay in school safely with these measures in place. The study may as well be from Maine since school children here also were mostly able to learn in-person with these strategies in place last school year.
Do I think we will need to be masked and distanced for the long term? No. Other countries such as Denmark and New Zealand are successfully turning the dial down on these measures when vaccination rates are high and when disease rates are low. I'm optimistic we will get to that point, and most aspects of our pre-pandemic life will return. But like post 9/11, there will be habits we will integrate, including likely masking and distancing when dangerous respiratory viruses surge.
With a new variant of a novel virus causing a pandemic, there are no precedents. But by closely monitoring the science and what is occurring in other countries and states, we can find many lessons to help us blaze a safe path forward. Other states and countries' experiences indicate the Delta variant surge may be longer-lasting and even increasing as a threat to our health and healthcare systems.
The situation is very worrisome here in Maine. However, areas close to us, e.g., Quebec City and Los Angeles, show us that even during a pandemic surge, basic measures such as vaccination, masking, ventilation, and distancing can hand us the freedom for our students to learn in person and for us to dance and live joyously, as well as safely.