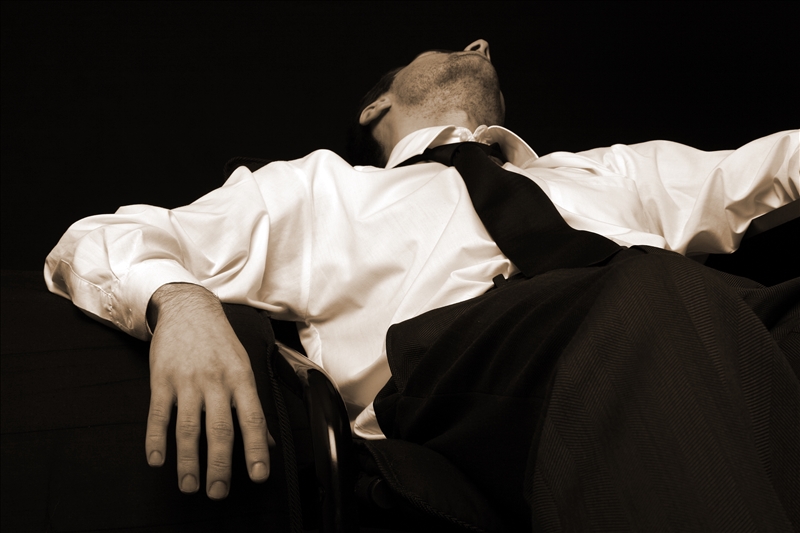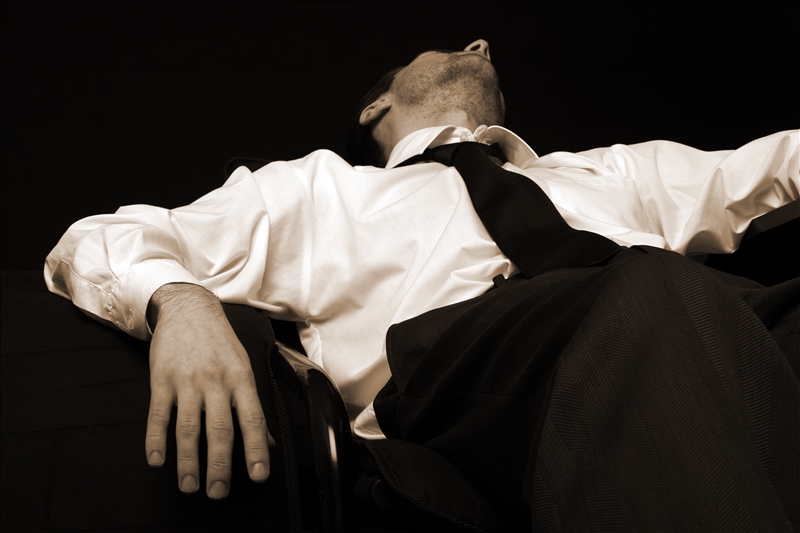 You see someone collapse. You panic and stand there wringing your hands, thinking, "OMG, what am I supposed to do? CPR? I took that class several years ago — what was it I learned?"
Here's your chance to learn two simple steps that will empower, not derail you — and potentially save a life.
It's called Hands-Only CPR. Ready?
Hands-Only CPR
Call 911
Push hard and fast in the center of the chest (To the beat of Stayin' Alive by the Bee Gees.)
Two simple steps.
If you learn better by seeing in person rather than reading, you're in luck because the American Heart Association's mobile training tour to teach all Americans how to do Hands-Only CPR is in Maine. The tour will do a public training this Sunday at the Southern Maine Heart Walk in Portland.
Free Training at 2014 Southern Maine Heart Walk
Where 
AAA of Northern New England at 68 Marginal Way in Portland.
When
Sunday, May 18
8:30 to noon
Four CPR training sessions in the center of the AAA parking lot.
8:30am    Heart Walk Celebration
9:15am    Opening ceremony
9:30am    Walk around Back Cove Pathway begins
How to sign up
You can register at the walk, but pre-registration is highly recommended — just click here.  Participants will receive a free CPR training kit as well as some disco "bling" to take home as a reminder of the importance of learning this lifesaving skill and passing it on to others.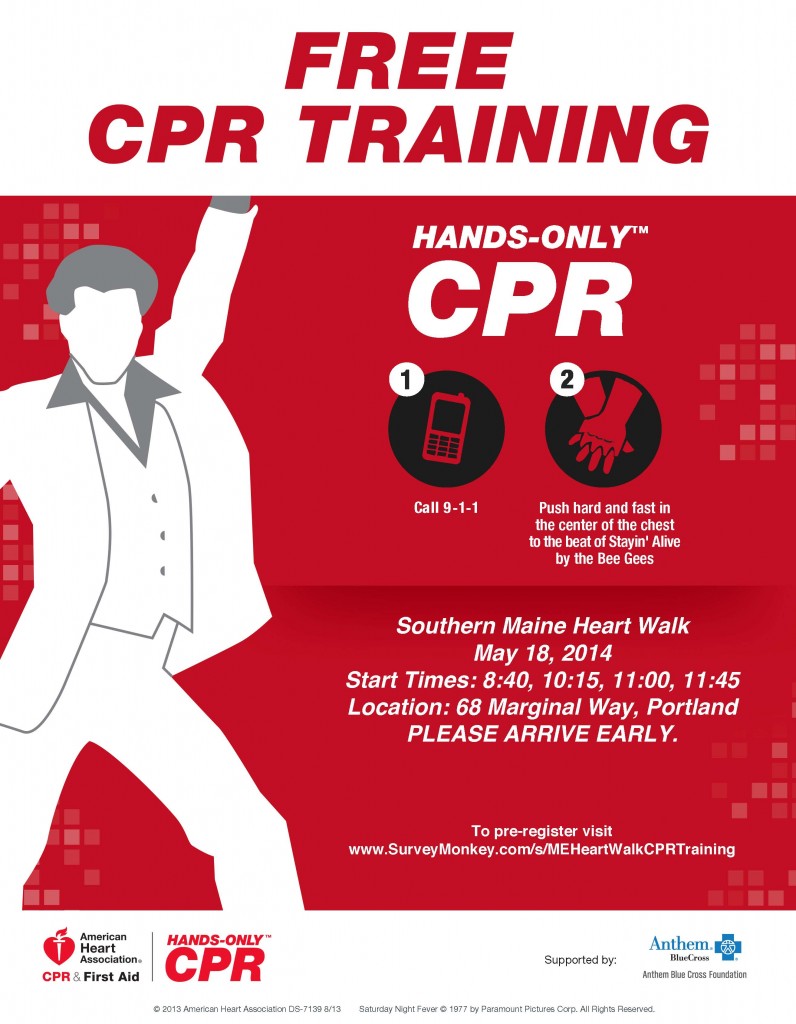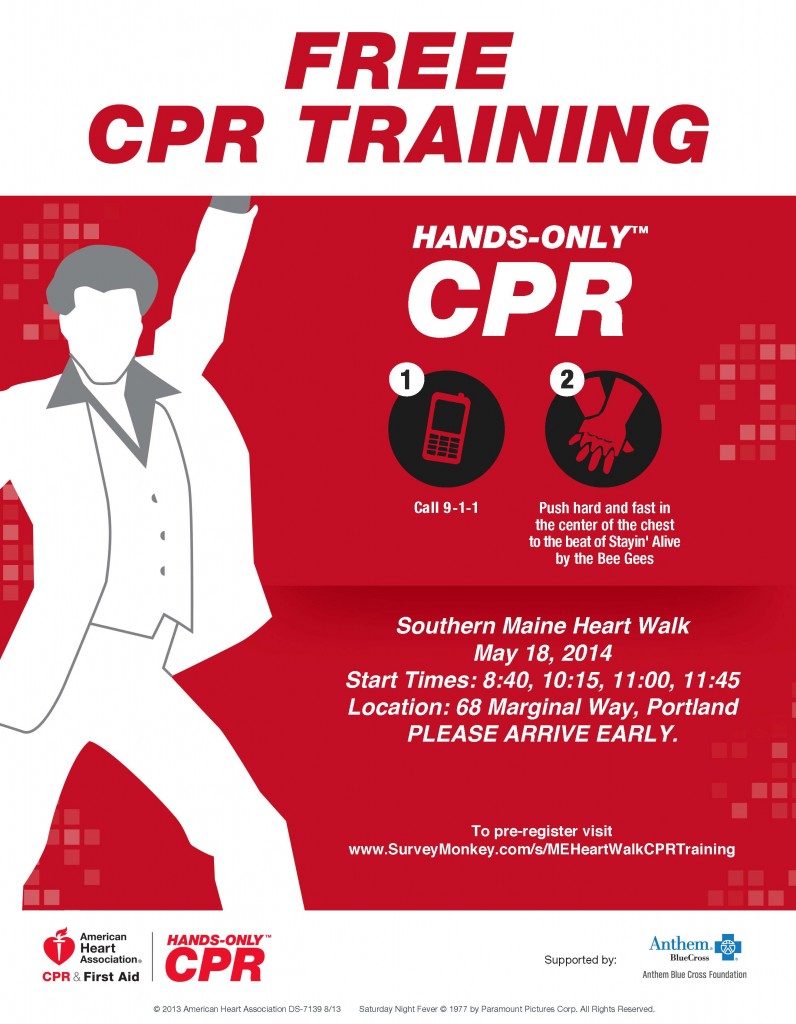 I want to learn, but can't make it to the heart walk
If you can't make it to the public training, the Heart Association has information and several videos, including this one, on its Hands-Only website. Learn how to use your hands to save a life instead of wringing them in despair because you're not sure what to do.
About the tour   
With the support of the Anthem Blue Cross and Blue Shield Foundation, the American Heart Association launched the 3-year national campaign and mobile tour in June 2012 to raise awareness of Hands-Only CPR as a lifesaving method and way to increase the likelihood of people feeling confident enough to perform life-saving CPR in an emergency. The tour has been in Maine this week, training employees onsite at IDEXX, WEX, and Anthem Blue Cross and Blue Shield. It's final stop in Maine is the public training at the May 18th Heart Walk.
Google[/fusion_builder_column][/fusion_builder_row][/fusion_builder_container]