It's one thing to know how you would want to be treated at the end of your life; who should be notified of your death; whether you wish to be buried or cremated; what kind of funeral or memorial service you'd like.
It's another to let your family and/or loved ones in on the details.
Several weeks ago, I published the post Why we need to talk about what we want at the end of life. In it, Kristin Melville, the development and outreach director at Hospice of Southern Maine urged people not to "… wait until you are at the end of your life to have conversations about dying."
Judging from the comments I got on the blog, on social media and by email, my post got a lot of people talking or, at least thinking about talking.
Roxanne Jones said, "This is so, so important, Diane. I read Dr.
[Atul] Gawande's book last year and got my husband to read it, too. None of us is getting out of here alive, and we really do need to make our loved ones aware of how we want to exit this life. Not talking about it doesn't keep us from dying; it only puts a tremendous burden on those closest to us, and will likely frustrate the hell out of us if our wishes aren't known and we're incapable of implementing them."
Jennifer Dimond recommended the Conversation Project as a great resource for helping start conversations about end of life. It offers a starter kit you can download that helps you get your thoughts together so you can begin your conversation.
Susan McClure wrote, "Something we never want to think about but it is a really good idea, especially for our families."
And Barbara Bates Sedoric sent me information about an organizer she developed called The LastingMatters Organizer. I checked it out and think it could be extremely helpful in many ways.
In Barbara's own words, "It is a straightforward guide that walks you through everything from what to do with your belongings to how you want your life celebrated.
Using practical and easy to understand prompts, you'll be asked to think about things like:
How do you envision your end-of-life care?
Who should be notified when you die?
What kind of service would you like?
Where are the keys to your home?
Where are your passwords listed?
Who should take care of your pets?
Where are your bank accounts?
Which family traditions would you like to pass on?"
Here's a sample page from Chapter 1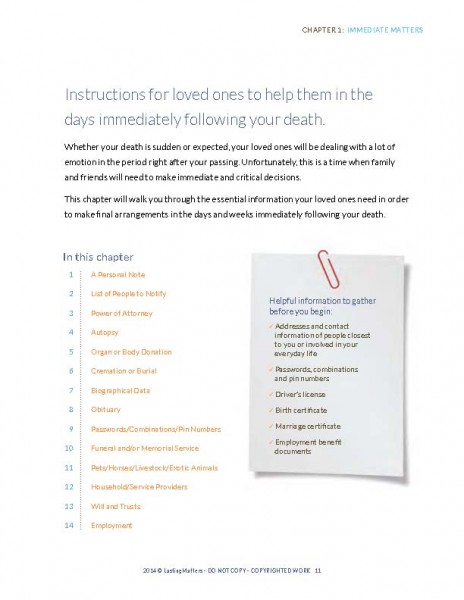 As a former estates and trusts paralegal, Barbara often found herself in someone's attic or basement searching for documents that were needed by Probate Court to settle his/her estate. Sometimes, she'd come across dribs and drabs of information in desk drawers or shoe boxes. Important information, like how one man wanted to be cremated and have his ashes sprinkled in various places. Only he never told his family and they buried him instead.
Or the woman who was cremated and only later, did her family discover that she had donated her body for research. "She did all the paperwork but never told anyone, "says Barbara. "It's all about communication and clarity."
You would think that given her work experience, Barbara would have known just what to do when her mother died unexpectedly 10 years ago. She didn't.
"I found myself inside the process of having to plan a funeral," she says. "We'd never had a conversation about what to do with her ashes and personal possessions. We had to write an obituary — all in a fog of grief."
Barbara told her father, "When you die I don't want to do this again. I want to know everything, what you have, your wishes, your intentions."
At the same time, a seed of an idea began to form. She interviewed hundreds of people, asking them what they wish they had known when their loved one died. What might have helped save time and money and stress and family arguments.
She began to organize all the information she was gathering — Barbara is a very organized woman. Her efforts evolved into The LastingMatters Organizer.
More than one hundred pages waiting to be filled out with everything you want your family to know. "It's very practical," she says. "Not morbid and morose. It's just gathering information. What you think. What you want to happen. It can save families hours and hours and days from trying to unravel passcodes, passwords, who gets what. I look at it as guidance. It's very straightforward."
So far, Barbara has sold thousands of her organizers. Every day she meets people who don't merely understand the importance of getting it all down, they actually do it.
Whether you use her organizer or not, she has this advice: "Don't wait for a crisis. Do it while you're healthy. We all die, we just don't know when. Our greatest gift can be information when it will matter the most."
You'll find more about Barbara Sedoric and her organizer (and how to buy it) on her website LastingMatters.