When Holden LePauloue started kindergarten last year, his parents needed to find an after school program to fill an hour long gap between when he got out of school and they (both teachers) got out of work.
When they met Stacy Kim and heard about her after school program at Kuma Fitness and Leadership in Saco, Maine, they didn't hesitate to sign him up. "Listening to her enthusiasm and listening to her philosophies and seeing the place itself, we were sold," says Holden's dad Bob.
The piece that makes Kuma unique is martial arts. When the kids arrive, the first thing they get is a snack and some down time to do homework, draw or color or simply be quiet — to unwind from their day at school. And then, twice a week they have a 1/2 hour karate class. The other days they do a fitness class that involves some kind of movement. After that, they have what's called kid cave time. 
"It's the karate class that most kids seem to enjoy the most," says Stacy. "When I'm teaching kids, I want them to learn how to be their best selves or be a little bit better in whatever they like, using martial arts movements." 
"I think Holden likes the structure of it," says Bob. "He really bought into the structure. He likes the karate end of it because he understands … he's a rule follower. If you sit down and talk with him, he'll tell you exactly when his next belt testing should be."
When Stacy was a kid, her mother wouldn't let her learn karate because she already had "too many sports going on." But after college, she decided to take some classes. "I got hooked on it," she says. "I loved it and I also discovered a passion for teaching."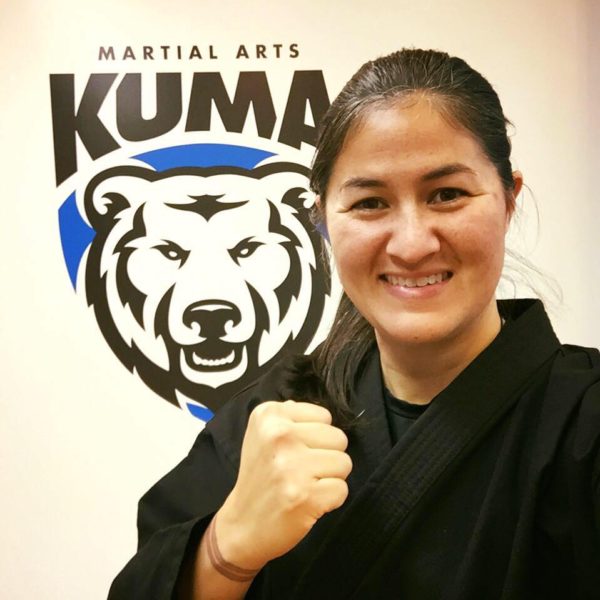 She decided to open Kuma in 2016, offering the after school program, along with some karate classes for kids and a kickboxing class for adults. Her goal was to enroll 30 kids in the after school program. She ended up with 51. She plans to keep growing the kids' programs and add some adult martial arts classes.
If she had her way, every child would learn martial arts. "Because they really do learn, they gain confidence, they gain discipline and they have this concept of respect that kids don't really get now," she explains. "In class, they say yes, ma'am or yes, sir to the instructor. That's one of those things that has kind of gotten lost. It's a nice traditional way of showing respect for somebody who's older than you or has more information than you do."
What Stacy teaches depends on the age of the child. Someone Holden's age, for instance, is just developing fine motor skills like jumping and catching things. Children that age also don't have the core strength needed to sit up straight for long periods of time or much upper and lower body strength.
"At the same time," Stacy says, "they're constantly moving and doing other things that feel like play through martial art movement. They may jump over a couple of cones and then freeze and kick a pad, for example. So, they're learning basic skills like jumping and then a martial arts skill that feels to them like they're doing karate."
Kids who are older, say 10 or 11, continue to gain strength as well as confidence. "They need to start working on things like focus," says Stacy. "And, of course, all ages are still working on discipline but for that older kids' group, it's about having new challenges for their body and their minds and then being able to overcome them. It helps give them purpose."
Anne Thurlow's son Mason started the karate program at Kuma just after he turned seven (Feb 2017). He was having some mild behavior issues at school and on the advice of their pediatrician, Anne started researching martial arts programs. They noticed changes within the first few classes. "Overall, I find the classes have helped with his focus and control of his body and his desire to work hard on a path to achieving a goal," says Anne. "In addition to learning various stances and karate movements, Stacy also integrates games and meditation, along with discussions about focus, respect, and leadership (among other topics) into her lessons. Mason is currently ranked as a yellow belt with a black stripe, and he talks about how he can't wait to be a black belt someday. And most importantly, he loves the class."
Anne says they try to put the lessons her son learns in class into practice at home, so in a way, the whole family is benefiting. She says, "I truly feel like [Stacy's] focus is on building better little people who will grow into better adults versus just teaching karate."
I don't know where there might be other kids programs like the ones at Kuma, especially the after school program. Kuma is for kids attending certain schools in Saco and Old Orchard Beach in Maine.
I remember the challenges of finding good programs for my own daughters when they were growing up — especially ones that incorporated some of the fitness and leadership lessons Stacy teaches. If you know of similar programs, please let me know so I can pass along the information.