My siblings and I grew up surrounded by sugar-filled sweets, but they were our mother's and mostly off-limits to us kids. That never stopped my sister Mary. She searched for and found Mom's hiding places.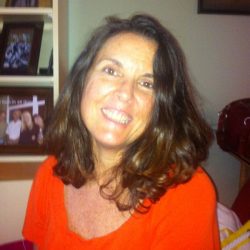 When I was in elementary school and Mom bought candy and chocolate chips, or Dairy Queen treats, she often would stash them in the freezer in the cellar or in the kitchen. I remember making several trips to the cellar to satisfy my cravings with binging behaviors. She had a wonderful m&m stash in a beautiful covered dish and it was an important mission to find that stash. As a preteen, I discovered alcohol, which also can have a lot of sugar, and I became a teenage alcoholic.

Mary
Forty-two years ago, Mary was "given the gift of abstinence from alcohol and other substances," but soon after, her sugar addiction "reared its head again."
What would happen is she would binge on sugar and then restrict herself. That approach didn't work, and she began putting on weight. Nothing helped her stay off sugar.
I tried the Cambridge Diet, fasting, Over Eaters Anonymous, and multiple attempts at Weight Watchers, eventually receiving a LifeTime membership. As soon as I picked up sugar, though, the fat came back on. It was like a roller coaster.

Mary
Five years ago, Mary successfully eliminated sugar from her diet. What finally worked was the same approach that helped her with her alcohol addiction. A 12-step program.
By admitting my powerlessness over sugar and how unmanageable my life was, I desperately surrendered and asked for help from others who had recovered. I asked God for help and still do on a daily basis. Through a lifelong process of prayer, meditation and a regular habit of doing a thorough inventory of any resentment, fear, or misconduct my accountability grows. Admitting the exact nature of my "wrongs" to my higher power and myself and sharing it with someone else in recovery, I find relief. The process is often called a "turnaround," which I really like.

Mary
A 12-step program transformed Mary's life, and it also helped her say no to sugar, but it may not be the solution for everyone. That's why it's important to understand your reasons for wanting to change your relationship with sugar.
The good and the bad about sugar
What is it about sugar that makes it so bad for us? Especially since it's an important source of energy. When we eat, our body breaks down sugar and starches into glucose, which gets carried by insulin to all of our cells.
The trouble is that if you eat too much sugar, it can build up in your blood. All that unneeded sugar puts you at risk of developing all kinds of health issues, including:
Joint pain
Cavities in your teeth
Mood swings
Weight gain
Heart disease
Kidney damage
Type 2 diabetes
Some sugar is naturally occurring in food, like fructose in fruit or lactose in dairy products, but a lot of products also have added sugars — high-fructose corn syrup, cane sugar, syrup, confectioner's sugar, honey, maltose, and dextrose, to name a few. Sodas, candy, and baked goods are some of the main sources of added sugar but you'll also find it in unexpected items, such as bread and protein bars.
Take a look at the labels when you're buying something. All added sugars are listed under total carbohydrates, so you can get a better handle on how much sugar you're really consuming. Also, get familiar with the names for added sugars (paragraph above). One more thing, if a sugar is listed at the beginning of the list of ingredients, you know it's basically a main ingredient.
Eating Habits Lab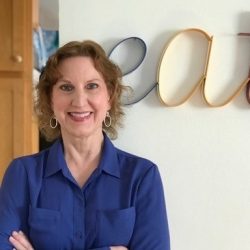 Kitty Broihier, MS, RD, LD, is a registered dietitian, nutrition communications consultant, certified mindful eating coach, and creator of the Eating Habits Lab, a free and private Facebook group. She's an expert on helping people with myriad food issues, including an unhealthy hankering for sugar.
When KItty works with someone with any type of food-related issue, she uses a systems approach "to help people create effective and sustainable eating habits that are customized to their lives."
The Eating Habits Lab systems are science-based and comprehensive. We look at things like one's eating history, dieting experiences and of course, we dig deep into eating habit cues, responses and rewards. Then, we use recognized habit-change strategies and techniques to create a step-by-step plan for adding, stopping or modifying an eating habit or habits.

Kitty Broihier, MS, RD, LD,
Kitty says lots of folks in her Eating Habits Lab FB Group are interested in working on their "hyper-enthusiasm for sweet foods." Everyone has a different goal — it could be to just cut back, some people may be motivated to rein in sugar because of health conditions, and others are hoping to lose some weight. She has some tried and true strategies and techniques that she says are especially suitable for cutting back on sugar and sweet treats.
Of course, it's important to take into consideration the science linking sugar cravings and a diet high in sweets to certain lifestyle habits and personal characteristics. These generally include dietary balance, amount and quality of sleep, mindful eating skills, being in tune with individual hunger and fullness cues, and intentional food restriction/dieting.

Kitty
More about Mary
If your story is more in line with Mary's, she would definitely recommend trying a 12-step program. She not only stopped eating sugar, but for two years she also eliminated dairy, nuts, and snacks like chips and popcorn from her diet. Within about 8-12 months, she lost 50 pounds.
I ate squeaky clean with weighing and measuring for portion control for two years. At the two year mark, I was inspired to eat only a plant-based diet which lasted almost a full two years. I started craving hamburgers and decided to go back to eating animal products. To this day I do enjoy a good burger!

Mary
It's been five years since Mary eliminated sugar, and she still does just fine without it. What is most important to her is that she no longer has cravings. In fact, she made a batch of our grandmother's blond brownies recently for some school kids and wasn't even tempted to lick the spoon or the bowl. Her program not only eliminated her sugar cravings, it also helped her learn to love and accept herself.
I had a deep self-condemning and self-hating view of myself that has been removed. My higher power has cleansed me, healed me, and refills me on a daily basis. The freedom is amazing and I am so grateful.

Mary
I know my view might be slanted, but my sister Mary is one of the most beautiful human beings I know, and she lives what she says. She has a deep belief in her program and her higher power, which for her is God, and because of that she now has a deep belief in herself.
I have a similar opinion of Kitty, and I frequently turn to her for food-related information and advice. She, too, believes in herself and what she has to offer. Her Eating Habits Lab, which is a new endeavor, is a labor of love for her.
There's nothing I like more than helping people see that with a little attention and focused effort, they can actually make progress on eating habits that have bothered them for years. It's not impossible to move the needle on your eating habits—no matter how long you've had the habit. I try to foster a judgment-free community and one of my most important messages is that there is no failing in the Eating Habits Lab—there is just learning.

Kitty
Resources
For more information about how Kitty helps people tame their sugar cravings or deal with other food-related issues, check out her website Nutricomm or her Eating Habits Lab private Facebook Group.
If you'd like to look into a 12-step program, here is the link to Overeaters Anonymous (OA).
Whichever direction you take, best of luck!