My future son-in-law Keegan used to be a meat-eater. Now he's a vegan. His former roommates were vegetarians and then my daughter Stephanie became a vegan, so he decided to try it as well. He felt healthier right away. Because he has an inherited form of high blood pressure he has to watch his carefully. It went down. He has more energy.
Luckily for my daughter, Keegan loves to cook. For his birthday, she gave him the perfect gift — a gas grill. This past weekend he fired it up for a family barbecue.
I am not a vegan. When I think grilling, I think traditional burgers. I tried a veggie burger once and thought it tasted like cardboard, but Keegan put a lot of effort into preparing his vegan burgers and I knew I had to give them a try.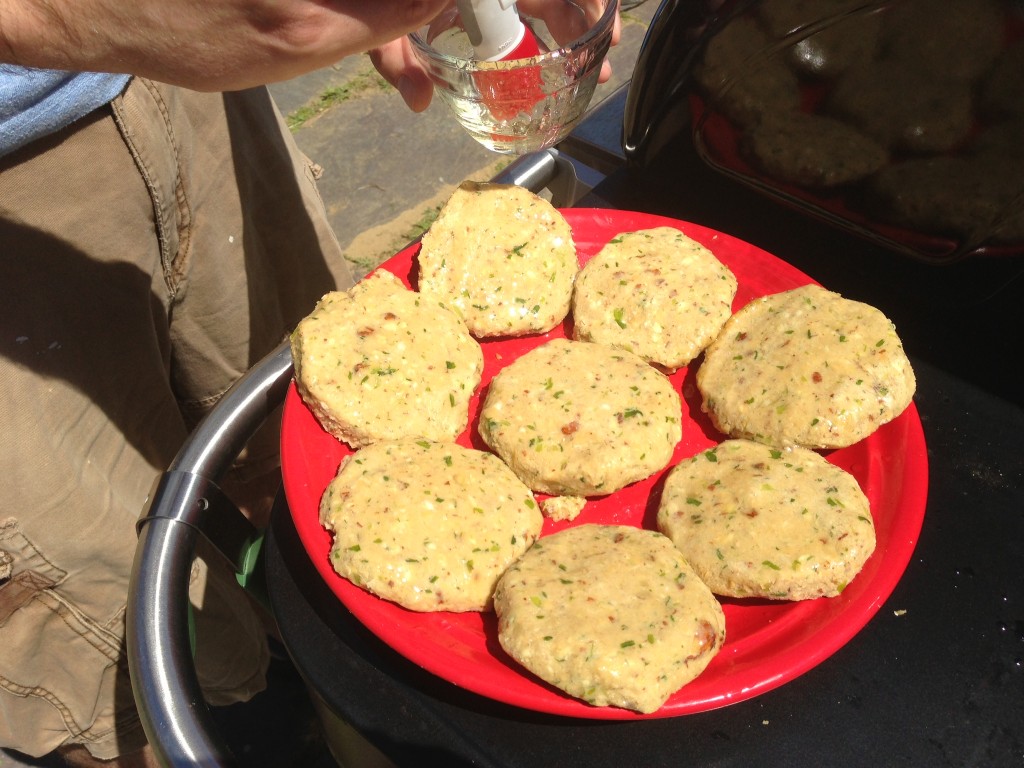 I need to tell you that Keegan's dad Dennis IS a meat eater and did a bit of his own cooking on a little charcoal grill. I had one of his burgers first. I admit it tasted good even though it felt "heavy" going down and gave me a little heartburn. Dennis — it has nothing to do with the way you cooked it, burgers always do that to me!
I didn't rush to devour a vegan burger. It was more like, "OK, I'll try one to see how it tastes."
I was surprised. Pleasantly surprised. It was light and instead of cardboard, I tasted several flavors, all good. It didn't make me feel like burping or anything else. I ate mine plain, but Stephanie topped hers with a slice of vegan cheese.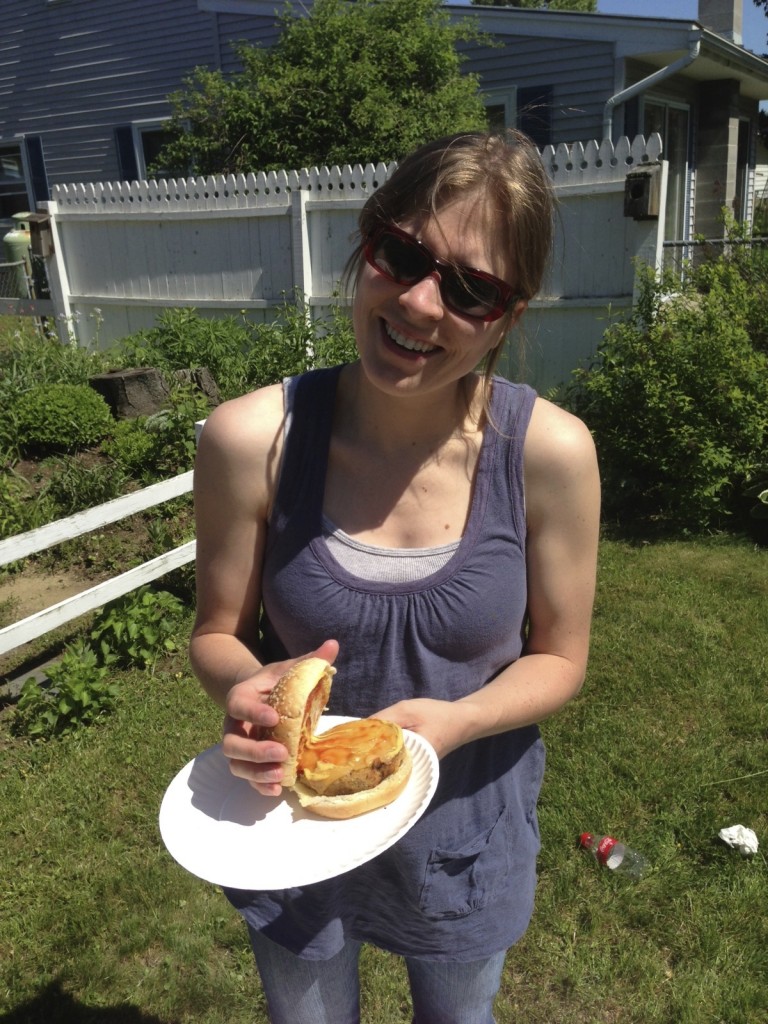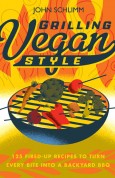 The recipe Keegan used is from Grilling Vegan Style by John Schlimm.
Slip – N – Sliders
1 (15-ounce) can garbanzo beans, drained and well rinsed
4 green onions, roots trimmed, white and light green parts only, chopped roughly
2 slices vegan sandwich bread, crusts trimmed, torn into pieces (Keegan used crackers instead)
1/2 cup toasted almonds
1/2 teaspoon ground cumin
1/2 teaspoon ground coriander
1 knob of ginger (about 1 tablespoon), peeled and roughly chopped
1 tablespoon soy sauce
2 tablespoons vegan egg substitute
3 tablespoons extra-virgin olive oil
8 vegan slider buns, preferably whole wheat (Keegan made regular-sized burgers)
1 tablespoon smooth vegan Dijon mustard
1/2 cup vegan mayonnaise
Heat the grill to high.
In a food processor, combine the garbanzo beans, green onions, bread, almonds, cumin, coriander, ginger, and soy sauce. Pulse the mixture just until roughly chopped. Being careful of the processor blade, transfer half the mixture to a bowl. Add the egg substitute to the mixture in the processor and process until smooth, then transfer to the same bowl and mix thoroughly with the roughly chopped mixture.
Form the mixture into eight patties about 3/4 inch thick, sizing them to fit into the slider buns. Brush all sides of the patties with the olive oil and, using a grilling screen if desired, grill until lightly blackened, about 8 minutes, turning once.
Serve the burgers in the slider buns with the mustard and mayonnaise.
Yield: 8 sliders
Share your recipes
I doubt that I will ever be a vegan, but thanks to Keegan and Stephanie, I've become more willing to try vegan recipes. What about you? Let me know if you've got a healthy recipe to share or a story about trying something you thought you wouldn't like and realizing it actually tasted good. Often, it's all in the way it was cooked. Keegan proved that to me.