How important are your friends? Would you travel to the ends of the Earth for any of them? I suspect that best friends Fran Houston and Marty Baker would, although their friendship got off to a rocky start. They met four years ago on a mutual friend's Facebook page. The friend, who was despondent, wrote that she "Didn't want to do this anymore."
"Marty said something like, 'Flooding love and light into your world,'" Fran explained to me recently, "and I was like, 'You've got to be kidding me.' I mean that is so overwhelming for someone who is delicate. Why would anyone say such a thing? I slammed him"
"I had no idea who she was," says Marty. "Too much love can be overwhelming?  And, who just engaged with me on this thread?"
They both could have dropped it and moved on, but instead, they connected and Fran began to help Marty understand what it's like to have a mental illness. To be depressed one moment and manic the next. To want to kill yourself sometimes. "I learned I need not fear talking about suicide or the "down and dirty" realities of living with illness," says Marty. "It was the start, not only of my friendship with Fran but of a new awareness in me."
The short story about Fran is that for 34 years, she says she functioned well — received an engineering degree with honors and landed a good job. She was working in Connecticut when she fell in love with a man from Maine, so she quit, moved to Maine and started a new job. After one month, she was fired. She filed charges and, after mediation, a settlement was reached, but her world had already begun to fall apart. "Everything I had worked for was out from under me," she says, "and I was in shock. That was the trigger."
Fran dove head first into depression, followed by chronic fatigue syndrome and fibromyalgia. When she and Marty met online, 17 years had passed. By then, she says she had lost everything. "My man, his three kids I helped raise, our house, my work."
When she was diagnosed with major depression, she was prescribed anti-depressants, one after another because none seemed to work. Still, she was on them for 10 years. Then, in 2004, Fran was diagnosed with bipolar disorder. "Amongst all of that, I had the chronic fatigue and fibromyalgia, "she says. "I still deal with those. It's like a three-ring circus."
Fran was in a manic phase when she first connected with Marty and says, "I was very animated, very emotional, very all over the place. I helped him to understand and he got it."
"She's right," says Marty, " I've learned it all since I met Fran."
In the four years they've known each other, Fran and Marty have only met in person once. You see, Fran lives in Portland, Maine and Marty in Newcastle upon Tyne in England — a little more than 3000 miles away.
The one time they met, they were already great friends. Fran was on a transatlantic cruise with her mother on the RMS Queen Mary 2 and Marty drove to meet them when it docked in Southampton, England.
"We came off the ship and Marty was standing there and we were both  shaking. We hugged each other and he took us off for the day."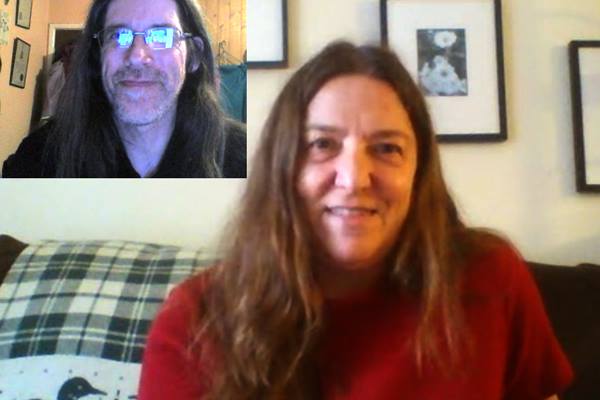 When they first started communicating, they chatted on Facebook or sent each other emails and, after deciding that phone calls were too expensive, they started Skyping. That's how I interviewed Marty. Fran and I sat in her living room and talked to Marty in his living room via Skype. It's something they do several times a day. "There's a call in the morning around 7:00 when he's at work at his lunchtime," says Fran," and then we get together from 2:00 to 3:00 and again from 6:00 to 8:00 — if we're both at home."
"We're like friends anywhere, really," explains Marty. "We like to hang out."
"And," chimes in Fran, "He's never bored!"
Layered alongside their friendship is support and caregiving and structure. Things Fran needs to survive and things Marty is able to give, amazingly, long distance.
"It's about stability and security," Fran says. "It's almost like my friendship with Marty is part of my wellness toolbox. I've got medication, I've got therapy, I've got a shrink, I've got Marty and he's just as, even more so, important to my functioning. He has such a good nature. It's not that we don't get angry at each other or we don't fight like cats and dogs. We do, but the thing is, it's a real safe container. We can be exactly who we are at any given time and know that we'll still be there."
Marty connected with Fran at a time when most people around her saw only illness and his friendship and support have never wavered. Because their friendship has worked so well and because they're both "passionate about helping reduce the stigma of mental illness," Fran and Marty decided to write a book.
Using examples from their own experiences, Fran says they are writing about "how to be a good friend when your friend lives with mental illness. We believe that many 'well ones' wish to help friends but don't know what to do or are scared of doing or saying the wrong thing."
"The only secret to our long distance friendship is that we like each other," says Marty. "We care about each other and we trust each other. We're 3000 miles away, but that is irrelevant. We come on here, however many hours a day while other friends might talk an hour or ten minutes a day. The point is, we keep coming back and we keep it going. It doesn't matter if Fran's manic or depressed, in the middle or somewhere near the edge. Either of us could be having a bad day or a good day. We still come together because we're friends."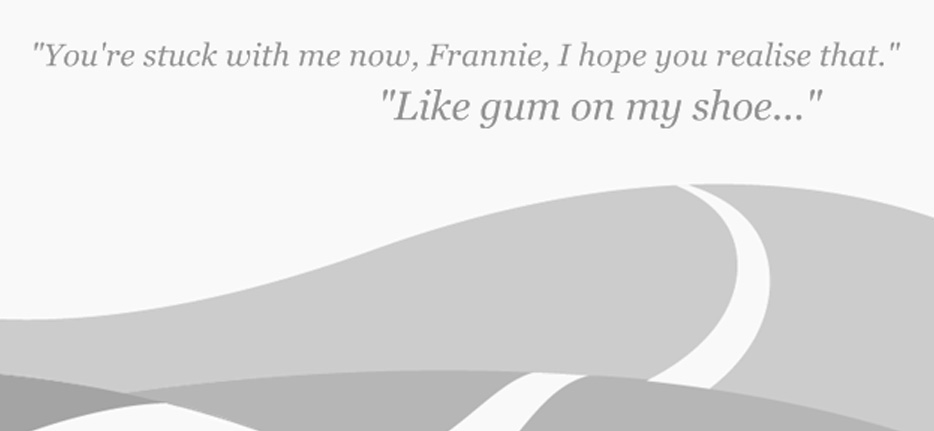 The working title of their book, Gum on My Shoe: One step at a time with my bipolar best friend, sums up their friendship quite well. As Marty states on their website, "You're stuck with me now, Frannie. I hope you realise that."
And Fran replies: "Like gum on my shoe …"
If you want to learn more about Fran and Marty, their friendship and their book, visit their website Gum on My Shoe. They're both also active on social media — check out their Contact page for links. And by the way, they're looking for an agent or publisher if you have any good recommendations.
Book update
Fran and Marty published their book! The title is High Tide, Low Tide: A Caring Friend's Guide to Bipolar Disorder. Go to their website Gum on My Shoe to find out where you can buy the book.