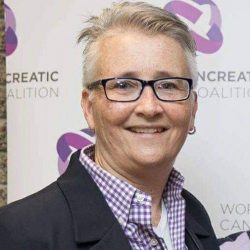 In 2012, Christina Parrish founded a non-profit based in Brewer, Maine called the Purple Iris Foundation. The goals of the organization are to raise awareness about pancreatic cancer and provide support for patients and families. Her underlying motivation was her own experience doing battle against a disease that rarely spares its victims.
I had a lot of people help me on my journey, and I also needed help remembering and honoring the friends that I've lost. I started planting purple irises and that's how the Purple Iris Foundation came along. The purple iris means faith, hope, courage, wisdom, which respresent all the things I gained, am still gaining through cancer.

Christina Parrish
If you go by statistics, Christina should not be alive to tell her story, let alone start a foundation. In 2008, at the age of 40, she was diagnosed with Stage 4 adenocarcinoma of the pancreas. She had a five and one-half centimeter mass inside her pancreas and the entire left lobe of her liver was filled with spots that she said resembled leaches. Surgery was not a possibility. Only about two percent of people with her type of diagnosis make it to five years. As I write this, she is nearly at the 14-year mark.
When she got the diagnosis, it took a few weeks for it to sink in. When it finally did, her reaction was "OK, let's do this."
I thought it would be six months but I had 3 1/2 years of active chemotherapy. For four months, I did a really aggressive chemo, which delivered 40 times the usual dose. It was a clinical trial — intra-arterial therapy, which was like a heart catheter, but instead of going to the heart, it went to my pancreas and my liver.

Christina
She had to stop the clinical trial because her blood counts got so low, but so did her tumor markers. She had also been getting another chemotherapy drug, which she continued taking. The combination worked because each month, her tumor markers would go down.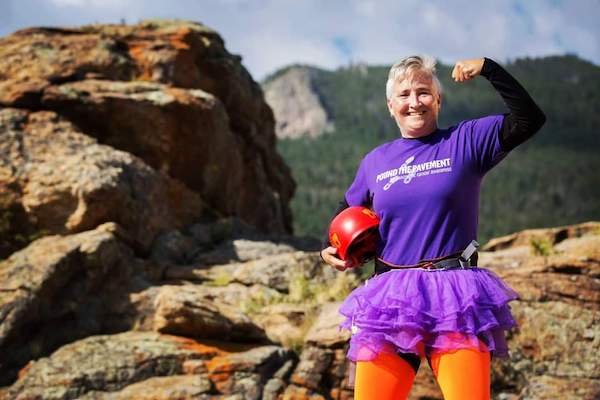 The odds were against her but Christina said she never gave up hope. Not once.
I call myself a purveyor of hope, because that's what I do. If somebody says they don't believe in miracles, I'm like, well, you're looking at one.

Christina
A silent disease
Cancer of the pancreas is called a silent disease because people usually don't recognize symptoms early on, or they can be misdiagnosed as something else. That's what happened to Christina. For about five years before her diagnosis, she'd been having digestive problems and had even lost about 60 pounds. She was prescribed medications generally used for acid reflux, but nothing helped. She stopped going to the doctors and learned to live with it, but eventually, her symptoms got so bad that her back hurt and she had excruciating pain under her shoulder blades. She was an athlete so thought it was probably a sports injury. One day, while doing Pilates, she noticed a lump protruding from under her ribcage, and then, about a month later she was unable to urinate or defecate.
I just felt like I was dying, and I had to leave work. I drove myself home. The next day, my doctor was like, 'You're never sick. Let's do some scans.' And four days later, I got the diagnosis of Stage 4 pancreatic cancer.

Christina
To say that Christina learned some hard lessons is an understatement. First of all, if you have symptoms that don't go away, seem unusual, or get worse you need to pay attention. It can be tricky with pancreatic cancer because there may not be any symptoms. early on, but if you suspect something isn't right, persist.
Symptoms of pancreatic cancer
The pancreas lies behind the lower part of your stomach. It releases enzymes that help digest food and makes hormones that help manage blood sugar. Some symptoms of pancreatic cancer are:
Jaundice or yellowing of the skin or eyes
Pain or dull ache in the upper abdomen, which sometimes radiates to the back
Bloating or feeling full after not eating much
Nausea or vomiting
Weight loss/loss of appetite
Feeling generally unwell
Elevated blood sugar
Certainly, Christina had some of those symptoms early on, particularly weight loss, loss of appetite, and other digestive issues. Cancer was the last thing she and even her doctors suspected.
Yes, most definitely, I had symptoms in some way, shape or form, but they all kind of hid themselves as normal things. I don't know if it's a Maine thing or simply a human thing but there are things that I think we just kind of put off as something else.

Christina
By the time Christina got her diagnosis, she was told there was nothing that could be done, which brings us to another important lesson she learned.
Get a second opinion.

Christina
Christina got a second and a third opinion, which is what led her to the clinical trial that likely saved her life. I did another blog post recently about Sam Kelley, who also learned the importance of getting a second opinion when he was diagnosed with late-stage esophageal cancer.
Another lesson that Christina has learned is that going through rigorous cancer treatment takes its toll. It was a life and death battle that inflicted its own wounds inside her body and on her psyche. She still has trouble with her digestion and she suffers from PTSD and anxiety. Even with that, she is grateful to be alive.
What I've been through was like war, but I'm thankful to be here. I now put my time into the Purple Iris Foundation, helping and talking to other people all over the world diagnosed with pancreatic cancer. It has changed my life dramatically. I'm here for a reason, and I give back give as much as I can of myself to help others in their journeys.

Christina
Irises and pancreatic cancer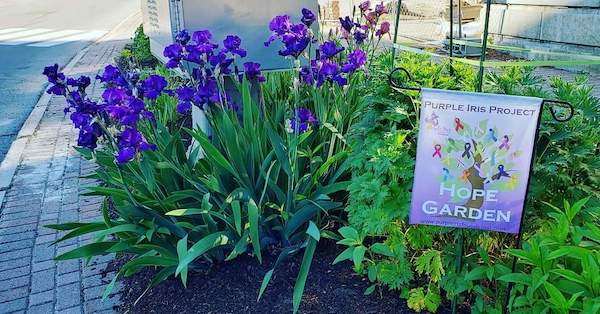 For more information about the Purple Iris Foundation, visit the website. And by the way, in 2017 Christina won the Amanda Dempsey Award for the work she has done.
If come May, you notice a garden full of purple irises, think of Christina and what she and the Foundation are trying to achieve. Maybe plant some bulbs of your own in the fall. You can order them through the Foundation, which, along with other fundraisers, helps them provide financial support to people who have been affected by pancreatic cancer.
The needle hasn't changed much since she was diagnosed, says Christina, but there is ongoing research that will, hopefully, lead to a cure and/or early detection. Never lose hope.