Donna Beveridge, in her 70s, tried out a personal assistive device called Echo Dot and was surprised to find out how useful it was. You might recognize the device by its other name: Alexa.
Donna is the coordinator of the Handy Neighbor program offered by Age Friendly Saco, a volunteer community organization in Saco, Maine. Handy Neighbor volunteers do small repair and home maintenance jobs for solder residents.
In 2019, the organization launched the Tech Handy Helpers program to help keep seniors connected through technology. For instance, in 2020 they started supplying them with iPads, and now they're setting some up with Echo Dots.
Age Friendly Saco is a phenomenal organization. Executive Director Jean Saunders says its mission is to help their older residents stay in their homes as they age, and they are always looking for new and innovative ways to help accomplish that mission.
One of the most popular trends to emerge from the Tech Handy Helpers program was the use of personal assistive devices, which helps seniors stay in their homes more safely as well as feel less socially isolated. This technology functions as a virtual personal assistant as it listens to a voice and carries out commands.

Jean Saunders, Director, Age Friendly Saco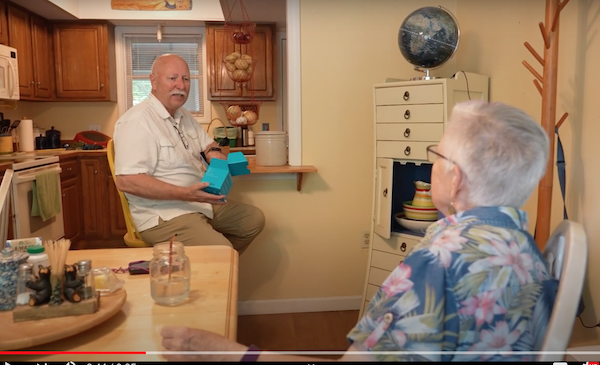 When someone suggested to Donna that she try one she'd never even heard of the devices before. She decided she should learn as much as she could before suggesting one to anyone else. Sheldon Nightengale, one of the Tech Handy Helper volunteers, set her up with an Echo Dot and she started exploring.
Here are some of the things she asked Alexa to do for her:
Turn lights on and off. You put special plugs into an outlet and then plug in your light or your television or whatever it is that you want to control through voice.
Turn on the radio in the morning so she can listen to the news when she wakes up
Remind her of a list of things to do when she leaves the house such as turn the stove off, get her keys, lock the door
Tell when it's low tide or what the weather is going to be
Find a recipe
Create a shopping list
Schedule time to do daily exercises
Read a poem at bedtime and play quiet music for half an hour, then turn off the hall light
Allow her to talk with her partner if she was in another part of the house so she wouldn't have to shout. They had devices in various locations, including upstairs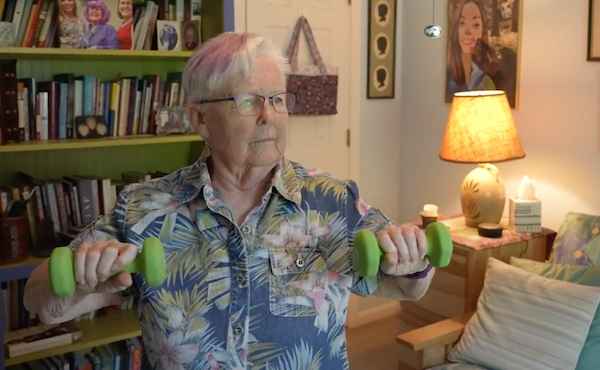 Donna says she never explored all of the things the device could do, but quickly realized its potential.
I see it from a safety standpoint, a very practical standpoint. But there are other ways that I didn't make use of it. For some people who live alone and are lonely, you can ask Alexa to tell you a joke, you can tell her to play the kind of music you love, you can ask for a story or whatever. You can do things to engage and to help make life a little less lonely, or you can find out about restaurants and movies. There's all kinds of information you can get if you're interested.

Donna Beveridge, Age Friendly Saco volunteer
One thing you can't do with a device is to ask it to call 911, but Jean says they worked with the Saco Fire Department to have its dispatch number added to a person's device.
In the the event of a fall or emergency they can ask the device to call the Saco Fire Department. Our volunteer also adds in an individual's personal contacts, and the device will call each contact on the list until someone answers the phone. It makes it easier for residents to stay connected and check in with relatives just by asking the device to make a call.

Jean Saunders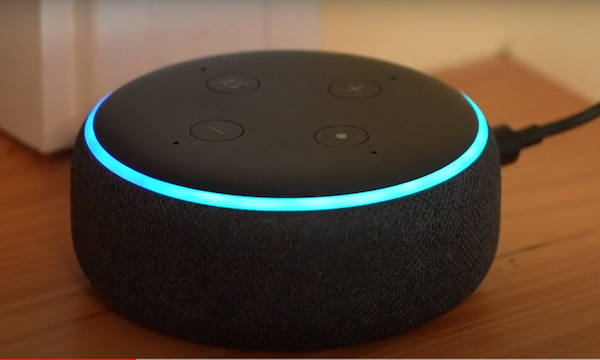 Age Friendly Saco is paying for the devices — all people need is to be on the Internet, and there is no monthly fee or subscription. Sheldon's job is to do the setup, which simply put, involves plugging the device into an outlet and following Alexa's instructions, and answering people's questions. He says there's no particular reason why they went with Echo Dot.
The bottom line is that they are extremely handy and cheap and once they're set up they're fairly easy to use. I didn't realize how many seniors, particularly those who live alone, would be so in tune with the device.

Sheldon Nightengale, Age Friendly Saco volunteer
For some people, privacy is an issue, and it certainly should be something you think about. Even if you believe the benefits outweigh any risks, you might want to at least take some steps to help secure your device. This article has some tips.
All in all, says Jean, "These devices help our older residents stay in their homes more safely while still maintaining their independence and staying socially connected."
More information
For more information about Age Friendly Saco and all of its initiatives, contact Jean Saunders at saundersjean75@gmail.com or visit their website. Even if you don't live in Saco, you might find inspiration for your own community. Also, they recently produced a short video about the assistive device initiative in collaboration with the City of Saco, which you can view here.